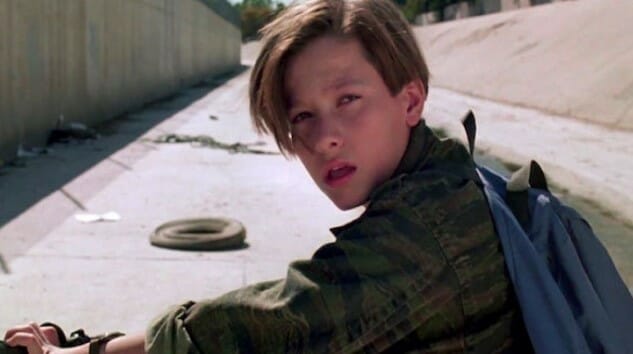 It's been 28 years since Edward Furlong portrayed '90s-tastic protagonist John Connor in James Cameron's classic sequel Terminator 2.
It's also been almost 20 years since Edward Furlong starred in a film that received a wide theatrical release. Nevertheless, that apparently won't stop him from reprising the iconic role of John Connor, the future savior of the human race, in the upcoming Terminator: Dark Fate. That information comes from a source no less than James Cameron himself, who confirmed Furlong's appearance at the film's panel at the San Diego Comic-Con.
Now, there's always a possibility—probably a strong possibility—that Furlong's appearance could simply be a cameo one. None of the footage we've seen implies that his character is very involved in the story, which seems to revolve around the characters portrayed by Linda Hamilton, Mackenzie Davis and Natalia Reyes. As the synopsis reads:
27 years after the events of Terminator 2: Judgment Day, a new, modified liquid metal Terminator (Gabriel Luna) is sent from the future by Skynet in order to terminate Dani Ramos (Natalia Reyes), a hybrid cyborg human (Mackenzie Davis), and her friends. Sarah Connor comes to their aid, as well as the original Terminator, for a fight for the future.
Still, how bizarre would it be to have Furlong's Connor back, in all his '90s hacker glory? We're hoping he somehow steps out of a time portal from 1991, hair still swooped over the side, totally unchanged, and immediately says something that ends in "bodacious!"
If you were not aware—and we would not blame you for being unaware—Furlong has spent a good part of the last two decades in and out of rehab programs, fighting self-professed addictions to alcohol, cocaine and heroin. He has also been charged with both misdemeanor battery and felony domestic violence, stemming from altercations with several past girlfriends. But hey, he was in a movie we all liked when he was 14, so congrats to him.
Terminator: Dark Fate is scheduled for a Nov. 1, 2019 release.