Margot Robbie in the Trailer for Terminal Gives Us Chills
Images via RLJE Films/YouTube
Movies
News
Terminal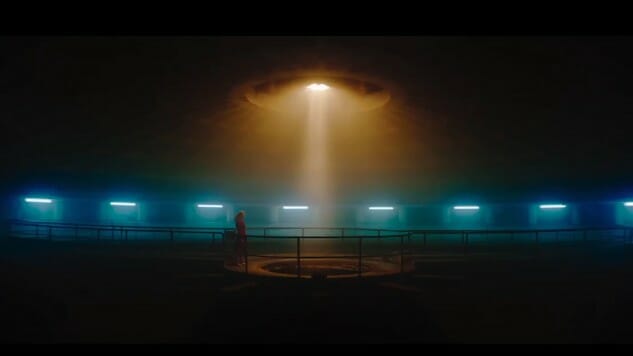 This teaser trailer is insanely creepy. Whether it's the jarring visuals or Margot Robbie's freaky narration, this well-made teaser provides enough intrigue to make us want to see Terminal badly. The official synopsis reads, "This movie follows two assassins with a sinister mission, a fatally ill teacher, an enigmatic janitor, and a waitress with a double life. Murderous consequences unravel as their lives meet at the hands of a criminal mastermind wanting revenge."
The film stars Academy Award nominee Margot Robbie, Simon Pegg (Star Trek), Matthew Lewis (Harry Potter), Max Irons (The White Queen), Dexter Fletcher (Lock, Stock and Two Smoking Barrels), Mike Myers (Austin Powers) and English fashion model Jourdan Dunn.
The trailer makes a few allusions to Lewis Carroll's Alice's Adventures in Wonderland and Through the Looking Glass. Dunn's character "Conejo" even means "rabbit" in Spanish. In the story, Alice, once falling down the rabbit hole, meets the white rabbit after all. Robbie says in the teaser, "Some say to survive it, you need to be as mad as a hatter." We know that the phrase "mad as a hatter" is a colloquial English term used to suggest someone is insane. It's a curious choice of words, as Robbie has played rather crazed characters before, i.e. Harley Quinn in Suicide Squad. She assures the audience she's mad enough by saying, "Luckily, I am."
This is the first feature length project from writer/director Vaughn Stein, who has worked as second and third assistant director on many different projects including The Danish Girl, In the Heart of the Sea and the TV show Elementary. Margot Robbie is producing the project alongside I, Tonya producer Tod Ackerley, David Barron of multiple Harry Potter films, Arianne Fraser, Molly Hassell, Teun Hilte and Josey McNamara.
Be ready to tumble down the rabbit hole in this mysterious film, supposedly on May 11.