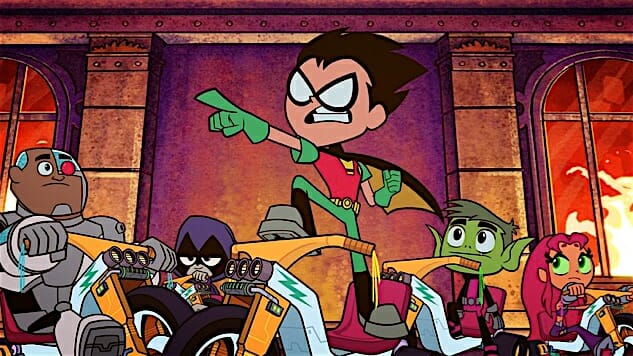 With Teen Titans Go! to the Movies, the long-running Cartoon Network series joins the ranks of still-running animated series that were deemed popular enough to get a movie of their very own. Much like The Simpsons Movie and South Park: Bigger, Longer & Uncut, the show's creators use the opportunity to distill and put on display what has made the show so popular in the first place. The result is one of the funniest "superhero" films of the year, and one that allows Robin and company to join Deadpool—Statler and Waldorf style—on the balcony poking fun at the clichés, blindspots and foibles of the current Big Genre on Campus.
When Teen Titans Go! debuted on Cartoon Network in 2013, its chibi design, juvenile humor and overall zany approach drew mixed reactions from fans of the source material. For some, it stemmed from the disappointment of not getting a renewed "serious" series. (The original Teen Titans animated series had ended seven years earlier.) For others, the succession of booty jokes—or any joke hammered at relentlessly for 10-11 minutes—quickly grew tiresome. But for me at least, it came down to a question of reverence, or more precisely, earned irreverence. It may seem like an eternity, but the rocketing ascendance of nerd culture in general and comic book culture in particular is still somewhat newly fledged. So even though by 2013 we were definitively, definitely off to the races—The Avengers had landed a year earlier, television's Arrow had launched, and, for better or worse, Man of Steel and the Snyder-verse were upon us—there was still a hunger for TV and film versions of beloved comic book characters that fans could recognize as such. And a suspicion that the rug could still be pulled out.
But that didn't happen. Instead, we got Guardians of the Galaxy, The Flash (and Legends of Tomorrow) and, eventually, Wonder Woman. (Could that rug be here to stay?) Through it all, Teen Titans Go! did what most series do when given time to develop past Season One; it got funnier and more textured in its comedic skewering. As a result, if you see enough episodes, the odds are good you'll discover at least one that pays tribute to/skewers something you love/hate, be it old school computer games ("Oregon Trail"), obscure '80s rock or pyramid schemes.)
In Teen Titans Go!, creators Michael Jelenic and Aaron Horvath pull off what we'll call a "reverse-Hobbit," showing how the characters from those 11-minute bursts of mayhem stand up just fine to the "rigor" of an 88-minute theatrical release. (Granted, they have more than 200 episodes to draw from and no dearth of tired tropes to target.) The premise of "Robin wants his own movie. What must he do to get one?" is all the framework directors Horvath and Peter Rida Michail need to support a sustained skewering of the current frenzy of superhero moviemaking.
Not that Teen Titans Go! to the Movies is meant primarily to serve as some critical comeuppance to the genre—nah, its main goal is to be a fun, family-friendly movie, and in this it's wildly successful. If you're looking to convert a skeptic of the TV series—or even just looking to extract an admission it's not all bad—this is your best bet. If you're an older fan of the DC universe, the movie, like the series, possesses its share of deep cuts and obscure character references to chew on and enjoy. And if you really enjoy seeing the characters and conventions of a genre mocked and subverted, Teen Titans Go! to the Movies has you covered there, too.
It's been a pretty amazing year for superhero films—perhaps the strongest ever—and the fact Teen Titans Go! to the Movies will belong in any discussion of just how strong is quite an achievement. Earned irreverence, it is.
Directors: Aaron Horvath, Peter Rida Michail
Writers: Aaron Horvath, Michael Jelenic
Starring: Greg Cipes, Khary Payton, Tara Strong, Scott Menville, Hynden Walch, Will Arnett, Kristen Bell, Nicolas Cage
Release Date: July 27, 2018
---
Michael Burgin is the Movies Editor for Paste. He's a charter member of Challengers of the Known Unknown.