Did Thom Yorke Share a Suspiria Score Clip on Twitter?
Photo by Rich Fury/Getty
Movies
News
Suspiria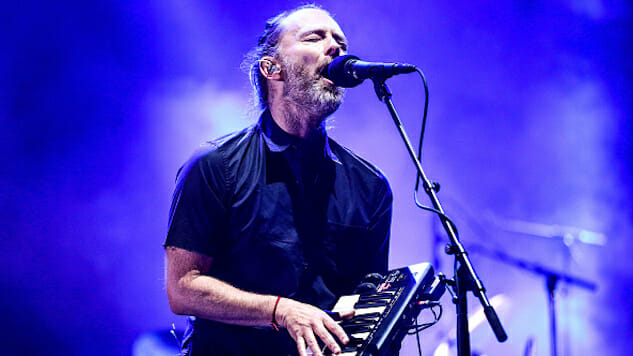 Thom Yorke might have just shared a snippet from his score for Luca Guadagnino's forthcoming Suspiria remake, his debut as a film composer.
Yorke posted a mysterious 30-second clip on Twitter Friday morning, in which we see a washed-out dancer's silhouette (which some have speculated as being a clue tied to the dance school horror remake), accompanied by a tasteful piano instrumental.
What we hear in the latest clip is quite a leap from the '70s horror-inspired synths we got from Yorke's score in the trailer for Suspiria last week.
Another new clip from the film, released on Tuesday, offered yet another peek into Yorke's score in the context of the film. Here, Yorke splits the difference between a delicate piano instrumental and heavy, atmospheric synths, all in service of Tilda Swinton's domineering dance troupe director Madame Blanc and her bond with an ambitious young dancer, Susie Bannion, played by Dakota Johnson.
We'll get the full picture when Suspiria comes out in limited release on Oct. 26 and expands nationwide Nov. 2. For now, you can watch the clip from Yorke's Twitter below, followed by the new Suspiria clip from Amazon Studios. Further down below, you can find a 1995 Radiohead performance from the Paste archives.
— Thom Yorke (@thomyorke) August 31, 2018