The 2012 Sundance Film Fest begins tomorrow, and Paste film editor Michael Dunaway will be on hand to separate the wheat from the chaff. Here's what already has him excited to be in Park City, Utah.
1. 2 DAYS IN NEW YORK
The Category: Premieres
The Sundance Synopsis: "Marion and Mingus live cozily—perhaps too cozily—with their cat and two young children from previous relationships. However, when Marion's jolly father (played by director Delpy's real-life dad), her oversexed sister, and her sister's outrageous boyfriend unceremoniously descend upon them for a visit, it initiates two unforgettable days that will test Marion and Mingus's relationship. With their unwitting racism and sexual frankness, the French triumvirate hilariously has no boundaries or filters…and no person is left unscathed in its wake."
The Key Players: Writer/director/actor Julie Delpy; Chris Rock
The Draw: Julie Delpy has written and directed before (she actually co-wrote Before Sunset with costar Ethan Hawke, among other projects), but this promises to be her biggest project yet. And Chris Rock as a straight man—that we just have to see.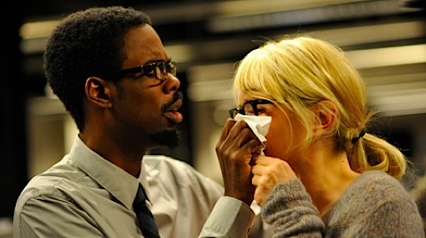 2. BLACK ROCK
The Category: Midnight
The Sundance Synopsis: "Sarah invites her old friends, Abby and Lou, on a reunion trip to a remote island in Maine. There will be laughter, tears, and a boozy catharsis. It's the sort of weekend that can transform the three into fully realized, grown-ass women. You already know this movie, right? Wrong. Emotional release will come, but this is no weepy ballad of reconciliation."
The Key Players: Director/actor Katie Aselton; writer Mark Duplass; Kate Bosworth, Lake Bell
The Draw: Aselton and Duplass are quickly establishing themselves as the new Royal Family of Sundance. Of the several films they're involved with this year, this one looks the tightest and most promising. Aselton's directorial debut The Freebie was a buzzy Sundance presence two years ago, but it was a largely improvised affair; it will be interesting to see her establish her bearings in a more formal environment. Our money's on her succeeding.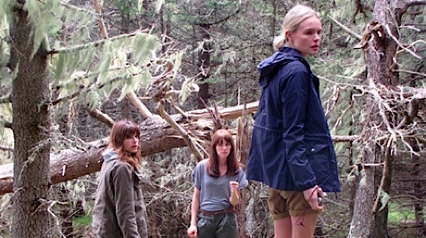 3. COMPLIANCE
The Category: Next
The Sundance Synopsis: "Becky and Sandra aren't the best of friends. Sandra is a middle-aged manager at a fast-food restaurant; Becky is a teenaged counter girl who really needs the job. One stressful day (too many customers and too little bacon), a police officer calls, accusing Becky of stealing money from a customer's purse, which she vehemently denies. Sandra, overwhelmed by her managerial responsibilities, complies with the officer's orders to detain Becky. This choice begins a nightmare that tragically blurs the lines between expedience and prudence, legality and reason."
The Key Players: Director Craig Zobel; Ann Dowd
The Draw: Zobel is another Sundance alum (The Great World of Sound, 2007) returning with a more formal exercise. He's also a member in good standing of the Winston-Salem posse of filmmakers who've emerged from that city's North Carolina School of the Arts, which includes David Gordon Green, Jeff Nichols, and Danny McBride. Zobel was the co-producer, in fact, of Green's George Washington, and that fact alone makes me interested in any film he'll ever do.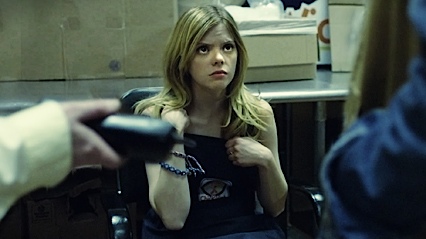 4. DETROPIA
The Category: US Documentary Competition
The Sundance Synopsis: "Detroit's story has encapsulated the iconic narrative of America over the last century—the Great Migration of African Americans escaping Jim Crow; the rise of manufacturing and the middle class; the love affair with automobiles; the flowering of the American dream; and now…the collapse of the economy and the fading American mythos."
The Key Players: Directors Heidi Ewing, Rachel Grady
The Draw: The slow-motion decay of the city of Detroit has been as fascinating as it has been horrifying. Coming from such expert hands as Ewing and Grady (the partnership behind Jesus Camp, The Boys of Baraka, and a riveting section of 2010's Freakonomics), I'm expecting beautiful and thoughtful.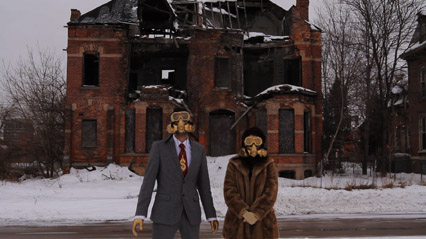 5. THE END OF LOVE
The Category: US Dramatic Competition
The Sundance Synopsis: "Mark is a struggling actor stuck between the life he once knew and the one waiting for him. When the mother of his two-year-old son suddenly passes away, Mark is forced to confront his shortcomings. Their fates, now intertwined, hang in the balance as Mark grapples with his ability to grow up. When he meets Lydia, a young mother, he is no longer able to live in the comfort of denial."
The Key Players: Director/actor Mark Webber; Shannyn Sossamon, Michael Cera, Jason Ritter, Amanda Seyfried
The Draw: Cera and Ritter each make any film worth watching, and we also get Webber and several other compelling actors. Plus the boy in the film is actually Webber's two-year-old son. I expect plenty of sincerity and raw emotion. None of these guys are known for going through the motions.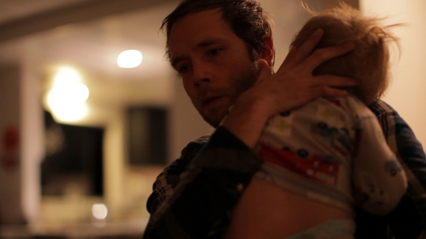 6. ETHEL
The Category: Documentary Premieres
The Sundance Synopsis: "It would have satisfied even the most voracious history buffs if Rory Kennedy, youngest child of Robert and Ethel Kennedy, had enlisted her mother's perspective simply as a fresh angle on the Kennedy years. But Ethel is so much more. Intimate, humorous conversations and never-before-seen images from the family troves uncover an enthralling story of a vivacious, authentic heroine whose transformation—from rambunctious Republican firecracker to savvy Democratic campaigner to socially conscious single mother of 11—arcs definitively as her husband's drama unfolds."
The Key Players: Director Rory Kennedy
The Draw: Simply put, it's our great fortune that a member of one of the most fascinating families in the history of American politics is also such a talented (and celebrated—she won an Emmy for Ghosts of Abu Graib) filmmaker. It must be incredibly difficult for a filmmaker named to Kennedy to do work about her own family, but after 22 years she's finally let us in. My pick for the most promising Documentary Premiere.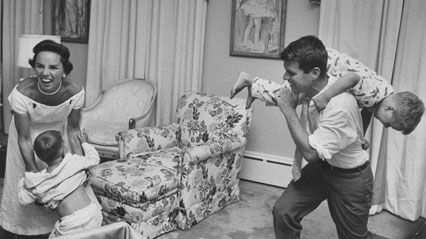 7. THE FIRST TIME
The Category: U.S. Dramatic Competition
The Sundance Synopsis: Dave, a high school senior, spends most of his time pining away over a girl he can't have. Aubrey, a junior with artistic aspirations, has a hot boyfriend who doesn't quite understand her or seem to care. Although they go to different schools, Dave and Aubrey find themselves at the same party. When both head outside to get some air, they meet. A casual conversation sparks an instant connection, and, over the course of a weekend, things turn magical, romantic, complicated and funny as Aubrey and Dave discover what it's like to fall in love for the first time."
The Key Players: Director Jonathan Kasdan; Victoria Justice; Christine Taylor
The Draw: As Kasdan wryly but respectfully noted in his interview on the Institute's website, no one in his family has ever gotten a film into Sundance before. Given his father Lawrence's resume alone, that's saying something. But what sold me on the film was hearing Kasdan fils say he wanted everyone to leave the theater "with a romantic buzz." Coming from a Sundance director, that's refreshing.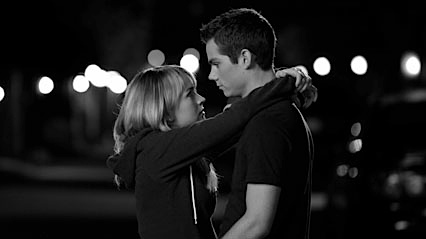 8. HELLO I MUST BE GOING
The Category: U.S. Dramatic Competition
The Sundance Synopsis: "Divorced and demoralized Amy Minsky's prospects look bleak when she is condemned to move back in with her parents at the age of 35. Everyone wants to help, but, as her patience level with advice is plummeting, a bold teenage boy enters her life, igniting her last bit of self-esteem. What ensues is an unconventional love story infused with all the good things Amy needs to get on in life, and that just may include great sex."
The Key Players: Director Todd Luiso; Blythe Danner, Melanie Lynskey
The Draw: You might not recognize the name of director Todd Louiso, but you'd almost certainly recognize his face form his acting career (most recently seen in We Bought a Zoo, but to me he'll always be Jack Black's soft-spoken foil in High Fidelity). And Melanie Lynskey put in an absolutely stunning performance a few years ago in an episode of The Shield, although many still remember her best for Heavenly Creatures. I can't imagine the two of them producing a film that's anything less than memorable.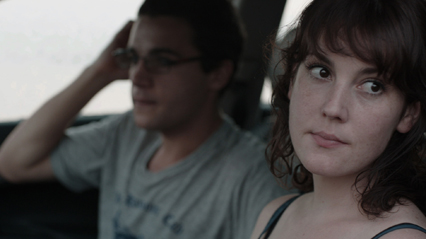 9. LAY THE FAVORITE
The Category: Premieres
The Sundance Synopsis: Beth Raymer is a beautiful girl with a big heart who leaves her dancing job at a Florida strip club to become a Las Vegas cocktail waitress. Not exactly an ideal career choice, but her borderline-ditzy personality doesn't give her many options. In walks Dink, a professional sports bettor who sees through her bubbly exterior and offers her a job placing wagers all over town to gain an advantage over the casinos. Her surprisingly impeccable mind for numbers soon cements her status as Dink's good-luck charm, until his gorgeous-but-frigid wife, Tulip, starts to get jealous. Faced with no other choice but to fire Beth, Dink's luck runs out when she heads to New York to work for a smarmy bookie, a turn of events that lands her squarely on the wrong side of the law.
The Key Players: Director Stephen Frears; Rebecca Hall, Bruce Willis, Catherine Zeta-Jones, Laura Prepon, Joshua Jackson
The Draw: Frears (The Queen, High Fidelity, The Grifters, Dangerous Liaisons) is one of the very best filmmakers working today. It should be delicious to see him set loose with this cast and a high-concept script. My pick for the most promising Premiere.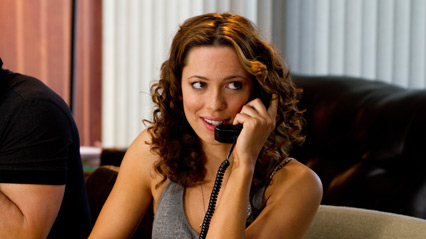 10. LIBERAL ARTS
The Category: Premieres
The Sundance Synopsis: "Newly single, 35, and uninspired by his job, Jesse Fisher worries that his best days are behind him. But no matter how much he buries his head in a book, life keeps pulling Jesse back. When his favorite college professor invites him to campus to speak at his retirement dinner, Jesse jumps at the chance. He is prepared for the nostalgia of the dining halls and dorm rooms, the parties and poetry seminars; what he doesn't see coming is Zibby—a beautiful, precocious, classical-music-loving sophomore. Zibby awakens scary, exciting, long-dormant feelings of possibility and connection that Jesse thought he had buried forever."
The Key Players: Director/actor Josh Radnor; Elizabeth Olsen, Richard Jenkins, Allison Janney
The Draw: Radnor's Audience-Award-winning (and utterly delightful) happythankyoumoreplease was one of the very best highlights of the 2010 festival; Olsen's harrowing performance in Marth Marcy May Marlene was the talk of the 2011 festival. Having the two collaborate gives them a huge boost right off the bat; it seems almost unfair that Radnor also gets talents like Richard Jenkins and Allison Janney, too. My prediction for the most enjoyable film of the fest.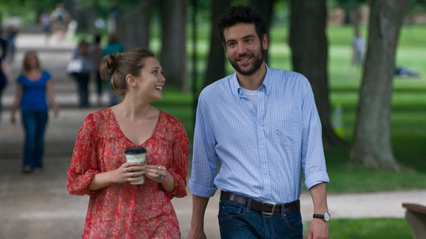 The 2012 Sundance Film Fest begins tomorrow, and Paste film editor Michael Dunaway will be on hand to separate the wheat from the chaff. Here's what already has him excited to be in Park City, Utah.
11. LUV
The Category: U.S. Dramatic Competition
The Sundance Synopsis: "Woody, an adorable 11-year-old boy awaiting the return of his missing mother, lives with his grandmother and Uncle Vincent, who is fresh off an eight-year prison stint. For Woody, the confident, charismatic Vincent is a titan among men. When Vincent notices that Woody could learn a thing or two about becoming a man, he brings him along as he ventures forth to open his own business. But when legit life fails to support Vincent's vision, and his old Baltimore crime boss, Mr. Fish, haunts him, the pace of little Woody's manhood lesson accelerates."
The Key Players: Director Sheldon Canis; Common, Dennis Haysbert, Danny Glover, Michael Kenneth Williams
The Draw: This film may prove to be a turning point in Common's career; he has such an odd combination of gravitas, intelligence and vague menace that filmmakers have struggled in the past to find the right spot for him. But this role seems tailor made. Thoughtful inner-city dramas that don't bathe in pathos or sink to stereotype are pretty rare, too. Plus—Omar!
12. NOBODY WALKS
The Category: U.S. Dramatic Competition
The Sundance Synopsis: "Martine, a 23-year-old artist from New York, arrives in Los Angeles to stay in the pool house of a family living in the hip and hilly community of Silver Lake. Peter, the father, has agreed to help Martine complete sound design on her art film as a favor to his wife. Martine innocently enters the seemingly idyllic life of this open-minded family with two kids and a relaxed Southern California vibe. Like a bolt of lightning, her arrival sparks a surge of energy that awakens suppressed impulses in everyone and forces them to confront their own fears and desires."
The Key Players: Director Ry Russo-Young; John Krasinski, Olivia Thirlby, Rosemarie DeWitt, Dylan McDermott
The Draw: Ry Russo-Young is one of the most fascinating young filmmakers on the scene. In the wrong hands this plot could be the source of at least five different kinds of terrible Hollywood films, but I have great trust in her and in this cast. At first glance, Lena Dunham (Tiny Furniture) seems a strange fit for the subject matter, but I'm equally excited to see a more intense side of her. I'm expecting to walk out of this theater needing a shoulder massage. My pick for the most promising film in the U.S. Dramatic Competition.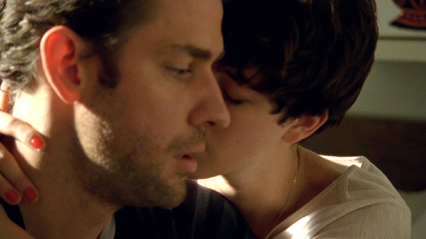 13. THE OTHER DREAM TEAM
The Category: U.S. Documentary Competition
The Sundance Synopsis: "In 1992, the United States sent the Dream Team to the Olympic Games in Barcelona. Considered the greatest basketball team ever assembled, these players were expected to dominate and win the gold—and that's exactly what they did. Meanwhile, on another court, a basketball team from the newly independent nation of Lithuania was chasing a different kind of dream. A tiny country of three million people, Lithuania won the bronze medal, beating Russia, its former oppressor."
The Key Players: Director Marius Markevicius
The Draw: What can I say? I'm a sucker for the "Yeah, but did you realize…" form of sports documentary. Plus, we get to root for Lithuania!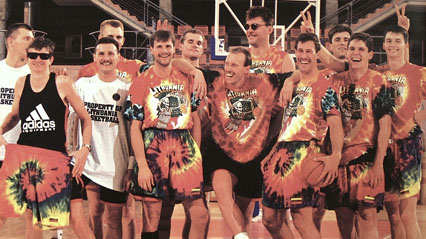 14. RED HOOK SUMMER
The Category: Premieres
The Sundance Synopsis: "When his mom deposits him at the Red Hook housing project in Brooklyn to spend the summer with the grandfather he's never met, young Flik may as well have landed on Mars. Fresh from his cushy life in Atlanta, he's bored and friendless, and his strict grandfather, Enoch, a firebrand preacher, is bent on getting him to accept Jesus Christ as his personal savior. Only Chazz, the feisty girl from church, provides a diversion from the drudgery. As hot summer simmers and Sunday mornings brim with Enoch's operatic sermons, things turn anything but dull as people's conflicting agendas collide."
The Key Players: Director Spike Lee; Clarke Peters
The Draw: A master returns, and this time he's bringing Clarke Peters with him. I didn't even have to read the description before putting it on the list. But after reading the description, it's even more promising.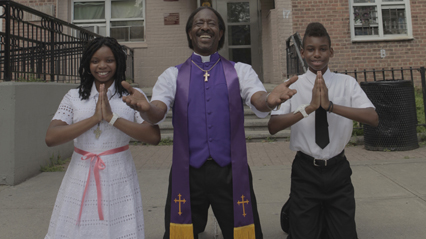 15. RED LIGHTS
The Category: Premieres
The Sundance Synopsis: "Two investigators of paranormal hoaxes, the veteran Dr. Margaret Matheson and her young assistant, Tom Buckley, study the most varied metaphysical phenomena with the aim of proving their fraudulent origins. Simon Silver, a legendary blind psychic, reappears after an enigmatic absence of 30 years to become the greatest international challenge to both orthodox science and professional sceptics. Tom starts to develop an intense obsession with Silver, whose magnetism becomes stronger with each new manifestation of inexplicable events. As Tom gets closer to Silver, tension mounts, and his worldview is threatened to its core."
The Key Players: Director Rodrigo Cortes; Robert DeNiro, Sigourney Weaver, Cillian Murphy, Elizabeth Olsen
The Draw: Gather around children, and let grandpa tell you about the old days, when there were actually movies about the paranormal that weren't faux-found-footage snoozefests. And when you could build an entire trailer around an actor like Robert DeNiro scaring the beejeezus out of you by basically just turning around (unsurprising that the director who can pull that off is the same one who built an entire movie around Ryan Reynolds being trapped in a box). Everyone wants to claim the "thinking-person's thriller" title these days, but this looks to be the real deal.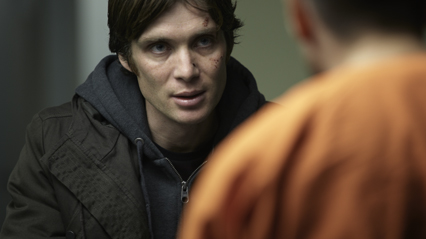 16. SHADOW DANCER
The Category: Premieres
The Sundance Synopsis: "Growing up in a Republican family in 1970s Belfast, Collette McVeigh's childhood is shattered, and her family radicalized, when her brother is killed. Twenty years later—a single mother with her own young son—Collette is active in the IRA, along with her two surviving brothers. During an aborted bomb attempt in London, Collette falls into the hands of an MI5 officer, Mac, who offers her a deal: Turn informant or go to prison. Fearing for her son's welfare, she returns to Belfast where—betraying family and beliefs—she becomes a reluctant mole for British intelligence. As suspicion of Collette mounts and Mac takes increasing risks to protect her, both feel the net closing in."
The Key Players: Director James Marsh; Clive Owen, Gilliann Anderson
The Draw: Another one that would have made the list purely on the strength of the director's name. While many filmgoers know Marsh primarily as the Oscar-winning director of documentaries like Man on Wire and Project Nim, he's a celebrated narrative filmmaker as well. Great cast, and films about Northern Ireland in the Seventies always seem to have a certain tragic existential majesty to them.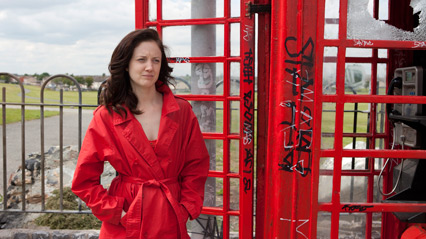 17. SLAVERY BY ANOTHER NAME
The Category: Premieres
The Sundance Synopsis: "Sam Pollard performs a remarkable act of historical reclamation in this documentary, recounting the many ways in which American slavery persisted as a practice many decades after its supposed abolition. It's a story impressive in its sweep and alarming in the way that its larger theme—an American moral failure—has been obscured in history."
The Key Players: Director Sam Pollard
The Draw: So good it's already been bought—it airs on PBS in February. Plus, it tells a much-ignored and much-misunderstood chapter in the long, sad history of American race relations. Films like this can help nations heal.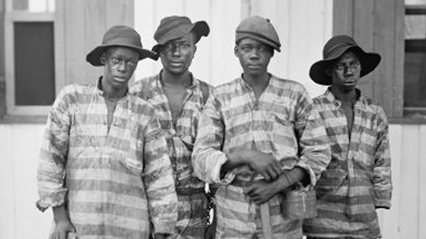 18. THE SURROGATE
The Category: Premieres
The Sundance Synopsis: "The quest for love appears insurmountable when a man confined to an iron lung determines, at age 38, to lose his virginity. Based on the autobiographical writings of Berkeley, California-based journalist and poet Mark O'Brien, The Surrogate chronicles his attempt to transcend the limbo between childhood and adulthood, in which he is literally trapped. With the blessing of an unusual priest and support from enlightened caregivers, the poignantly optimistic and always droll O'Brien swallows his fear and hires a sex surrogate. What transpires over a handful of sessions transforms them both."
The Key Players: Director Ben Lewin; John Hawkes, Helen Hunt, William H. Macy
The Draw: Two years ago, John Hawkes' Sundance film was Winter's Bone. Last year, he starred in Higher Ground and Martha Marcy May Marlene. I think it's time we all realized that every Sundance film he's in is a must-see.
19. SHUT UP AND PLAY THE HITS
The Category: Midnight
The Sundance Synopsis: "With the release of their debut album in 2005, New York City's LCD Soundsystem changed the face of dance music, combining equal parts punk, soul and disco. Their devoted fan base steadily grew, bolstered by Grammy nominations and recognition as one of the best live bands in the world. In early 2011, touring to support their first Billboard Top 10 debut, LCD Soundsystem announced its largest gig to date—Madison Square Garden—and that the concert would be their last ever."
The Key Players: Directors Dylan Southern and Will Lovelace; James Murphy of LCD Soundsystem, Chuck Klosterman
The Draw: Paste favorites LCD Soundsystem and Chuck Klosterman? Together? In one film? Sign us up.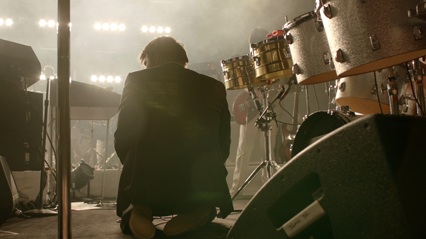 20. SOMETHING FROM NOTHING: THE ART OF RAP
The Category: Documentary Premieres
The Sundance Synopsis: "Visually luscious and drenched with the big beats of classic cuts and freestyle rhyming by some of the masters of the music, Something From Nothing: The Art of Rap is a performance documentary about the runaway juggernaut that is hip-hop. At the wheel of this unstoppable beast is Ice-T. The practitioner/filmmaker, with codirector Andy Baybutt, takes us on a personal journey into the asphalt roots of the music that saved his life."
The Key Players: Director Ice-T; Chuck D, Dr. Dre, Ice Cube, Snoop Dogg, Eminem, KRS-One, Afrika Babmbaata, Nas, Mos Def, Run-DMC.
The Draw: For all the excellent documentaries about hip-hop, the actual creation process has been surprisingly underexplored. Ice-T has a bit of credibility, you might say, in becoming the one to further that exploration. And if Chuck D is on board, I am too. That's just how I roll.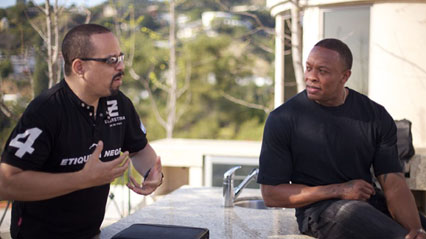 The 2012 Sundance Film Fest begins tomorrow, and Paste film editor Michael Dunaway will be on hand to separate the wheat from the chaff. Here's what already has him excited to be in Park City, Utah.
21. THAT'S WHAT SHE SAID
The Category: Next
The Sundance Synopsis: "Longtime best friends Bebe and DeeDee are both wrestling with love. Bebe has met someone new and is in the exuberant phase of a budding romance. DeeDee is trying to move on from someone she can't forget—mostly in destructive ways. As Bebe waits for the perpetually late DeeDee at their favorite coffee shop, she meets Clementine, a distraught young woman with love problems of her own. With Clementine in tow, Bebe and DeeDee soon embark on the kind of outrageous misadventure that only New York City can offer."
The Key Players: Director Carrie Preston; Anne Heche, Alia Shawkat
The Draw: Director Carrie Preston, well known to fans of indie film and True Blood alike, describes her film as "a chick flick that's not for pussies." With her talent and the talent she assembled for the cast, this one is a no-brainer. My early pick for the most hilarious film at Sundance. (Disclosure: Carrie Preston is on the Board of Advisors for my film The Man Who Ate New Orleans)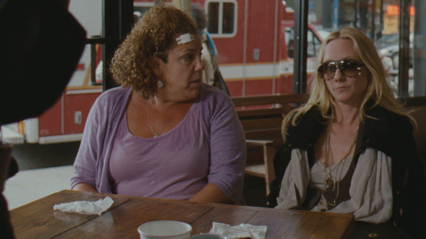 22. TIM AND ERIC'S BILLION DOLLAR MOVIE
The Category: Midnight
The Sundance Synopsis: "Tim and Eric are given a billion dollars to make a movie but squander every dime, and the sinister Schlaaang Corporation is pissed. Their lives at stake, the guys skip town in search of some way to pay the money back. They happen upon a chance to rehabilitate a bankrupt mall full of vagrants, bizarre stores, and a man-eating wolf that stalks the food court, and they see dollar signs—a billion of them."
The Key Players: Directors/actors Tim Heidecker and Eric Wareheim; Will Farrell, John C. Reilly, Zach Galifaniakis
The Draw: Come on, even if the name of this film was "Tim and Eric Kill Your Mother," you'd still want to see it right?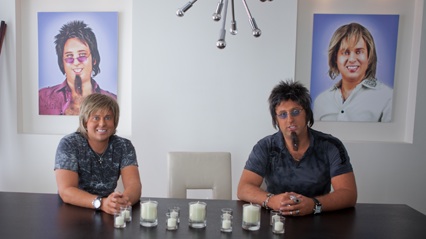 23. UNDER AFRICAN SKIES
The Category: Documentary Premieres
The Sundance Synopsis: Paul Simon's historic Graceland album sold millions of copies and united cultures, yet divided world opinion on the boundaries of art, politics, and commerce. On the occasion of the 25th anniversary of Graceland's release, Simon returns to South Africa for a reunion concert that unearths the turbulent birth of the album. Despite its huge success as a popular fusion of American and African musical styles, Graceland spawned intense political crossfire. Simon was accused of breaking the United Nations' cultural boycott of South Africa, which was designed to end apartheid."
The Key Players: Director Joe Berlinger; Paul Simon, Quincy Jones, Paul McCartney, Harry Belafnote, David Byrne
The Draw: Another no-brainer. The man behind Metallica: Some Kind of Monster plus Paul Simon plus Graceland plus thoughtful re-examination equals must-see.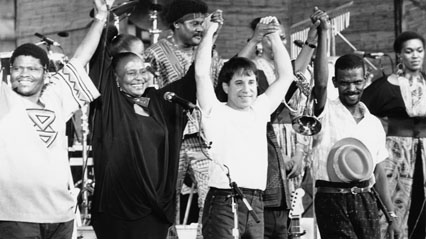 24. WE'RE NOT BROKE
The Category: U.S. Documentary Competition
The Sundance Synopsis: "With the United States in the grip of the worst economic recession since the Great Depression and an unprecedented budget deficit, the conclusion that our country is broke seems unquestionable. At least that's what politicians and pundits want ordinary citizens to believe as they call for massive spending cuts.
Karin Hayes and Victoria Bruce's searing exposé reveals that, strangely absent from this rhetoric, is the infuriating fact that multibillion-dollar corporations are based in the U.S., make money from American consumers, and often even receive lucrative contracts from the government, yet pay nothing in U.S. income taxes. By exploiting tax-law loopholes and spending millions on lobbyists to pressure politicians to protect their interests, corporations pocket billions while the less-connected middle class disappears, and the poor get poorer."
The Key Players: Directors Karin Hayes and Victoria Bruce
The Draw: Talk about timely. Hayes and Bruce (the team behind The Kidnapping of Ingrid Betancourt and Pip & Zastrow) began working on this documentary months before Occupy Wall Street was even a twinkle in anyone's eye. My early pick for the most provocative documentary of the festival. (Disclosure: Karin Hayes is on the Board of Advisors for my film The Man Who Ate New Orleans)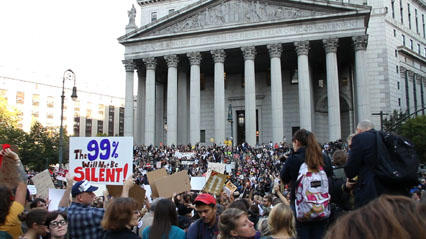 25. WEST OF MEMPHIS
The Category: U.S. Documentary Competition
The Sundance Synopsis: "For many people, the case of the West Memphis Three has become synonymous with wrongful conviction. Despite a lack of physical evidence, three Arkansas teenagers were found guilty in 1994 of the ritual murder of three eight-year-old boys. Media attention led to an outpouring of support that has helped to keep them in the public consciousness for nearly two decades."
The Key Players: Director Amy Berg; Producer Peter Jackson
The Draw: Another type of documentary I'm a sucker for—the forensic procedural. Every one of these films stands in the shadow, of course, of Errol Morris' The Thin Blue Line, but in addition to being fascinating they are among the most important films that can be made. My pick for the most promising doc in the US Documentary Competition.