Freakin' Dope: James Strouse and Keith Stanfield Talk The Incredible Jessica James
Director James Strouse and star Keith Stanfield talk about their Sundance film, The Incredible Jessica James.
Photo: Jonathan Leibson / Stringer / Getty
Movies
Features
Sundance Film Festival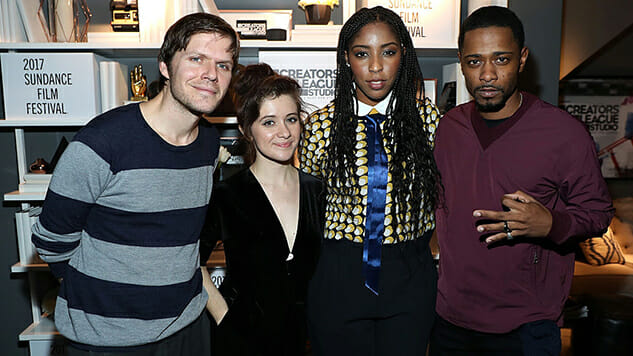 The Incredible Jessica James was a much needed dose of humor, levity and heart at this year's Sundance Film Festival. Starring Jessica Williams in her post-The Daily Show break out role and Keith Stanfield, who's been one of the best parts of Atlanta, the comedy is a refreshing look at the collision between artistic and romantic journeys.
From Filmmaker James Strouse (People Places Things), The Incredible Jessica James centers on Jessica James (Williams), a young playwright living in New York who's going through a bad breakup with ex, Damon (Stanfield). As much as she's dreaming about Damon, she's hustling to get her first play produced and teaching children writing and theatre. When she meets an unexpected fling, she has a new outlook on both her artistic pursuits and love life. Maybe they're more symbiotic than she had believed?
Paste had a chance to sit down with both Strouse and Stanfield on separate occasions to discuss their own connections with the film and beyond. With the film exploring ideas around success, struggling and validation, Strouse and Stanfield opened up about how they navigate the fine line that separates art from the reality.
On Jessica Williams…
Strouse: There's a line in this movie: "Jessica, I really like you." "Yeah, no duh, everyone likes me, I'm freakin' dope." It could be incredibly off-putting, but I knew with Jessica saying it, everyone would be like "Yeah, yeah." I just love the way she filters the lines and I love the way she puts things. She's just so fun.
I had done three movies with male protagonists. Someone asked if any of my films have passed the Bechdel Test, and I said, "No." I thought that enough's enough —I need to try. One thing I found super inspiring was Annie Baker's The Flick. What a portrait of, well, many things, but male friendship, [of] these two very different men and the minutiae of how they relate to each other. I thought, "How did she see into our souls?" It was so inspiring.
I tried my best to see through a female's eyes and I was talking to Jessica a lot. I think it was a little bit of a leap, and I told Jessica, "Look, there are things I don't know, so help me and if it feels wrong, tell me."
Stanfield: I was going through a breakup right before I got into this film, and [my ex] is a lot like Jessica Williams. It brought up a lot of thoughts about our relationship, and it was really perfect timing. It did inform some things, not in a way I was conscious of, but I'm sure it was there in the background in some weird way. I just know it was surreal. But that happens all the time.
When you get into different films, you're like, "This is mirroring my life." That's a good sign, because if it's doing that for you, it's doing that for someone else.
On preparing for the film…
Stanfield: With this particular role, [preparing meant] watching Jim's old films and seeing stylistically what they were and really just working off of Jessica. She helped me in the scenes to get the rhythm of it and get what's going on. I've never done anything like that before. I did this right before I did Atlanta, and I was like, "Dude, I'm just going to keep doing funny shit because it's so fun." I really enjoyed the experience.
I guess [the preparation is] always different. It's contingent on where I'm at in my life, how I'm feeling. As I do more and more work, the preparation changes for the better. I get more aware of what's necessary by failing and trying things and being like, "This didn't fucking work." The way I used to view actors and actresses on TV when I was little was always like, "What would I do if I were in that scene, in that situation?"
Believe me, when I see myself, I've always failed—just because I look at it more like, "Damn, I would've…" It informs what I need to do the next time in order to make sure that I have it the way I want to do it.
Sometimes you can't be prepared for a role because there's no amount of research you can do. There's a role I'm doing here [at Sundance] for this [other] film Crown Heights. I couldn't really prepare to have spent 20+ years in prison. There's no way to really prep for that, except to dig down to the deepest parts of yourself and trust the process from there.
Strouse: I moved to New York and I was writing short stories and facing rejection. A lot of Jessica's journey as a writer comes directly out of my own experience. A lot of that is very autobiographical, trying to see it through this character's eyes. I love New York. I've been afraid to set anything in New York for a long time because I'm from Indiana and it's so daunting. There are so many great New York stories.
I have two kids now who are bonafide New Yorkers. I have my little corner of existence. I live in Brooklyn, I teach at the School of Visual Arts, and I love off-Broadway theater. I love non-profit children's theater. In the movie, the Children's Theater Project is based off of a real organization that I go to and all the things in the movie are things that I legitimately love. This would be my experience of New York.
On struggling before success…
Stanfield: There are some things that are very valuable about being unhinged. It's not a comfortable place to be in, but it's pretty much where I've always been. I come from a family that's very unhinged. Prior to getting into Hollywood, I was. I didn't know what the hell I was doing. I was just running around and then finally, boom, I got into it. But I remember nights sleeping in my car and I was having to remember that moment. "I'm going to remember how this feels and then watch what happens when I take this and make it something better." I still feel that way sometimes.
Sometimes having things gone from your life, taking them away and stripping [life] down to bare bones makes you re-realize what's important.
What is success?
Strouse: I have struggled with this question a lot. When do you make it? As someone who wants to make things for a living and write things, what do you base success on? I firmly believe that doing it is the thing. I remember when I was 19, I had a friend who knew David Foster Wallace and he came to my school and I got to go to a diner with him. I was writing all the time and he knew that I was all keyed up, like, "I'm going to meet my mentor." He was not having it.
He [said], "So you want to be a writer? Are you writing? You're a writer." You gotta keep doing it.
On keeping the inspiration alive…
Stanfield: It's very important to have somebody in your corner fighting for you in an environment like Hollywood. It's a very competitive, tough place. It makes all the difference in the world when you can have somebody real who you trust, know and love in your corner. A lot of things out here are based purely on money and accolades and superficial shit. You need backbone and a structure. Anything that you're going to do that you're going to put your all into, you need something to fall back on if that "all" thing fails. So you still stay alive and stay well.
Strouse: It's tough, really tough. A lot of it has to be pulled from within. There's no one saying, "So, what's next? Let's get it going." That's a really hard part of it. As a writer, it's a weird lonely world. You get excited, but there's no one to talk to about it. If you do have someone to talk to about it, they're like, "What are you talking about? It's an imaginary thing that may never happen." You need a community.
On what's next…
Stanfield: [Come Sunday]—it's basically about a preacher in a mega-church named Carlton Pearson who worked his way up by virtue of pure talent and ability to be one of the leaders in one of the biggest churches in the country in the '90s, called Azusa. Chiwetel Ejiofor is playing him. I play Jesse, who is the leader of the choir of this mega church. He battles with his morality as a member of the congregation, but also has a disposition that he can't control or stifle, but he attempts to do so in order to fit into the congregation. It's a really sweet story; it's a true story. It's based on a story from This American Life.
I've been very, very fortunate to work with brilliant people. I really like their minds and I try to just take a little bit of whatever I can take that's good. I just soak it in. One thing that's really valuable about that is it has put me in a place where I want to direct more and more. I feel like I do have a vision for understanding performance execution. I can definitely make a scene out of something. I've been thinking about that lately, jotting stuff down, and that has helped me, watching these guys and seeing what a tremendous undertaking that is, how prepared you have to be to do that.