Sturgill Simpson Releases Supernatural Theme Song For "The Dead Don't Die"
Photo by Dimitrios Kambouris / Getty
Movies
News
Sturgill Simpson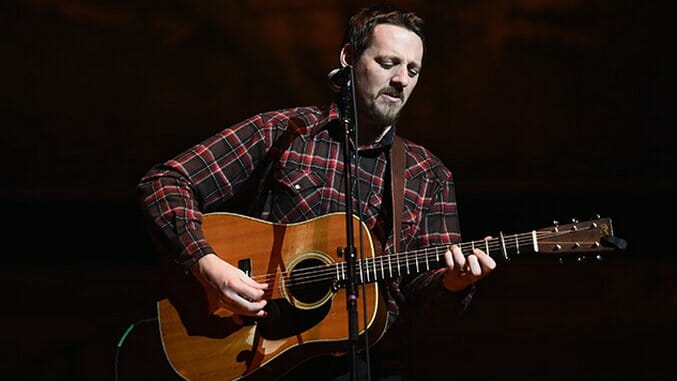 Outlaw country torch-bearer Sturgill Simpson is back from the frontier after a three-year musical silence. Simpson, as a rule, never does what he's expected to: his last two albums were the epistolary soul-rock-country collage A Sailor's Guide to Earth and the sci-fi spiritual odyssey Metamodern Sounds in Country Music. Now's he's one-upped his one-upping: he's gone and cut a supernatural theme song for the zombie-themed dark comedy The Dead Don't Die.
The Dead Don't Die is directed by indie cinema legend Jim Jarmusch (Stranger Than Paradise, Paterson), and Simpson's titular track shares the director's signature deadpan humor. Over a ridiculously country arrangement—fiddle, plinky piano and steel guitar—Sturgill does a wistful, down-home voice. But the lyrics shake the dust right off these good ol' sounds by musing on the philosophical implications of zombies. "After life is over, the afterlife goes on" he repeats like a mantra, and it's left open-ended whether this is all some joke or if Sturgill has abandoned turtles to center the living dead in his neo-hippie metaphysics.
Sturgill explained how the surprise collaboration came about in an interview with Beats 1's Zane Low, saying that "the motivation for doing it was Jim Jarmusch called me and asked me if I wanted to write a song for his movie. And I think I said yes before he even got the question out. I've always loved his work, probably since I was too young to really even understand or be watching, so like Ghost Dog, movies like Dead Man, they had a huge impact on me. I've probably seen Ghost Dog like two or three hundred times, so it really is like a sort of a bucket list thing getting to work with him."
Sturgill's theme song is a sort of running gag in the movie. The two buddy-cop protagonists of the zombie flick, Bill Murry and Adam Driver, discuss the track at length as they patrol their rural town, and Selena Gomez's hipster character purchases the song on CD. At one point, Bill Murray turns to ask why Sturgill's song, playing on the radio, sounds so familiar, and Driver's character replies, "Well, probably because it's the theme song." Additionally, Sturgill himself reportedly cameos as a guitar-dragging background zombie. This won't be Sturgill's only film appearance this year—he's also set to flex his acting chops in the Daniel Kaluuya-starring thriller "Queen & Slim," coming out November 27.
The Dead Don't Die is out in theaters Friday, June 14. The star-studded cast includes Bill Murray, Adam Driver, Tilda Swinton, Chloë Sevigny, Steve Buscemi, Danny Glover, Caleb Landry Jones, Rosie Perez, Iggy Pop, Sara Driver, RZA and Selena Gomez. Check out the song and a clip from the movie below.