Steven Soderbergh: Shooting on iPhones Is "The Future," Won't Go Back to Digital Cameras
Photo via Getty Images, Nicholas Hunt
Movies
News
Steven Soderbergh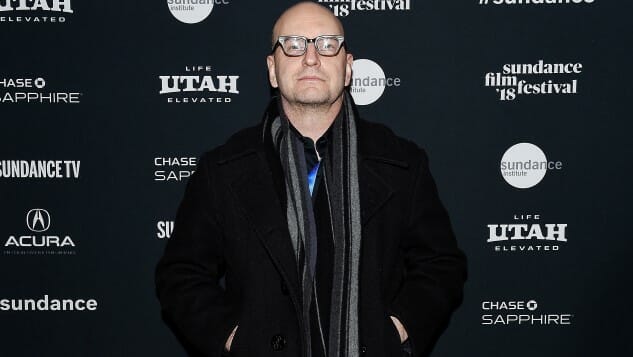 As a director, Steven Soderbergh has always been an innovator and a boundary-pusher who simultaneously has found a way to work within (while evolving) the Hollywood system. This is exactly why we included him in our recent list of 20 of the most innovative filmmakers working today, but Soderbergh's latest announcement is one of his most surprising. After shooting his most recent feature, the 2018 psychological thriller/horror movie Unsane totally in secret, the director's biggest takeaway seems to be a new preference for iPhones as a filmmaking instrument. As Sean Baker did to high-profile acclaim in 2015's Tangerine, Unsane was shot exclusively on the iPhone. Now, Soderbergh says he won't be going back to digital cameras any time soon.
"I think this is the future," he said at Sundance. "Anybody going to see this movie who has no idea of the backstory to the production will have no idea this was shot on the phone. That's not part of the conceit. People forget, this is a 4k capture. I've seen it 40 feet tall. It looks like velvet. This is a gamechanger to me."
When then asked if he would continue to shoot films on phones, he said the following:
"I'd have to have a pretty good reason not to be thinking about that first… There's a philosophical obstacle a lot of people have about the size of the capture device. I don't have that problem. I look at this as potentially one of the most liberating experiences that I've ever had as a filmmaker, and that I continue having. The gets that I felt moment to moment were so significant that this is, to me, a new chapter."
That is one hell of a strong endorsement from the director of everything from Oceans 11 to last year's Logan Lucky, which underperformed at the U.S. box office. Most recently, Soderbergh has been executive producing documentarian Eugene Jarecki's The King, "a complex look at the legacy of Elvis Presley and its reverberations in American culture." He also found time to produce Unsane in secret last year, and although there's no trailer yet available for the film, it will be premiering in only a few weeks at the Berlin International Film Festival. Starring Claire Foy of The Crown, along with Juno Temple, the film's synopsis says "A young woman is involuntarily committed to a mental institution, where she is confronted by her greatest fear." The only look we've had at Unsane so far is a few vague production photos.
The question now is, how many other filmmakers will follow Soderbergh's lead? Are we just a short time away from when films shot on iPhones or Samsung Galaxies are getting widespread theatrical releases? What a time to be alive.