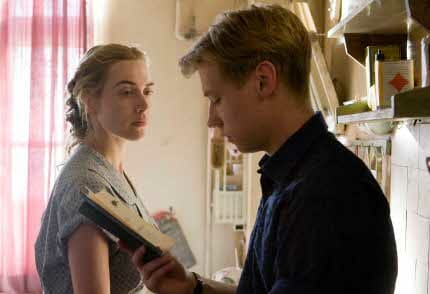 Release Date: Dec. 10 (limited)
Director: Stephen Daldry
Writer: David Hare
Cinematographers: Roger Deakins, Chris Menges
Starring: Kate Winslet, David Kross, Ralph Fiennes, Lena Olin, Bruno Ganz
Studio/Run Time: ?The Weinstein Company, 123 mins.
Morally complex, devastating drama navigates the effects of one of the world's great tragedies
Stephen Daldry's adaptation of Bernhard Schlink's The Reader is a somber, desolate and profound film that does not shy away from the story's thematic complexities. Newcomer David Kross superbly plays Michael Berg, a teenager in post-World War II Germany who embarks on an affair with a stern, serious older woman named Hanna Schmitz (Kate Winslet). A relationship that begins through an act of kindness quickly becomes sexual, tense and volatile.
For as much flesh as is on display (and there is quite a bit), the film's most passionate scenes come from its namesake. It isn't an accident when Hanna tells him, "We're changing the orders we do things, kid." First he reads to her, then they make love. Priorities. She becomes entranced by the stories Michael reads to her, the grand tales of Homer, Chekhov, Mark Twain and D.H. Lawrence. One of The Reader's virtues is its great respect for literature, for those fleeting moments in Hanna's day where she can revel in a world that is not her own.
Winslet is astonishing as Hanna, an introverted woman whose past has been locked away so deep inside of her it has robbed her of a future. She harbors a secret, one that binds her to her past in ways she cannot escape. Every letter, every word, every story is a solemn reminder. Even an innocent trip to the countryside catalyzes a moment of clarity, one in which she's overcome with emotion after merely listening to children sing in a church choir.
When the truth about her past as an S.S. guard at Auschwitz is revealed in the film's second half (while Michael is attending law school), the shame of her secret tightens its grip on her throat. There are crucial revelations within The Reader that cannot be revealed, but once they are transform the film into something else entirely. What started out as a story of first love lost turns into a labyrinthine rumination on consciousness and moral responsibility. The trajectory of the Michael character, later played as an adult by Ralph Fiennes, is particularly heartbreaking—a man who whose disposition eerily devolves to mirror Hanna's. In turn, David Hare's faithful script never allows Hanna to become a character that demands sympathy, a delicate balancing act only an actress of Winslet's caliber could manage.
If there's an area in which Daldry (Billy Elliott, The Hours) stumbles, it's with Fiennes' character, whose scenes are intermittently spliced throughout the film to jarring effect. But its shortcomings are few and its blessings many (including Nico Muhly's haunting, elegiac score). The Reader is a great film, and that rare film about the Holocaust that examines its aftermath—how it emboldened some to action, and emotionally stunted others—and the divide it created between the generation that followed.
Professor Rohl (a terrific Bruno Ganz) tells Michael to learn from the mistakes he's made so he can avoid them in his own life. But learning signifies understanding, and understanding is the phantom each character in The Reader desperately chases—that elusive resolution not attainable when horrors this tragic happen at your own doorstep, when the people responsible are staring you in the face.