New on Starz: All the Movies and TV Coming in August
Image via Sony Pictures Classics
Movies
Features
Starz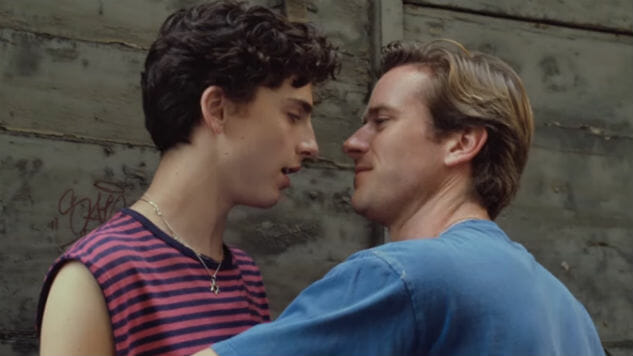 As July swelters on, we look forward to August and prepare to watch summer fade to a close. As the days get longer but stay just as hot, you'll have ample reason to stay in and catch up on the TV and movies you've been meaning to watch, and Starz is adding some awesome titles to their streaming app to help you out. Here's everything coming to the Starz app this August, as well as everything leaving.
Film nerds will be excited to geek out over Starz's upcoming campy, vintage titles, from the '70s Blacula movies to the '80s Ghoulies franchise. Anyone who missed the Taraji P. Henson-led Proud Mary in theaters will finally have the chance to catch it, along with other recent flicks like Film Stars Don't Die in Liverpool and The Other Side. Meryl Streep fans won't want to miss the actress's campiest, most delightfully ridiculous film, Death Becomes Her, when it hits the app. And the movies lineup is rounded out by Call Me by Your Name, a timely addition, given that this Best Picture nominee is one of the best summer romances of the 21st century. Pour some apricot juice, grab some tissues and settle in.
The app's upcoming TV offerings are slim, though Bernie Mac fans will be eager to binge the 500+ episodes of The Bernie Mac Show, hitting Starz on Aug. 1. New episodes of the acclaimed Power will also continue coming to the app, and new Starz original docuseries America to Me debuts Aug. 26.
You'll probably want to power up Starz as soon as you're done reading this, because some seriously good stuff is leaving the app by the end of August. Classics like Cast Away, Norma Rae, Top Gun and Far from Heaven are all on their way out, as is Pixar's most underrated film, Wall-E. Indie lovers will also want to catch neo-noir Brick and the Ryan Gosling-led Lars and the Real Girl before they depart, while horror fans will undoubtedly miss both Poltergeist sequels after they're gone.
Check out the full list of titles below to figure out what you need to catch soon, and what you have to look forward to on Starz in August.
WHAT'S NEW ON THE STARZ APP – AUGUST 2018
AVAILABLE AUGUST 1ST
Above And Beyond (2015)
Black Mama, White Mama (1972)
Blacula (1972)
Casper (1995)
Death Becomes Her (1992)
Domestic Disturbance (2001)
Drumline (2002)
Empatia (2017)
Fun With Dick And Jane (2005)
Home For The Holidays (1995)
Kevin Hart Presents: Keith Robinson – Back to the Bus Funny (2015)
La Habitacion (2016)
La Ultima Tarde (2016)
Line Of Duty (2012)
Millions (2004)
More Than A Game (2008)
Owen Benjamin: Huge Pianist (2017)
Peanut Gallery (2015)
Scream Blacula Scream (1973)
The Smurfs And The Magic Flute (1976)
Tom Segura: Completely Normal (2014)
The Transporter (2002)
Violeta Al Fin (2017)
What Women Want (2000)
"The Bernie Mac Show" Episode 101-522 (2001)
AVAILABLE AUGUST 3RD
Austin Powers In Goldmember (2002)
AVAILABLE AUGUST 4TH
Call Me by Your Name (2017)
AVAILABLE AUGUST 5TH
"Power" Episode 506 (2018)
AVAILABLE AUGUST 8TH
Film Stars Don't Die in Liverpool (2017)
AVAILABLE AUGUST 10TH
Anything Else (2003)
The Bad News Bears Go To Japan (1978)
Battle For Skyark (2015)
Chain Reaction (1996)
Eat Pray Love (2010)
The Fury (1978)
The Halliday Brand (1957)
Lifeforce (1985)
The Love Letter (1999)
The Mortician (2010)
Mr. Magorium's Wonder Emporium (2007)
The Other Side (2018)
Piedras (2002)
Sidewalks Of New York (2001)
Student Bodies (1981)
Support Your Local Gunfighter (1971)
Things Never Said (2013)
AVAILABLE AUGUST 11TH
Proud Mary (2018)
AVAILABLE AUGUST 12TH
"Power" Episode 507 (2018)
AVAILABLE AUGUST 17TH
The Baby's Room (2006)
Crew 2 Crew (2012)
The Cutting Edge (1992)
D.O.A.: Dead Or Alive (2006)
Dying Of The Light (2014)
Game Time (2011)
Ghoulies (1984)
Ghoulies II (1987)
The Invisible Man (1933)
Permission (2016)
The Poseidon Adventure (1972)
Ruthie & Connie: Every Room In The House (2002)
White Men Can't Jump (1992)
AVAILABLE AUGUST 20TH
Rebels On Pointe (2017)
AVAILABLE AUGUST 23RD
Mike Birbiglia: My Girlfriend's Boyfriend (2013)
AVAILABLE AUGUST 24TH
Comes A Horseman (1978)
Dear Dictator (2016)
The Duel At Silver Creek (1952)
Four Dragons (2008)
The Fourth Angel (2001)
Genesis (2018)
Goin' To Town (1935)
Happy End (2017)
Hell Bent For Leather (1960)
Highway (2012)
Incident At Phantom Hill (1965)
Judge Archer (2012)
Kid Colter (1985)
Knock Knock (2005)
Knock Knock 2 (2012)
L.O.R.D: Legend Of Ravaging Dynasties (2016)
Man Of The East (1972)
Mondays In The Sun (2003)
No Name On The Bullet (1959)
Spectre (2006)
Stagecoach Buckaroo (1941)
To Let (2006)
AVAILABLE AUGUST 26TH
"America To Me" Episode 101 (2018) PREMIERE
"Power" Episode 508 (2018)
AVAILABLE AUGUST 29TH
The Smurfs (2011)
WHAT'S LEAVING ON THE STARZ APP – AUGUST 2018
LEAVING AUGUST 4TH
Seal Team Six: The Raid On Osama Bin Laden (2012)
LEAVING AUGUST 6TH
Hero (2002)
LEAVING AUGUST 8TH
The Chronicles Of Narnia: Prince Caspian (2008)
LEAVING AUGUST 9TH
Our Little Sister (2016)
LEAVING AUGUST 10TH
Revenge Of The Nerds (1984)
LEAVING AUGUST 15TH
Because I Said So (2007)
Don't Breathe (2016)
Miss Pettigrew Lives For A Day (2008)
LEAVING AUGUST 17TH
Fast Food Nation (2006)
The Taking Of Pelham 1 2 3 (2009)
LEAVING AUGUST 19TH
Cast Away (2000)
LEAVING AUGUST 20TH
Year One (2009)
LEAVING AUGUST 21ST
The Hollars (2016)
LEAVING AUGUST 24TH
The Deep End (2001)
Turistas (2006)
Wall-E (2008)
Whiteboys (1999)
LEAVING AUGUST 25TH
Life As A House (2001)
LEAVING AUGUST 27TH
When The Bough Breaks (2016)
LEAVING AUGUST 28TH
Equity (2016)
LEAVING AUGUST 30TH
Bandolero! (1968)
Biggie & Tupac (2002)
The Dancer Upstairs (2003)
Johnny Dangerously (1984)
The Last King Of Scotland (2006)
Norma Rae (1979)
Notes On A Scandal (2006)
Stargate: Continuum (2008)
Sunset Strip (2000)
"Thomas Edison's Secret Lab" Episode 1-26 (2015)
LEAVING AUGUST 31ST
Adiós, Sabata (1970)
Aire Libre (2014)
Apache Country (1952)
The Babe (1992)
Barbed Wire (1952)
Best Seller (1987)
The Big Hit (1998)
Bigger, Stronger, Faster: The Side Effects Of Being American (2008)
The Blazing Sun (1950)
Blow Out (1981)
Breakin' All The Rules (2004)
Brick (2006)
Can't Help Singing (1944)
Chevolution (2008)
Client 9: The Rise And Fall Of Eliot Spitzer (2010)
Conan O'Brien Can't Stop (2011)
CQ (2001)
The Crazies (2010)
The Crocodile Hunter: Collision Course (2002)
Dark Blue (2003)
Darkness (2002)
Drums Across The River (1954)
Eden Lake (2008)
Extraction (2015)
Far From Heaven (2002)
Fort Bowie (1958)
Gattaca (1997)
Gun Belt (1953)
Happily N'ever After (2007)
Happily N'ever After 2: Snow White: Another Bite At The Apple (2009)
Hard Luck (2006)
Hollidaysburg (2014)
Idle Hands (1999)
Invitation To A Gunfighter (1964)
The Island (1980)
Lars And The Real Girl (2007)
Las Tetas De Mi Madre (2015)
Love And A .45 (1994)
McLintock! (1963)
Miami Vice (2006)
My Blind Brother (2016)
Night Stage To Galveston (1952)
Not Cool (2014)
Nothing Like The Holidays (2008)
The Old West (1952)
The People Under The Stairs (1991)
Pistas Para Volver A Casa (2014)
Poltergeist II: The Other Side (1986)
Poltergeist III (1988)
Posse From Hell (1961)
The Private Lives Of Pippa Lee (2008)
Renaissance (2005)
Return Of Sabata (1971)
Ride To Hangman's Tree (1966)
Rugrats In Paris: The Movie (2000)
Shattered (2007)
Shriek If You Know What I Did Last Friday The 13th (2000)
Silver Canyon (1951)
Soul On Ice: Past, Present And Future (2015)
Surfwise (2008)
Tank (1984)
Tell Them Willie Boy Is Here (1969)
Texans Never Cry (1951)
Top Gun (1986)
True Heart (1997)
Two Days In April (2007)
Valley Of Fire (1951)
Wagon Team (1952)
Waterhole #3 (1967)
What's Eating Gilbert Grape (1993)
Wimbledon (2004)
Yu Gi Oh! The Dark Side of Dimensions (2017)
"The Adventures Of Abney & Teal" Episode 1-52 (2011)
"The Chair" Episode 101-110 (2014)
"Connie The Cow" Episode 18-43 (2002)
"Dirtgirlworld" Episode 1-52 (2009)
"Horseland" Episode 1-39 (2006)
"How To Be Indie" Episode 1-52 (2009)
"Thomas & Friends" Episode 101-203 (2008)