New on Starz: All the Movies and TV Coming in January
Photos by Jay Maidment/Sony, JoJo Whilden/Sony
Movies
Features
Starz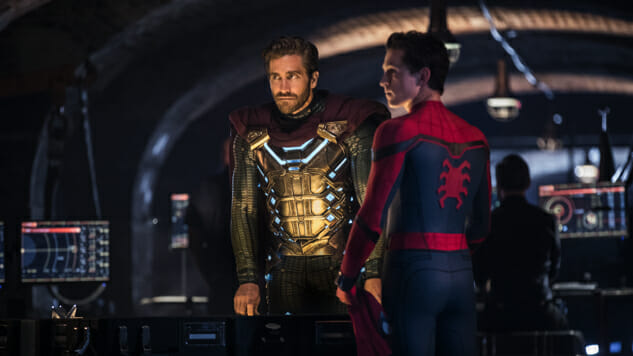 Not to be overlooked in the monthly rush to figure out the next month's brightest streaming highlights is Starz, where compelling movies (and the occasional worthwhile TV show) are hardly in short supply. The pay-cable channel's library will soon be both gaining and losing titles worth your attention, so let us lay it all out for you.
Starz is saving the biggest (if not best) title on its January film slate for last: Spider-Man: Far From Home (Jan. 31, 2020), the second of Sony's Tom Holland-starring, Marvel Cinematic Universe-adjoining Spidey standalones. The film reunites Holland with Spider-Man: Homecoming director Jon Watts and adds Jake Gyllenhaal as Mysterio, resulting in what Paste called a "sincere and funny" superhero blockbuster that "works great." Jan. 1, 2020, meanwhile, brings us: stone-cold classics like Steven Spielberg magnum opus Schindler's List, two of Quentin Tarantino's best films in Pulp Fiction and Jackie Brown, out-of-this-world Star Wars spoof Spaceballs, '70s disco picture Saturday Night Fever and the four original Lethal Weapon films; a handful of '00s standouts, including Peter Jackson's epic King Kong reimagining, underdog ensemble dramedy Little Miss Sunshine and indelible Coen Brothers thriller No Country For Old Men; and Forrest Gump, a movie we deliberately did not list with the "stone-cold classics" out of disrespect. Later in the month, we have four American Tail moves (Jan. 10, 2020), underrated SNL spinoff MacGruber (Jan. 16, 2020), late-'80s cult classic John Carpenter's They Live (Jan. 17, 2020) and Jim Jarmusch vampire film Only Lovers Left Alive (Jan. 31, 2020), to name a select few.
The TV category, on the other hand, is highlighted by the end of a long-running and acclaimed Starz original: Power, created by Courtney Kemp and executive produced by Curtis "50 Cent" Jackson, returns for its final five episodes starting Sunday, Jan. 5, 2020, at 8 p.m. ET on Starz (and 12:01 a.m. ET on the Starz app). Power's sixth and final season, extended at 15 episodes, wrapped its 10-episode first installment back in November. James "Ghost" St. Patrick's story will conclude with Season 6B next month, filling fans in on who shot the show's protagonist and bringing the hit drama to an end. Of course, for those who can't stand to let the show go, there's also aftershow Power Confidential, airing weekly immediately following Power itself. Power is essentially the only game in town when it comes to January TV: Starz is adding episodes of Emmy-nominated '50s/'60s Western The Life And Legend Of Wyatt Earp (episodes 1-226) and animated kids series Little Charmers (episodes 101-120), but that's literally it.
We'll leave you with what's leaving Starz come January: Jumanji: Welcome to the Jungle (Jan. 4, 2020), Trumbo (Jan. 16, 2020), All The Money In The World (Jan. 24, 2020) and Proud Mary (Jan. 24, 2020) are on their way out relatively soon, while you'll have a bit more time to catch 28 Days Later (Jan. 31, 2020), Attack The Block (Jan. 31, 2020), Bull Durham (Jan. 31, 2020), E.T. The Extra-Terrestrial (Jan. 31, 2020), Good Will Hunting (Jan. 31, 2020), Say Anything… (Jan. 31, 2020), Walk Hard: The Dewey Cox Story (Jan. 31, 2020) and the Back To The Future movies (Jan. 31, 2020). Plan your movie nights accordingly.
You'll find everything Starz adds and subtracts in January below.
WHAT'S NEW ON THE STARZ APP – JANUARY 2020
AVAILABLE JANUARY 1
Another Man, Another Chance (1977)
April Fool's Day (1986)
Baseketball (1998)
Beauty Shop (2005)
Born On The Fourth Of July (1989)
Bounce Back, The (2016)
Canyon Passage (1946)
Couch Trip, The (1987)
Dad (1989)
Dark Half, The (1992)
Dawn At Socorro (1954)
Day Of The Bad Man (1957)
Deep Cover (1992)
Don't Be A Menace To South Central While Drinking Your Juice In The Hood (1995)
El Dorado (1966)
Escape From Alcatraz (1979)
Family (2018)
Fire With Fire (2012)
Footloose (1984)
For Ahkeem (2017)
Forrest Gump (1994)
Hard Candy (2005)
Hot Shots! (1991)
House Of The Dead (2003)
In The Time Of The Butterflies (2001)
Jackie Brown (1997)
King Kong (2005)
Lethal Weapon (1987)
Lethal Weapon 2 (1989)
Lethal Weapon 3 (1992)
Lethal Weapon 4 (1998)
Little Miss Sunshine (2006)
Night At The Museum (2006)
Night Of The Grizzly, The (1966)
No Country For Old Men (2007)
No No: A Dockumentary (2014)
Noose For A Gunman (1960)
Premonition (2007)
Pulp Fiction (1994)
Rape Of Recy Taylor, The (2017)
Rocky Balboa (2006)
Saint Judy (2019)
Saturday Night Fever (1977)
Schindler's List (1993)
Senna (2011)
Spaceballs (1987)
Spy Kids 2: The Island Of Lost Dreams (2002)
Todo En Juego (2017)
Trigger Effect, The (1996)
Vampire In Brooklyn (1995)
Vanishing, The (1993)
Welcome Home Roscoe Jenkins (2007)
XXX (2002)
"The Life And Legend Of Wyatt Earp" – Episodes 1-226
"Little Charmers" – Episodes 101-120
AVAILABLE JANUARY 5
"Power" – Episode 611
"Power Confidential" – Episode 112
AVAILABLE JANUARY 10
American Tail, An (1986)
American Tail: Fievel Goes West, An (1991)
American Tail: The Mystery Of The Night Monster, An (1999)
American Tail: The Treasure Of Manhattan Island, An (1998)
Legally Blonde 2: Red, White & Blonde (2003)
Slap Shot (1977)
AVAILABLE JANUARY 12
"Power" – Episode 612
"Power Confidential" – Episode 113
AVAILABLE JANUARY 16
Flash Of Genius (2008)
MacGruber (2010)
Maiden (2019)
AVAILABLE JANUARY 17
13 Going On 30 (2004)
Accepted (2006)
Alvin And The Chipmunks Meet Frankenstein (1999)
Alvin And The Chipmunks Meet The Wolfman (2000)
Aviator, The (2004)
Babe, The (1992)
Balto (1995)
Balto II: Wolf Quest (2000 )
Balto III: Wings Of Change (2004)
Barb Wire (1995)
Beast Within, The (1981)
Beginners (2011)
Benchwarmers, The (2006)
Bruno (2009)
Clay Pigeons (1998)
Darkman (1990)
Darkman II: The Return Of Durant (1994)
Darkman III: Die Darkman Die (1995)
Dazed And Confused (1993)
Death Race (2008)
Death Race 2 (2010)
Death Race 3 (2012)
End Of Days (1999)
Entity, The (1983)
Gambler Wore A Gun, The (1961)
Get A Job (2016)
Hamlet 2 (2008)
John Carpenter's They Live (1988)
Marshal Of Gunsmoke (1943)
Meet The Blacks (2016)
Nanny McPhee (2005)
Nevada Smith (1966)
New In Town (2009)
Peter Pan (2003)
River Wild, The (1994)
Silver Bullet, The (1942)
AVAILABLE JANUARY 10
"Power" – Episode 613
"Power Confidential" – Episode 114
AVAILABLE JANUARY 20
Emanuel (2019)
AVAILABLE JANUARY 21
Toxic Beauty (2019)
AVAILABLE JANUARY 23
Love And A Bullet (2000)
Underworld: Awakening (2012)
Vow, The (2012)
AVAILABLE JANUARY 24
Rawhide (1951)
Rising Sun (1993)
To Be Or Not To Be (1983)
AVAILABLE JANUARY 26
"Power" – Episode 614
"Power Confidential" – Episode 115
Screamers (1996)
AVAILABLE JANUARY 31
Grandma (2015)
Magic In The Moonlight (2014)
Only Lovers Left Alive (2013)
Spider-Man: Far From Home (2019)
WHAT'S LEAVING ON THE STARZ APP – JANUARY 2020
LEAVING JANUARY 2
Fame (2009)
Hurricane, The (1999)
LEAVING JANUARY 4
Jumanji: Welcome to the Jungle (2017)
LEAVING JANUARY 6
How Do You Know (2010)
Tourist, The (2010)
LEAVING JANUARY 15
Hyde Park On Hudson (2012)
LEAVING JANUARY 16
Trumbo (2015)
LEAVING JANUARY 18
Curve (2014)
Veil, The (2016)
LEAVING JANUARY 24
All The Money In The World (2017)
Proud Mary (2018)
LEAVING JANUARY 25
Warrior's Way, The (2010)
LEAVING JANUARY 26
Country Strong (2010)
LEAVING JANUARY 29
Love & Bananas (2018)
LEAVING JANUARY 30
Babe (1995)
Hard Way, The (1991)
Harry And The Hendersons (1987)
Man Apart, A (2003)
LEAVING JANUARY 31
28 Days Later (2002)
Above And Beyond (2015)
Adventures Of Brer Rabbit, The (2005)
Almost Heroes (1997)
American Rhapsody, An (2001)
Andromeda Strain, The (1970)
Arizona Trail (1953)
Attack The Block (2011)
Baby Boom (1987)
Back To The Future (1985)
Back To The Future Part II (1989)
Back To The Future, Part III (1990)
Best Defense (1984)
Bratz (2007)
Bull Durham (1988)
Catch A Fire (2006)
Changing Lanes (2002)
Cookie's Fortune (1999)
Cowgirls N' Angels (2011)
Cutthroat Island (1995)
Dear Dictator (2016)
Disconnect (2013)
Drop Squad (1994)
Duel At Silver Creek, The (1952)
E.T. The Extra-Terrestrial (1982)
Education Of Little Tree, The (1997)
Ella Enchanted (2004)
Empatia (2017)
Fatal Beauty (1987)
Follow That Bird (1985)
Footloose (1984)
For The Boys (1991)
Foreign Student (1994)
Forty Guns (1957)
Funny Farm (1988)
Good Will Hunting (1997)
Great Expectations (1998)
Happy End (2017)
Heidi (2005)
Howard The Duck (1986 )
Justice (2016)
King Ralph (1991)
King Solomon's Mines (1985)
Knight Rusty (2013)
La Ultima Tarde (2016)
Las Malas Lenguas (2015)
Lovely Bones, The (2009)
Man With The Iron Fists 2, The (2014)
Marine 4: Moving Target, The (2015)
Mercury Rising (1998)
Mississippi Burning (1988)
Most Wanted (1997)
My Giant (1998)
Peanut Gallery (2015)
Permission (2016)
Phantom (2012)
Pirates Of Penzance, The (1982)
Ray (2004)
Real McCoy, The (1993)
Rhythm On The Range (1936)
Roger Waters The Wall (2014)
Rollerball (2002)
Run For Cover (1955)
Ruthie & Connie: Every Room In The House (2002)
Say Anything… (1989)
Smile Like Yours, A (1997)
Smurfs And The Magic Flute, The (1976)
Stigmata (1999)
Thirsty World, A (2012)
Toughest Gun In Tombstone, The (1958)
Trail Of The Lonesome Pine (1936)
Uncommon Valor (1983)
Under The Electric Sky (2014)
Unsaid, The (2001)
Visions (2014)
Walk Hard: The Dewey Cox Story(2007)
Year Of The Horse (1997)
"Atomic Betty" – Episodes 101-126
"Eloise" – Episodes 1-13
"Garfield and Friends" – Episodes 101-313
"Jim Henson's Mother Goose Stories" – Episodes 101-313
"Jim Henson's The Storyteller" – Episodes 101-109
"Jim Henson's The Storyteller: Greek Myths" – Episodes 101-104
"Pet Alien" – Episodes 101-252
"Sacketts, The" – Part 1 & Part 2
"Wubbulous World Of Dr. Seuss, The" – Episodes 101-220
"The Zoo" – Episodes 501-510