Han Solo and Company Get Down to Business in Action-Packed Solo: A Star Wars Story Trailer
Image via Lucasfilm
Movies
News
Star Wars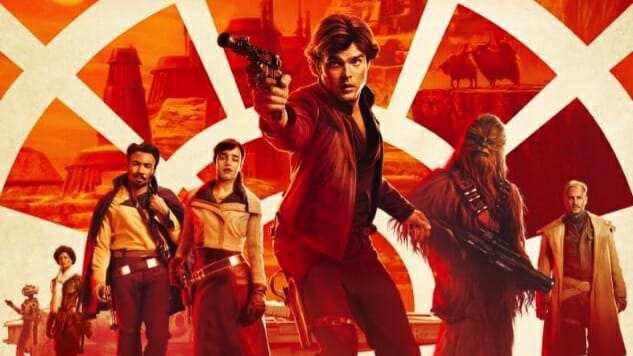 After the release of the thrilling first teaser in February, the full trailer for Solo: A Star Wars Story has been released.
In the trailer, viewers get a peek at how Han Solo (Alden Ehrenreich) became the smuggling rogue everyone has come to love and met the beloved Chewbacca. The trailer dives deeper into his relationship with mentor Tobias Beckett (Woody Harrelson) and childhood friend Qi'ra (Emilia Clarke). In terms of Han and Qi'ra's relationship, there is a hint of will-they-or-won't-they tension during their scenes in the trailer. Viewers also get a little of the backstory of how Han and Chewbacca met smuggler Lando Calrissian (Donald Glover), along with a preview of Paul Bettany as crime lord Dryden Vos.
With the film arriving in theaters May 25 after premiering at Cannes, the hype for it will likely translate into a big pre-summer blockbuster, following the successes of films like Black Panther and Ready Player One. Check out the official trailer below, along with a new poster for the film.
Check out the new poster for Solo: A Star Wars Story and see it in theaters May 25. #HanSolopic.twitter.com/ddWgzswfGt

— Star Wars (@starwars) April 9, 2018