J.J. Abrams Returns to Star Wars, Will Direct and Co-Write Episode IX
Photos by Jason Merritt/Getty, Ethan Miller/Getty
Movies
News
Star Wars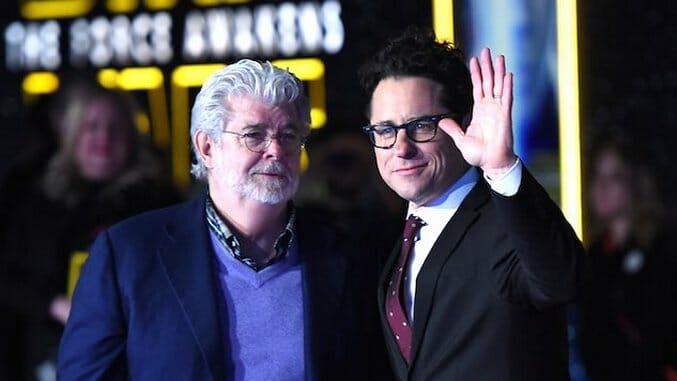 Might as well subtitle Star Wars: Episode IX as "Return of the J.J." Episode IX hasn't even begun production, and the project already lost its director and co-writer Colin Trevorrow. After a streak of director-related problems, it looks like Lucasfilm President Kathleen Kennedy is playing it safe by bringing back J.J. Abrams, the man who rebooted it all with The Force Awakens.
Lucasfilm announced the news on the Star Wars website, confirming that Abrams will not only direct the film, but co-write the screenplay (presumably discarding Trevorrow's and Derek Connolly's script) with Chris Terrio. Terrio is best known for his Oscar-winning screenplay for Ben Affleck masterpiece Argo, following that film up with Affleck's whatever-the-opposite-of-masterpiece-is Batman v Superman: Dawn of Justice.
Your mileage may vary with this news, as fan opinion of The Force Awakens is made up of quite a spectrum. Reception to the new characters and visuals were positive, while many had gripes about the plot's similarities to the original 1977 Star Wars. As Abrams saw it, his goal for Episode VII was to re-introduce Star Wars to audiences before handing it off to someone else; his return is a surprise to be sure, but to some, a welcome one.
Seeing how large and stressful a Star Wars production can be, it might be understandable that Episode VIII writer-director Rian Johnson isn't coming back—as they say, twice the workload, double the fall.
Expect more lens flare and swish pans when J.J. Abrams returns for Episode IX. While the release date was originally set for May 24, 2019, the StarWars.com announcement did not mention a release date—as such, we imagine the film may be delayed after this creative shift.