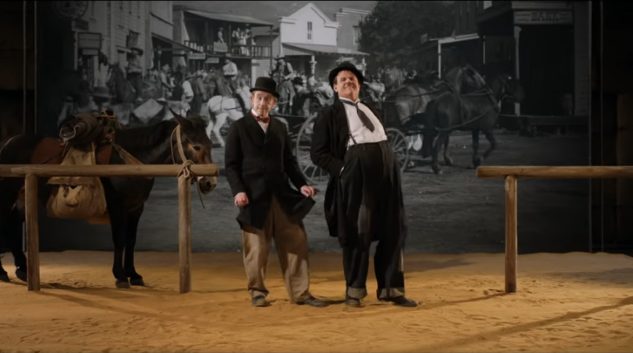 Sometimes, a film trailer seems to announce its intentions from the opening moments, and so it is with the awards season attention grabber Stan & Ollie. The biopic of Hollywood comedy duo Laurel & Hardy, who starred in numerous films in both the silent and talkie eras of the 1920s-1940s, it seems to promise exactly the sort of dramedy tone that award show nominees are made of.
Steve Coogan and John C. Reilly portray Stan Laurel and Oliver Hardy respectively in the film, which is set toward the end of the duo's long association. Unsurprisingly, the film milks some of the infighting between the two for dramatic effect, as it does also with Hardy's deteriorating health, brought on no doubt by the large man's famous girth. The whole thing is set to Edith Piaf's "Non, je ne regrette rien," which is impossible to hear and not think of Christopher Nolan's Inception. Sorry, but that's just a fact.
As far as the leads go, they certainly seem to have nailed the aesthetic of Laurel & Hardy performances, and are embodying the characters quite well, although Reilly's prosthetics look a bit odd—not quite on the level we recently saw on Gary Oldman in Darkest Hour. Regardless, the film seems like a breezy good time, which just enough requisite drama.
Stan & Ollie hits theaters on Oct. 21, 2018. Check out the trailer below.