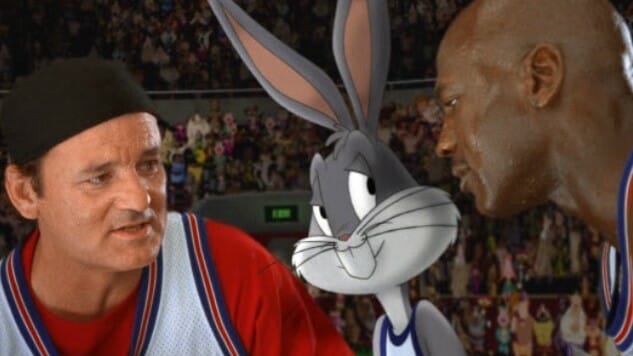 Vinyl enthusiasts and '90s kids (which are probably the same group of people, these days) unite, for behold, the Space Jam soundtrack is getting a vinyl reissue.
The 1996 film was revolutionary (well, kind of, but not really) in the way that it integrated cartoons and real-life, launching Michael Jordan's career even further into the stratosphere. Which is good for him, because that guy needed to catch a break. He never would've made anything of himself otherwise. Anyway, the soundtrack features artists like R. Kelly, Seal, Salt N Pepa and D'Angelo.
Space Jam: Music From and Inspired By The Motion Picture will release on vinyl for Record Store Day on April 22. Check out the full tracklist below, plus Paste Cloud audio from a Space Jam-era D'Angelo show, and find the rest of this year's Record Store Day exclusives here.
Space Jam: Music From and Inspired By The Motion Picture Tracklist:
01. Fly Like An Eagle – Seal
02. The Winner – Coolio
03. Space Jam – Quad City DJs
04. I Believe I Can Fly – R. Kelly
05.Hit Em High (The Monster's Anthem)- B-Real, Busta Rhymes, Coolio, LL Cool J, Method Man
06. I Found My Smile Again – D'Angelo
07. For You I Will – Monica
08. Upside Down (Round-N-Round) – Salt N Pepa
09. Givin' U All That I Got – Robin S.
10. Basketball Jones – Barry White & Chris Rock
11. I Turn To You – All-4-One
12. All of My Days [feat. Changing Faces and Jay Z] – R. Kelly
13. That's the Way (I Like It) [feat. Biz Markie] – Spin Doctors
14. Buggin' – Bugs Bunny