Sorry to Bother You Spurned by International Distributors Because it's a "Black Movie," Says Boots Riley
Images via Annapurna Pictures
Movies
News
Sorry to Bother You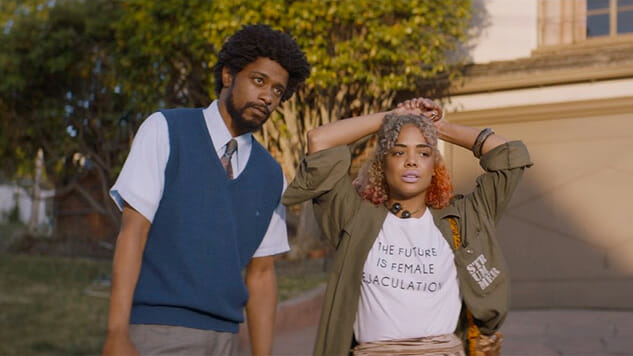 Sorry To Bother You, Boots Riley's first movie, is a satire on the culture of corporate America starring Get Out's Lakeith Stanfield. On Sunday, the film closed out its fourth weekend by grossing $14 million domestically, also rocking an impressive 94 percent on Rotten Tomatoes.
However, despite the film's success, The Coup frontman Riley took to Twitter over the weekend to say that international distributors are rejecting the film, claiming that "black movies" don't do well internationally. The claim strains credulity when you consider that Disney and Marvel's Black Panther pulled in $647 million internationally and Straight Outta Compton racked up almost $40 million overseas, totaling more than $200 million worldwide, just to name two of many examples.
re: the international distribution of #SorryToBotherYou :

Even tho we'r outperforming a gang of other movies, distributors r claiming "Black movies" dont do well internationally and r treating it as such. There'r films that bombed here, that theyr distributing. Let em know wsup

— Boots Riley (@BootsRiley) August 4, 2018
Responding to a Spanish fan bemoaning their inability to see the film, Riley tweeted, "We're still fighting to make it happen."
We're still fighting to make it happen.

— Boots Riley (@BootsRiley) August 4, 2018
The film is distributed domestically by Annapurna, who also hold worldwide rights to the film. Last month, Riley released the soundtrack for the film, which includes features from his group, as well as E-40, Janelle Monae, Killer Mike and Tune-Yards. You can hear a song from the soundtrack featuring The Coup and Stanfield here.
Read Paste's review of Sorry to Bother You here, or perhaps don't—it's a movie you'll want to go into with as little information as possible.