Producers Guild of America Issues Anti-Sexual Harassment Guidelines for All Productions
Photos by Kevin Winter/Getty
Movies
News
Sexual Harassment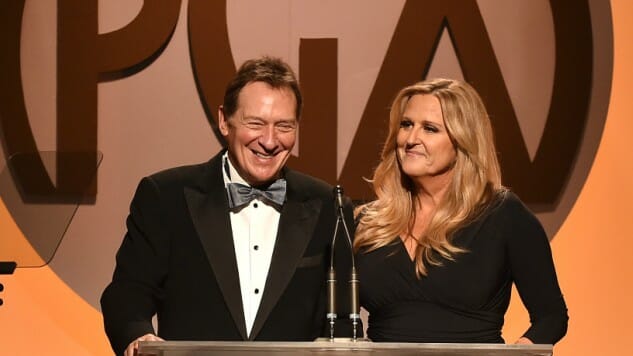 Since Harvey Weinstein's fateful exposure in Ronan Farrow's New York Times piece published last October, numerous victims of sexual harassment, abuse and sexual misconduct have come forward to name their perpetrators. Ranging from Oscar-winning actor Kevin Spacey to comedian Louis C.K. to NBC's Matt Lauer, more and more predators are being held accountable for their actions. The Producers Guild of America (PGA), founded in 1962, has officially adopted a new list of guidelines mandatory for every film and television production that it sent out to all 8,200 members today, according to THR.
The guidelines consist of separate segments including identifying sexual harassment, recommendations on what to do, protocol for victims and witnesses, a brief background on harassment law, resources for reporting harassment and resources to aid in sexual harassment training. According to the document, a big issue is properly educating everyone on what counts as sexual harassment and common misconceptions about it. For example, the guidelines note how a "hug, kiss on the cheek, or casual touch is not necessarily sexual harassment," with the key being "whether the behavior was unwelcome or offensive." It also mentions that sexual harassment is "gender neutral and orientation neutral" and can be "perpetrated by any gender against any gender."
Every film and television production must now provide in-person anti-sexual harassment training for its entire cast and crew, both at the beginning of production and before every season of an ongoing series. The training is intended to focus on creating a culture of respect that starts at the top. Also, for every person who reports a case of sexual harassment, zero retaliation can be implemented on them from the producer, i.e. being fired for speaking up and so forth.
It is crucial for each individual to create and maintain documents noting any harassment suffered and witnessed, and report any and all activity to the designated individuals appointed on set.
PGA presidents Gary Lucchesi and Lori McCreary said in a statement:
Sexual harassment can no longer be tolerated in our industry or within the ranks of the Producers Guild membership. As producers, we provide key leadership in creating and sustaining work environments built on mutual respect, so it is our obligation to change our culture and eradicate this abuse. While the PGA is a voluntary membership organization, the PGA's Anti-Sexual Harassment Guidelines are sanctioned as best practices for our members.
Lucchesi is the president of Lakeshore Entertainment, an American independent production company and international sales distributor, which has produced films such as the Kate Beckinsale-headed Underworld series and the Oscar-winning Million Dollar Baby. McCreary is the CEO and co-founder of Morgan Freeman's Revelations Entertainment, which has produced Invictus, Madam Secretary and several other film and television projects.
The presidents added, "The PGA is indebted to Time's Up as a resource in creating our protocols. We will continue to work with them, the industry-wide Commission led by Anita Hill, and other organizations in our community until sexual harassment is eliminated from the entertainment workplace." The guidelines were written with input from the newly formed Time's Up and then received recommendations by the PGA's Anti-Sexual Harassment Task Force, set up last October.
The complete document containing the guidelines can be viewed here.