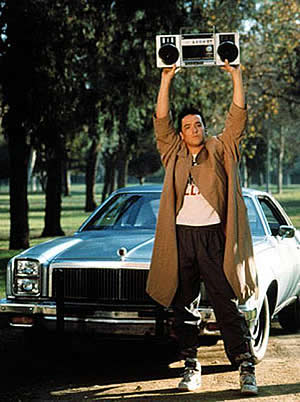 DVD Release Date: Nov. 3
Director/Writer: Cameron Crowe
Cinematographer: László Kovács
Starring: John Cusack, Ione Skye, John Mahoney
Studio/Run Time: Twentieth Century Fox, 100 mins.
To know this movie is to love it
Cameron Crowe's Say Anything hearkens to that bygone age of teen movies when depictions of first love didn't need a veneer of detached self-awareness. Underachiever and all-around nice guy Lloyd Dobler (John Cusack) genuinely loves the brainy and beautiful Diane Court (Ione Skye). And, though Diane's academic ambitions and overprotective father (John Mahoney) threaten to derail the budding romance, Lloyd doggedly pursues his paramour, pitting his pluck and tenacity against these enormous odds.
It comes down to that iconic scene: Lloyd, arms aloft, ghetto-blasting Peter Gabriel's "In Your Eyes" outside of Diane's window. This is an almost fantastical depiction of love, the sort of emotional honesty we've learned to laugh at reflexively. But earnest, true-to-life storytelling and characters make Say Anything every bit as tender and affecting as it was two decades ago.