Rotten Tomatoes Continues to Update Site in an Effort to Quiet the Trolls
Images via Rotten Tomatoes
Movies
News
Rotten Tomatoes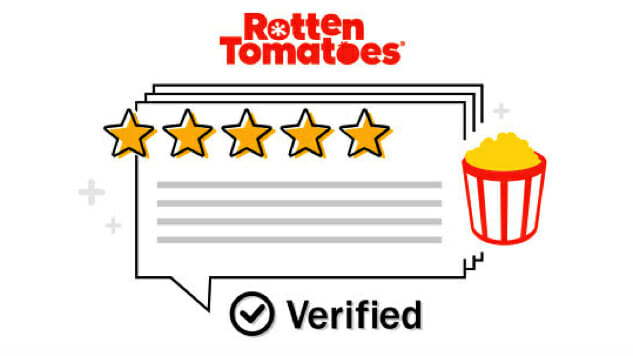 The internet sucks sometimes, doesn't it? Yes, it's the largest compilation of human knowledge to ever exist and has revolutionized the world in ways that can't be understated, blah, blah, blah. But trolls. They're enough to ruin anyone's day, sucking the joy out of everything righteous and good.
Anyone even passingly familiar with such online goings-on surely remembers the controversial reactions to films like 2017's Star Wars: The Last Jedi, 2018's Black Panther and this year's Captain Marvel. Many critics liked the movies and many audiences did, too. But looking at their scores on Rotten Tomatoes, you wouldn't know it. The tentpole pics were victims of often racist and sexist troll campaigns meant to destroy public opinion and diminish the films' success.
So it's unsurprising that in an attempt to combat the haters, film review aggregator Rotten Tomatoes has been rolling out updates to its popular site. Following some tinkering to the "Want to See" feature and blocking the ability to review a film before its release, a new update launched Thursday creating "verified reviewers"—those who can actually prove they attended the movie they claimed was so horrible, it ruined their childhoods.
In order for a Rotten Tomatoes member to become verified, they must first prove they purchased a ticket through Fandango, a popular distributor accepted in many theaters nationwide. The site explains further in a statement:
Starting today, Rotten Tomatoes users can opt-in to get their rating and review "verified" if they purchased their movie ticket on Fandango. Top exhibitors AMC Theatres, Regal and Cinemark Theatres plan to participate as ticket purchase authenticators later this year. Every visitor to the Rotten Tomatoes site will still be invited to rate and review movies regardless of whether or not they are confirmed ticket purchasers. Reviews (both verified and unverified) will still be listed, with those that are verified marked with a "verified" badge, so that readers will know that the reviewer purchased a ticket to that movie.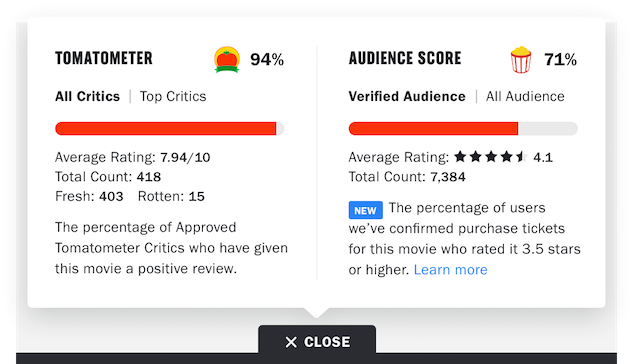 Incidentally, Rotten Tomatoes has also announced a $100,000 grant program to give critics serving underrepresented groups access to major film festivals and press screenings.
Rotten Tomatoes hopes these updates will give potential viewers more accurate information on films, putting "significant roadblocks in front of bad actors who would seek to manipulate the Audience Score."
Hopefully these changes will help potential moviegoers make more informed judgments about which films they would like to see. And irritating trolls to boot? That's merely a bonus.