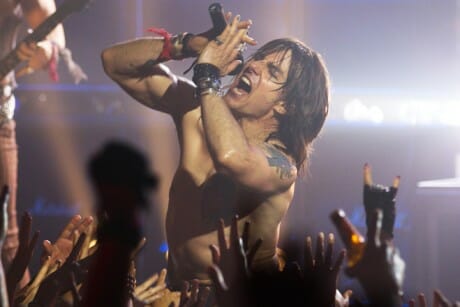 Have your Bic lighter ready: Hairspray's Adam Shankman has pumped out yet another star-studded, musical-inspired flick with Rock of Ages, and it's the nostalgic mix of classic '80s rock that largely saves it from going belly-up Broadway style.
Shankman's film version of the Tony-award-nominated jukebox musical is set in Los Angeles in 1987. Aspiring singer Sherrie Christian (Julianne Hough), a small-town girl fresh off the bus from Oklahoma, finds herself a somewhat distressed damsel in the hands of city boy barback Drew Boley (Diego Boneta). Boley helps her land a job waiting tables at local rock 'n' roll heaven, the Bourbon Room, a joint helmed by Dennis Dupree (a long-haired Alec Baldwin) and Lonny (a mullet-clad Russell Brand).
Taking a Glee-ful approach, Rock of Ages uses the best of the '80s to breathe life into a clichéd plot, which at the least makes it all an eminently hummable experience. Sherrie and Drew belt out "Waiting for a Girl Like You" as they fall in love behind the Hollywood sign. Doped-out rock star Stacee Jaxx (Tom Cruise) identifies himself through Bon Jovi's "Wanted Dead or Alive." And when a compromising situation tears Sherrie and her lover boy apart, it's time for a biting rendition of "Here I Go Again."
The trite storyline and forced subplots are pretty lame, but Baldwin and Brand's humorous bromance banter weaved throughout the film help make the breaks between karaoke renditions bearable. And it's difficult not to love Cruise's dirt bag Stacee, who seduces the audience with all the right notes of hilarious douchebaggery—from the ass-less chaps and ever-present bottle of scotch to the years-on-drugs demeanor and arrogant swagger.
Suffice it to say, Rock of Ages probably doesn't deliver an experience equal to that of seeing the original on stage, but if you're looking for a movie that turns the theater into an impromptu karaoke bar, you'll find nothin' but a good time.
Director: Adam Shankman
Writers: Justin Theroux, Chris D'Arienzo, Allan Loeb
Starring: Julianne Hough, Diego Boneta, Tom Cruise, Alec Baldwin, Russell Brand
Release Date: June 15, 2012