Watch the First Trailer for Robin Hood, Starring Taron Egerton and Jamie Foxx
Photos by Larry Horricks
Movies
News
Robin Hood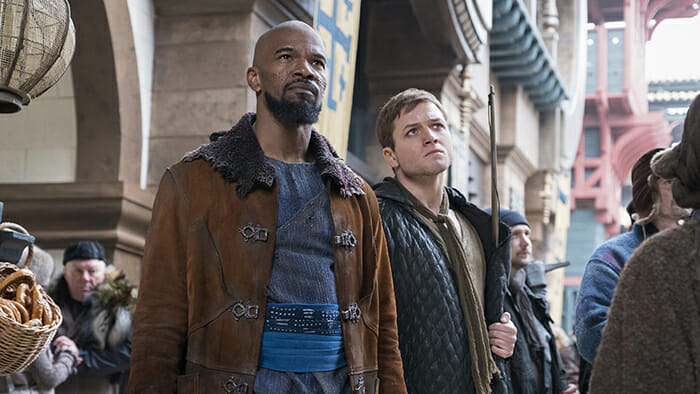 Robin Hood is the story of trickle-up economics, where you steal from the rich and give to the poor, and Taron Egerton is ready to take on that role in the new Lionsgate film.
The movie debuts on Nov. 21, right before Thanksgiving, and on Tuesday the film's first trailer was released. It has a buddy/heist movie vibe with Jamie Foxx, who plays Little John, leading Egerton through drills to prepare him for a life of stealing from the rich. "You were a lord, but now you get to become a thief, and I'm going to show you how," he says.
The trailer shows a gritty and violent version of England with enough swordplay and archery to fill your quota until the next season of Game of Thrones premieres. Egerton's Robin of Loxley is a war-hardened crusader who is fed up with the corruption being perpetuated by the Sheriff of Nottingham (Ben Mendelsohn).
Eve Hewson (Maid Marian) and 50 Shades of Grey actor Jamie Dornan (Will Scarlett) star alongside Foxx, Egerton and Mendelsohn in the Otto Bathurst-helmed movie. Robin Hood was developed from a script written by Ben Chandler and David James Kelly, and features Leonardo Dicaprio as a producer.
Watch the action-packed trailer below and revisit the first Robin Hood teaser here.