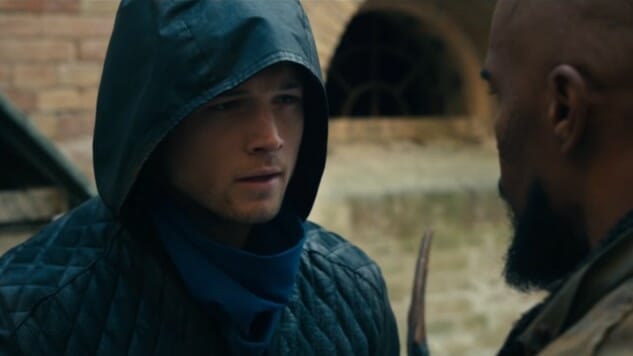 We already knew that the new Robin Hood movie due out on Nov. 21 looked unusual to say the least. Just look at the first trailer, which seems to mix historically accurate settings and clothing like an artsy music video. We're still not entirely sure what time period the film is supposed to be taking place in, but hey—the cast is good, right? From Taron Egerton and Jamie Foxx to Jamie Dornan and Ben Mendelsohn playing the same villain he's seemingly played in a dozen movies in the last five years, Robin Hood looks like a solid slice of popcorn entertainment.
What you might not expect, then, is the lengths that the filmmakers went to in order to make certain aspects of the film accurate—namely, the feats of archery performed by Robin Hood and Little John. But thanks to several videos released by bow trainer Lars Andersen, you can see just how good Egerton in particular got at shooting arrows while playing the title character. It's frankly pretty damn impressive.
I don't know about you, but I can't hit targets while jumping backward through the air, or hit TWO targets thrown up simultaneously before they hit the ground. Egerton clearly committed hard to the role, but we would expect nothing less of the kid who trained under Colin Firth's Harry Hart in Kingsman: The Secret Service. You even see his fingers bleeding at one point! In its own weird way, knowing how much Egerton must have trained makes us more eager to see Robin Hood.
Andersen also released another video going more in depth with director Otto Bathurst, in which the two discuss various aspects of historical archery and realism present in Robin Hood. You can watch that one below.
Robin Hood hits theaters on Nov. 21, 2018.