Ritesh Batra and Actors of a Certain Age
Ritesh Batra discusses his latest film, The Sense of an Ending, and his penchant for exploring older lives.
Photos: Dimitrios Kambouris / Nicholas Hunt / Getty
Movies
Features
Ritesh Batra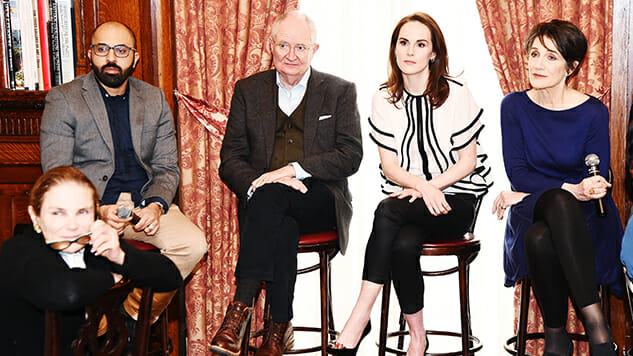 There's a commonality traversing Ritesh Batra's films, but he might be the last one to notice.
The director of the much-lauded, BAFTA-nominated film The Lunchbox (2013) is currently in the throes of promoting his first English-language feature, The Sense of an Ending, out now in limited release. The film stars Jim Broadbent as Tony, a reclusive and recalcitrant divorcee whose measured life is one of solitude. Anything outside Tony's routine is annoying, whether it's the postman trying to make small talk or it's taking time to coach his only daughter Susie (Michelle Dockery) through a birthing class. When long-buried secrets from his school days resurface, Tony's forced to re-examine both his life and truths that have been dulled by memory.
Similarly, The Lunchbox focuses on a lonely older man who strikes up a friendship with a younger, neglected housewife through a series of notes in the titular receptacle. Batra's forthcoming project, Our Souls at Night, stars veteran actors Robert Redford and Jane Fonda as a widower and widow, respectively, who've lived next door to each other for years without much interaction. An unexpected visit leads to a connection between the two neighbors.
During a recent phone interview with the Mumbai-born, New York-based director, we ask Batra about his penchant for making films with actors "of a certain age" in leading roles. In The Sense of an Ending, Broadbent is joined by an all-star cast that includes Charlotte Rampling, Harriet Walter and Matthew Goode.
"You make a cool observation," the soft-spoken Batra says. "I should be more self-conscious, I guess."
He seems genuinely surprised by the question of through lines—of his attraction to older characters and their loneliness—in his works. With The Sense of an Ending, he says, it was simply an enticing offer to direct a film based on Julian Barnes' novel. "I was a big fan of the book since it came out. I had read it way back 2011, and it always spoke to me personally."
"It was a wonderful opportunity to tell a coming of age story of sorts with an older person," he says. "Closure is really something that human beings don't often get." Batra notes that he was drawn in by Barnes' characters and playwright Nick Payne's screenplay, which focuses on Tony's search for a neat and tidy resolution to a forgotten chapter in his life.
Barnes' novel focuses on two different periods of Tony's life, and the spanning of generations and eras was a challenge that Batra was eager to accept because of its similarities to his own background. While growing up in India, he split a room with his grandfather. (Several generations living in one house is common practice in many countries, including India).
"Sometimes it was annoying," he laughs, "but now I realize that it was a real gift." Batra's grandfather would often talk about stories that happened in the past, 40 or 50 years earlier, but he responded as many adolescents would. "I was only in my teens then, but I would be like, 'Get over it. Those people are probably dead.'" (He didn't say whether the eyeroll was included.)
With the gifts of time, hindsight and maturity, the director says he now understands his grandfather's influence—on works and choices—leading to congruent themes in his nascent film career. "He would have loved to read [The Sense of an Ending], so that's why I was really attracted to it." His grandfather's legacy "also feeds a lot into how [he] think[s] about things and how [he] look[s] at material and stories."
Barnes' novel won the 2011 Man Booker Prize, so Batra knew that he had to be careful with the source material to not disappoint fans while simultaneously crafting a movie for a new audience.
"Nick Payne, who wrote the screenplay, was a wonderful collaborator," Batra says. By the time the director was on board with the project, Payne had written the first draft of the complex novel. "He had already made these genius decisions, like making Susie, played by Michelle Dockery, into sort of a full-fledged character that she is not in the novel."
Payne and Batra also gave Tony an antique camera shop, which is a direct influence of his first love, Veronica, played by Charlotte Rampling in her later years and by Freya Mavor in youth. "We deepened some characters and embellished [the story] more," Batra explains. "We always tried to stay true to the essence of the novel and what it represents."
Because much of the novel is internalized, told through Tony's eyes and words, the writer and director had to elaborate several of the relationships for the screen, including those with his ex-wife Margaret (Walter) and daughter, as well as the pivotal Tony-Veronica relationship. Even Tony's schoolmates had to be drawn out a little more. "For example, in the book, Tony says that he has no interest in meeting his old friends again," Batra says. "But then we had this great reunion between him and his friends, because in the movie, it made sense for us to do that."
Batra had only made several short films before directing renowned Bollywood actor Irrfan Khan in The Lunchbox. The Sense of an Ending proved to be another huge leap as he worked with a much larger crew and a well-known cast. Still, the director found that the process of working with actors on the British film had more similarities than differences to the smaller scale of The Lunchbox.
The Sense of an Ending was made with a "very low budget and with period work, which is traditionally expensive, so the actors were really at the heart of what we were doing to make it work," Batra says.
"You always want to work with actors who find something in the character that's really personal to them. Like Emily Mortimer. She brought so much empathy and sympathy for this part of Sarah Ford [Veronica's mother]." (Mortimer's character doesn't have a lot of screen time, but Sarah is responsible for much of the film's drama.)
"They're all so collaborative," he says of the cast. "That's why Charlotte is such a legend and Jim is such a legend. They're there to collaborate and really search for the truth," he adds. "We did things in so many different ways…the whole experience was really great working with the actors. It was no different than working with the actors in Lunchbox."
Right now, Batra is focused solely on editing Our Souls at Night. "I generally work on one thing at a time," he says. "Sense of an Ending was consuming, and so was this movie." Whatever his next film may be, we can only hope that the director continues his thoughtful exploration of characters' coming-of-age stories—no matter how old they are.
---
Christine N. Ziemba is a Los Angeles-based freelance pop culture writer and regular contributor to Paste. You can follow her on Twitter or Instagram