Laura Poitras' Julian Assange Doc Risk Now Has a Release Date
Photos by Carl Court/Getty
Movies
News
Risk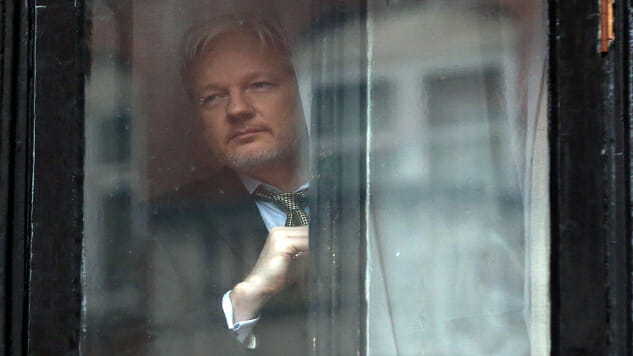 Last week the chilling first trailer for Risk, Laura Poitras' critical look at Julian Assange and Wikileaks, dropped and came with news that Showtime was picking up the film for distribution on its network.
Now, via IndieWire, we have an official theatrical release date for the documentary that the Academy Award-winning Poitras reworked after Assange, Wikileaks and the Kremlin together became public enemy number one during the 2016 U.S. presidential election.
The final version will now hit select cities on May 5 before eventually moving to Showtime later in the summer. As of now, Risk is set to screen in cities such as New York City, Los Angeles, Austin, San Francisco and Washington, D.C., and Poitras will participate in Q&As in various cities to support the doc.
The full slate of theaters for Risk can be found below, along with the trailer. Tickets for the film are available for purchase here.
Risk Screenings:
May
02 – New York, N.Y. @ Art of the Real – Film Society of Lincoln Center
05 – New York, N.Y. @ IFC Center
05 – New York, N.Y. @ Alamo Drafthouse Brooklyn
05 – Los Angeles, Calif. @ ArcLight Hollywood
05 – Santa Monica, Calif. @ Laemmle's Monica Film Center
05 – Washington, D.C. @ Landmark Atlantic Plumbing Cinema
05 – Washington, D.C. @ Landmark West End
05 – San Francisco, Calif. @ Alamo Drafthouse New Mission
05 – Austin, Texas @ Alamo South Lamar
05 – Chicago, Ill. @ Gene Siskel Film Center
05 – Berkeley, Calif. @ Rialto Cinemas® Elmwood
05 – Columbia, Mo. @ Ragtag Cinema
05 – Columbus, Ohio @ Gateway Film Center
05 – Dallas, Texas @ Alamo Drafthouse Cedars
05 – Eugene, Ore. @ Broadway Metro
05 – Hartford, Conn. @ Real Art Ways
05 – Houston, Texas @ Alamo Drafthouse Mason Park
05 – Miami, Fla. @ O Cinema
05 – Nashville, Tenn. @ Belcourt Theatre
05 – Portland, Ore. @ Cinema 21
05 – Santa Fe, N.M.@ Center for Contemporary Arts
05 – Scottsdale, Ariz. @ Harkins Shea 14
05 – Seattle, Wash. @ SIFF Uptown
05 – Springfield, Mo. @ Moxie Cinema
05 – Springfield, Mo. @ Alamo Drafthouse
05 – St. Louis, Mo. @ Chase Park Plaza Cinemas
12 – Chandler, Ariz. @ Alamo Drafthouse Chandler
12 – Dormont, Pa. @ Hollywood Theater
12 – Fort Collins, Colo. @ Lyric Cinema
12 – Ithaca, N.Y. @ Cinemapolis
12 – Kansas City, Mo. @ Alamo Drafthouse
12 – Littleton, Colo. @ Alamo Drafthouse Littleton
12 – Monterey, Calif. @ Osio Theater
12 – Omaha, Neb. @ Alamo Drafthouse
12 – Santa Rosa, Calif. @ Summerfield Cinemas
12 – Bellingham, Wash. @ Pickford Film Center