Somebody Pinch Us: Netflix Bought That Twitter-Inspired Rihanna/Lupita Nyong'o Buddy Movie
Photo by Pascal Le Segretain/Getty
Movies
News
Rihanna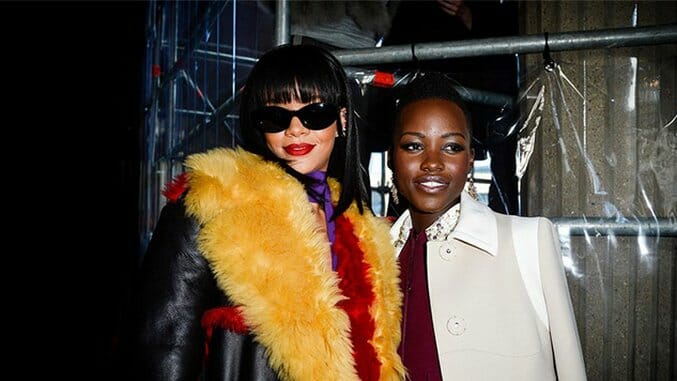 In a bleak world of "Stupid Watergate" and Katy Perry performances, some brief respite has finally come. Ava DuVernay (Selma) is set to direct that Rihanna/Lupita Nyong'o buddy movie Twitter users dreamed up a month ago and the script is being written by Issa Rae (Insecure).
It all began on Tumblr, as most things on the internet do, when user @elizabitchtaylor posted a photo of Oscar-winning actress Lupita Nyong'o and Grammy-winning singer Rihanna sitting together at a Miu Miu show during Paris Fashion Week in 2014 with the caption, "They look like they're in a heist movie with Rihanna as the tough-as-nails leader/master thief and Lupita as the genius computer hacker."
Then the idea spread to Twitter, where user @1800SADGAL posted the same photo and a similar message: "Rihanna looks like she scams rich white men and [Lupita] is the computer smart best friends that helps plan the [scams]," the caption read.
Rihanna looks like she scams rich white men and lupita is the computer smart best friend that helps plan the scans https://t.co/PhWs1xd3nj

— WHOOPHERASSKOURTNI (@1800SADGAL) April 18, 2017
After nearly 100K retweets, Nyong'o took notice and sent the tweet to Rihanna, who was totally down for the project.
I'm down if you are @rihannahttps://t.co/vwHBWeCbFZ

— Lupita Nyong'o (@Lupita_Nyongo) April 21, 2017
I'm in Pit'z https://t.co/Kz0o3lBEmL

— Rihanna (@rihanna) April 23, 2017
Twitter users practically went into a frenzy and quickly requested that DuVernay take the director's seat and Rae write the script.
@MikelleStreet@rihanna Lights set. Camera's up. Ready to call action for these #queens. ???? pic.twitter.com/NVgqpFeTnu

— Ava DuVernay (@ava) April 24, 2017
@dvrrxll@rihannapic.twitter.com/XG2WMribGJ

— Issa Rae (@IssaRae) April 23, 2017
Since the stars first took notice in late April, things have moved at lightning speed. News broke via Entertainment Weekly that Netflix nabbed the project and beat out multiple other networks in an intense negotiation session at the Cannes Film Festival. Rae has already began working on a script and DuVernay plans to direct the film in 2018 once she wraps up A Wrinkle In Time.
It has not been confirmed whether @elizabitchtaylor will get credit for or be involved in the film, but reps for Rae confirmed to Vanity Fair that @1800SADGAL will be credited and included in some form.
Twitter fans have further speculated about the film's plot, hoping the heist will involve Rihanna scamming white men and that the final scene ends in the same vein as her recent Cannes photos.
This looks like the end of that Rihanna x Lupita scammer movie and im so into it ???????????????? pic.twitter.com/PQTA4keykH

— Sana chijeukimbap (@AFangirlPotato) May 19, 2017
We can only image how amazing this film will be, from Rae's hilarious and brutally honest writing to the looks both actresses serve up on the red carpet. The implications for this black, female-led film in Hollywood will also hopefully further inspire networks to push for more movies and shows helmed by women of color.