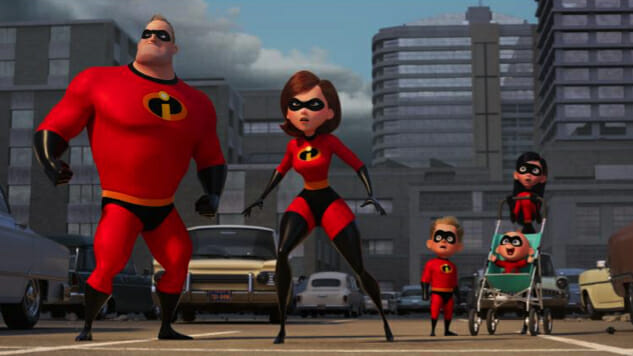 Given today's date, it's understandable for one's mind to be occupied by thoughts of candy, costumes and … paying the rent. But it's also a good day to look ahead to the new movies November brings to Redbox, the physical and digital purveyor of films both blockbusting and bargain bin-filling. Here's exactly what the service is adding on the heels of Halloween 2018.
Redbox's biggest addition on the way is Brad Bird's long-awaited super-sequel The Incredibles 2, which hits kiosks on Nov. 9. Though not quite as universally acclaimed as its predecessor, the superpowered Parr family's second outing is absolutely worth your time—"Whether you enjoy The Incredibles 2 as much as the original will likely depend on your opinion of the latter, but regardless, you'll be happy both exist," wrote Paste's Michael Burgin in his review. Another big-budget blockbuster (though this one's far less beloved by critics) is also on its way: giant shark-centric thriller The Meg, starring Jason Statham as the deep-sea rescue diver tasked with taking on the massive Megalodon. The resulting "low-rent, very dumb shark movie coasts only so far on its guilty-pleasure vibes," as Paste's Tim Grierson laments, falling far short of its potential as a "blatant so-bad-it's-good cheese-fest," but if you're up for a dip nonetheless, the film comes to Redbox kiosks and VOD on Nov. 13. And those are just two of numerous popcorn flicks inbound in November, including YA adaptation The Darkest Minds (in kiosks on Nov. 6), Disney's well-liked live-action Winnie the Pooh film Christopher Robin (in kiosks on Nov. 6) and underrated Ice Age adventure Alpha (in kiosks on Nov. 13).
Redbox's more thought-provoking, critically acclaimed fare is led by Spike Lee's BlacKkKlansman, which we recently ranked near the top of the Oscar-nominated director's exceptional filmography. The history-based dramedy stars John David Washington (son of Denzel) as Ron Stallworth, a Colorado Springs police officer-turned-detective who sets out to infiltrate and take down the Ku Klux Klan with the help of his partner, Flip Zimmerman (Adam Driver). The film is more fun than it has any right to be, considering the sobering things it has to say about the continued pervasion of white supremacy in our society—Lee's mastery is on full display as BlacKkKlansman deftly alternates between being a blast and putting American bigotry on blast. That film hits kiosks and VOD on Nov. 6, the same date that 2018 prison-escape adventure remake Papillon hits VOD. Following later in the month are massively successful romantic-comedy Crazy Rich Asians (in kiosks and VOD on Nov. 20), acclaimed Oakland-set, Daveed Diggs-starring dramedy Blindspotting—one of Paste's top films of the year so far—(in kiosks and VOD on Nov. 20) and suspenseful John Cho-starring drama Searching (in kiosks on Nov. 27).
Find Redbox's complete November slate below.
What's New & Streaming at Redbox: On Disc and On Demand—November
At The Box
November 6
BlacKkKlansman
The Darkest Minds
Destination Wedding (2018)
Loving Pablo
Klippers
November 9
The Incredibles 2
Disney's Christopher Robin
November 13
The Meg
Mile 22
Alpha (2018)
Final Score
Bel Canto
Juliet, Naked
The Children Act
The Confederate
Ouija House
Up And Away
November 20
Crazy Rich Asians
Kin
Blindspotting (2018)
Little Italy
The Domestics
Look Away
A Crooked Somebody
Malicious
The Little Mermaid (2018)
November 27
Searching (2018)
Dog Days
Cheat the Hangman
Cold Skin
On Demand
November 1
Tyler Perry's Boo! A Madea Halloween
November 6
Alright Now
An Interview With God
BlacKkKlansman
Mara
Papillon
The Pagan King
Bunyan And Babe
New York, I Love You
Christmas Trade
Christmas Tail
My Little Pony Equestria Girls: Rainbow Rocks
Night Moves
Sophie's Choice
November 13
Another Time
Cruise
Final Score
Mile 22
Nico, 1988
The Meg
Max Lucado's The Christmas Candle
November 14
Juliet, Naked
November 20
A Crooked Somebody
Blindspotting (2018)
Crazy Rich Asians
Little Italy
Skate Kitchen
The Nutcracker Sweet
November 27
All Square
At First Light
Look Away
TBD
Malicious