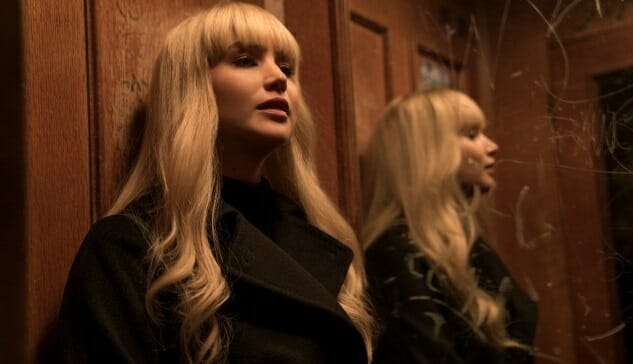 Jennifer Lawrence looks equally ready to break both bones and hearts in the new trailer for Red Sparrow, due out on March 8 from 20th Century Fox. Although her Russian accent might be a little shaky, her ability to kill a man has apparently not dimmed since The Hunger Games sailed off into its conclusion.
The film is based on a 2013 novel of the same name by Jason Matthews, and revolves around a Russian woman (Lawrence) who is forced into the life of a "Sparrow," which essentially appears to be a secret agent/sleeper agent designed for exactly the kinds of missions you'd expect to involve a beautiful young woman: Seducing generals, attending swanky soirees, occasional assassinations. You know, the regular 'ole stuff. At some point, she's put on the case of a possible Russian defector, but it seems that along the way she falls for an American CIA agent played by Joel Edgerton—a mere 16 years older than Lawrence, if you were keeping track. From there, we're heading into particularly tropey territory—will Lawrence, the spy with a heart of gold, be able to extricate herself from the service of her (clearly evil) mother country?
Check out the trailer above to see Lawrence undergo tortuous training, combat and don unrealistic swimsuits. Red Sparrow will hit American theaters on March 2.