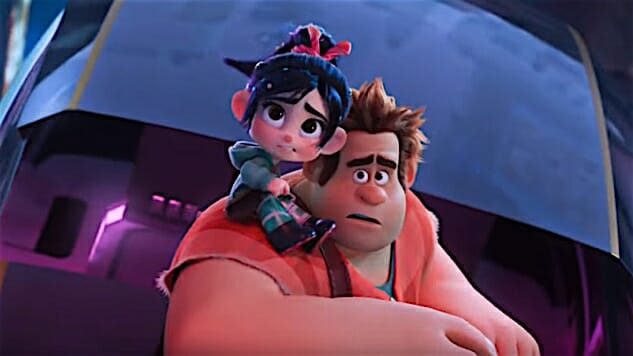 When it was released in 2012, Wreck-It Ralph hit theatergoers over the head with its incredible animation, video game call backs and moving story. Its success made a sequel inevitable, and Ralph Breaks the Internet picks up where the original film left off. Ralph (John C. Reilly) has come to terms with playing the villain in his "home" videogame, Fix-It Felix Jr., during the day, in large part because he gets to spend time with his best friend, Vanellope (Sarah Silverman), during their off-hours. Their lives together are routine, which is just how Ralph likes it.
Vanellope, on the other hand, is itching for something more. Like any princess, she longs to escape her gilded tower. It's hard to blame her—Vanellope's game, Sugar Rush, only has three race tracks. Having memorized every twist and turn, she's grown bored of the predictability—a real problem given racing is Vanellope's passion. To his credit, Ralph tries to remedy her discontent, surprising his friend with an addition to one of the tracks. But when the arcade owner adds wifi, Miss Von Schweetz gets a taste of the freedom she desires. Bigger race tracks, new friends and the endless expanse of options offered on the 'net bring the kind of wish fulfillment Vanellope has been seeking. (Ralph just wants to go home.)
As the title suggests, and as sequels tend to do, Ralph Breaks the Internet greatly expands the Wreck-It Ralph universe even as it further develops the tensions inherent in the relationship status quo present when the film begins. Wreck-It Ralph existed in a self-contained bubble—a villain longed to be a hero. A glitch longed to be fixed. Together, they help one another understand the beauty within and save one another. Ralph Breaks the Internet bursts out of those confines and escapes to the larger stage of the internet.
Directors Phil Johnston and Rich Moore are no strangers to world building, having worked together on Zootopia, and it's in bringing worlds to life that the power of Disney's team of artists and craftspeople is most apparent (and impressive). Together with the hundreds of artists who worked on the film, the directors have crafted a stunning world, bringing the two-dimensional internet to vibrant life. Though by now the average human has spent thousands of hours online, there have not been many attempts to really flesh out the virtual expanse on screen. The Matrix used binary and a VR that looked remarkably like the real world. Ralph Breaks the Internet uses app icons, malls and marketplaces. With the pristine clean feeling of an Apple Store, Johnston and Moore's internet is fun, interactive and filled with hilarious secondary characters. (As expected, the sterling voice work does its part—Alan Tudyk continues his impressive run of outstanding character performances as KnowItAll, a search engine eager to help, and Taraj P. Henson shows that a second career in voice acting is always an option as Yesss, the head of a digital streaming service.)
As the trailers suggested, The OhMyDisney.com portion of the film is a crowd pleaser. The Disney Princesses hanging out in the green room with Vanellope garnered the biggest laughs from the audience, but there were plenty of other Easter eggs for Disney fans. (One example—the space was based off the floor plan of D23, the annual Disney convention held in Anaheim in 2017.)
But ultimately, much like the original, Ralph Breaks the Internet delivers it strongest punches when it's focused on the evolution of Ralph and Vanellope's relationship. It's clear pretty much from the start that their relationship has become toxic. Ralph, well-meaning as he may be, has formed an unhealthy attachment to his best friend. He longs to go everywhere with her. Vanellope doesn't have a moment to herself. Without consulting her, he's decided their lives are fixed in a pattern and shouldn't change. Ralph Breaks the Internet explores this codependent relationship in an easily digestible way. The audience loves Ralph after his struggles in the first film. He literally wears his cookie heart around his neck. So when he yells at Vanellope for wanting a different life, viewers know he's not cruel, but that he is hurting.
As we as a society continue to define toxic masculinity and what abuse looks like, Ralph Breaks the Internet feels like a timely introduction to the topic for children. Those identifying with Ralph's feelings of being left behind can begin to process their emotions through Ralph's return to the arcade. The children who dream of a life beyond their suburban town, can learn how to express that desire in a healthy way.
Whether one enjoys Ralph Breaks the Internet more than Wreck-It Ralph may depend on one's connection with the arcade culture that defined the first film. Old school video games are a niche market with a limited purview. The smells and sounds of an arcade are tangible. Nearly everyone has picked up a controller or sat in an arcade and tried to beat a stranger's top score.
Nonetheless, Ralph Breaks the Internet provides a fun, family-friendly time at the movies. It may lack the nostalgia-fueled power of the original, but it has a potent power source of its own in the messages it conveys. Instead of being just another manifestation of the "girl power/you can be anything" trope, it populates the screen with women in powerful positions—as an actual CEO, as the leader of a dope car crew, and as a little girl trying to find her place in the world. It's a reminder that girl power exists naturally; it does not need to be forced. That's a message worth building a franchise around.
Directors: Phil Johnston, Rich Moore
Writers: Phil Johnston, Pamela Ribon (screenplay); Rich Moore, Phil Johnston, Jim Reardon, Pamela Ribon, Josie Trinidad
Starring: John C. Reilly, Sarah Silverman, Gal Gadot, Taraji P. Henson, Jack McBrayer, Jane Lynch, Alan Tudyk, Alfred Molina, Ed O'Neill
Release Date: November 21, 2018
---
Joelle Monique is a Rotten Tomatoes-certified critic. A graduate of Columbia College Chicago, her passions include movies that sit at intersectional crossroads and high stakes drama TV. You can find additional work at Pajiba and follow her on Twitter.