Quentin Tarantino Reportedly Taps Jerrod Carmichael to Pen Sequel to Django Unchained
Photos by Matt Winkelmeyer/Getty, Timothy Hiatt/Getty
Movies
News
Quentin Tarantino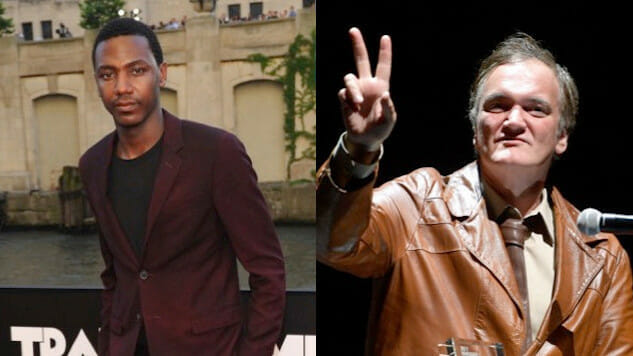 Indulge us for a second, and let us just throw four words at you, and see if you can make any sense of them:
Django/Zorro. Tarantino/Carmichael.
In case you aren't immediately making the connection—we sure didn't—let's explain. Collider is reporting that Quentin Tarantino has brought on comedian Jerrod Carmichael to script a sequel to 2012's Django Unchained, based on the limited event from Vertigo Comics that Tarantino cowrote with Matt Wagner, in which Django teams up with Zorro—yes, that Zorro—to free local indigenous populations from slavery.
Much like Django and Zorro, Tarantino and Carmichael teaming up is fascinating. Other than the combination of names, details on the sequel are sparse. There are contradictory reports on whether the duo will write the film together or if Carmichael is being given full autonomy over the script; it also remains unclear if Tarantino will direct the film, or simply executive produce it.
Regardless, we're interested. Love it or hate it, Tarantino's career has rarely been boring, with the genre-agnostic filmmaker often tackling knotty themes. The same is true for Carmichael, whose short-lived sitcom The Carmichael Show unpacked complicated topics surrounding race and class with ease. Carmichael has been making interesting moves behind the scenes, too, between his recent Home Videos project for HBO (which we quite liked) and his executive producer credit on Hulu's Ramy (which we loved).
News of a Django/Zorro film dates back to 2014, when the infamous Sony hack revealed emails between Tarantino and studio executives containing early discussions of the potential sequel. Whether it will actually come to fruition all these years later remains to be seen.
Stay tuned for more information to come. In the meanwhile, you might as well watch the trailer for Tarantino's latest film here.