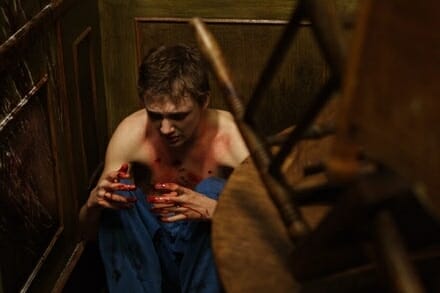 Routine thriller opts for the obvious
The Haunting in Connecticut purports to be "based on the true story." Not a true story, mind you, but the true story. Granted, there is a fairly well-known "documentary" version (the less severe A Haunting in Connecticut), but to whom does that really make this movie seem scarier? And why is it always the haunted-house movies that are true?
Release Date: March 27
Director: Peter Cornwell
Writers: Adam Simon, Tim Metcalfe

Cinematographer: Adam Swica
Starring: Kyle Gallner, Virginia Madsen, Elias Koteas, Amanda Crew
Studio/Run Time: Lionsgate, 92 mins.
Set in 1987, when its target audience hadn't yet been born, the film follows a god-fearing Reagan family (led by a bored Virginia Madsen) that rents a house in suburban Connecticut to be closer to the hospital where their teenage son (Kyle Gallner, from Veronica Mars) receives treatment for cancer. The house, alas, was once a funeral home where séances were a revered pastime, and it isn't long before that history catches up with the new tenants.
To its credit, the movie seems to understand that the primal appeal of these stories lies as much in the appearance of solemn dead people as in the possibility of domestic horrors. It's at least as scary when the son throws up from experimental radiation treatments as when, for example, people have their eyelids chopped off in flashbacks (yep). But inevitably, this foundation becomes lost in the prerogatives of a PG-13 fright flick destined for a long life on video-store shelves, a future that requires the tireless camera tricks and false scares native to low-rent horror movies. The cast tries nobly to pretend that isn't the case (particularly Gallner, whose dead-eyed stare goes a long way), but by the time the familiar back-story begins to come full circle, it's hard to distinguish this true story from the other 15 we've all seen in the past.