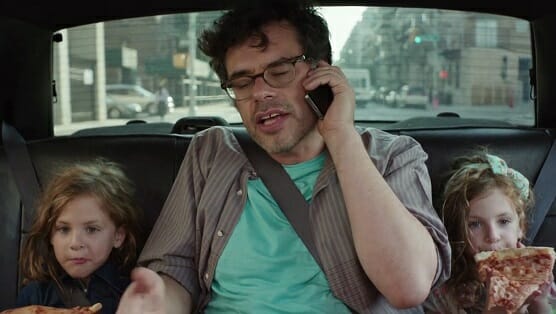 What happens when the "happily ever after" ends? It's a familiar conceit that's run the cinematic gamut, from the charged Who's Afraid of Virginia Woolf? to the more cerebral The Squid and the Whale. In his latest feature, People Places Things, writer-director Jim Strouse takes an even lighter approach and delivers a bittersweet comedy that charms even as it gets a little stuck in mundanity.
It's easy to see how the winsome film earned a nomination for the Grand Jury Prize at this year's Sundance Film Festival (it ultimately lost out to Me and Earl and The Dying Girl). Despite—or maybe because of—all his nerdishness, Jemaine Clement (What We Do in the Shadows, Flight of the Conchords) is a terrific leading man. With a Letterman-like gap tooth, three-day scruff, hipster glasses and a perpetual bedhead 'do, Clement plays Will Henry, a graphic novelist and college professor who walks in on his wife Charlie (Stephanie Allynne) having sex with Gary (Michael Chernus) during their twin daughters' fifth birthday party. Charlie tells Will she wants out of the marriage, and he's blindsided: "Just like that?" he asks. "It didn't happen just like that," she answers. Strouse's crisp dialogue can be incredibly direct and pointed one moment and sharply funny the next.
Fast-forward a year, and Will has left his Brooklyn home for a tiny studio apartment in Astoria. Based on other characters' reactions, his new Queens neighborhood is probably closer to Canada than Williamsburg. Will wants more time with his daughters, but his relationship with Charlie has become even more strained. She's pregnant and is marrying Gary, an off-Broadway monologist. When one of his daughters asks what that means, he quips, "It's like a comedian without the jokes."
Clement's rapport with the two young actresses who play his daughters is a joy to watch; it's filled with witty exchanges that can only originate from the mouths of babes. The girls' hurt and confusion about their parents' divorce isn't swept under the rug, either, with one of them blurting out, "Mom's such a bitch." Though their mom is a bit selfish and neurotic, Stephanie Allynne portrays the character in such a way that earns empathy from the audience. Charlie, a woman who's been unhappy in her relationship for years, is finally doing something about it. Strouse doesn't paint either parent as strictly good or bad, reflecting the complexity of relationships, even when they end.
Will stumbles through his days as an art/comic book lecturer at the School of Visual Arts, then retreats to his studio at night, drawing out his anger, frustration and loneliness. Strouse, best known for his 2007 film Grace is Gone with John Cusack, has called People Places Things his most personal work to date. The director's background in teaching and his work as a cartoonist intersect brilliantly here, as the lectures and illustrations become integral parts of the film. From Gray Williams' animated opening credits that recreate the beginning of the couple's story to the sketches strewn about Will's apartment, the art is incorporated naturally, moving the story forward or illuminating Will's thoughts in a visually precise way.
The personal upheaval carries over into the classroom, and Clement is pitch-perfect with sardonic humor: "I'm just having a hard life; it'll be over eventually." Out of pity, one of his students, Kat (Jessica Williams), sets him up on a date with her "hot" mom, Diane (Regina Hall), an American lit professor at Columbia. In one of the film's funniest scenes—and there are plenty—Will and Diane have an awkward dinner, with their conversation drifting from hobbits to the literary merits of comic books. Though the date doesn't end well—he compliments her delicious pork cutlets; she tells him it was swordfish—the sparks are undeniable.
What's also refreshing about the potential coupling is the great representation of women of color. The colorblind casting of Hall and Williams, both African-American women, playing smart, complex characters opposite a Caucasian lead, should happen more often. The only thing we have a hard time buying is Williams' character's age. She's much too quick-witted and put-together than most 19-year-olds we know.
When Will's new living situation (he temporarily has the girls full-time) hampers his dating Diane, the audience follows Will's missteps and confusion. He's unsure of his feelings for Charlie, Diane or his next move. Because nothing momentous happens in People Places Things, this uncertainty drags the film toward its end. The criticism is minor, however, since Strouse's script is so entertaining and Clement and supporting players give such endearing, heartfelt performances, relatable to denizens of Brooklyn, Astoria and beyond.
Director: Jim Strouse
Writer: Jim Strouse
Starring: Jemaine Clement, Regina Hall, Jessica Williams, Stephanie Allynne, Gia Gadsby, Aundrea Gadsby, Michael Chernus
Release Date: Opens August 14 in select theaters, VOD and iTunes
---
Christine N. Ziemba is a Los Angeles-based freelance pop culture writer and regular contributor to Paste. You can follow her on Twitter.