Watch a Chilling Rendering of the Boston Bombings in First Trailer for Patriot's Day
Images via CBS Films
Movies
Video
Patriots Day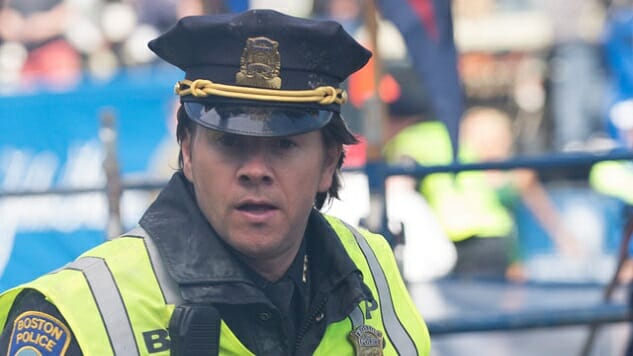 The Boston Marathon bombings were more than three years ago, but the memory of them still burns fresh in many people's minds. Patriot's Day takes the day in question and shows it to us from the perspective of Tommy Saunders (Mark Wahlberg), a police sergeant who works with first responders, survivors and investigators to hunt down the bombers before they strike again.
Although this first teaser doesn't give us an extended look at the aftermath of the tragedy, it carefully sets the scene, allowing us to understand how shocking the event was in the moments before it happened. Patriot's Day looks to be a movie about vitality, one which uses a moment of great tragedy to show how people can come together in its wake.
Patriot's Day was directed by Peter Berg (Deepwater Horizon), with a script from Berg and Matt Cook (Triple 9). The film also stars J.K. Simmons, Kevin Bacon, John Goodman and Michelle Monaghan. It will open in New York, Los Angeles and Boston on Dec. 21, and will go nationwide on Jan. 13, 2017. Check out the gripping teaser above.