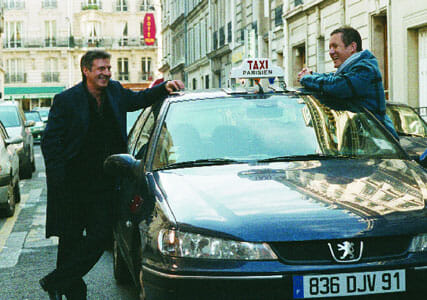 Director: Patrice Leconte
Writer: Patrice Leconte, Jérôme Tonnerre, Olivier Dazat
Cinematographer: Jean-Marie Dreujou
Starring: Daniel Auteil, Dany Boon
Studio/Running Time: Fidélité Productions, 106 mins.
In My Best Friend, François is an antique dealer whose self-interested business practices have left him with no real friends. Bruno is a taxi driver who alienates everyone around him with his constant recitations of trivial facts. Director Patrice Leconte, as you might guess, brings the two men together in a comedy that—although visually appealing—isn't quite as funny or touching as it could've been.
It's hard to fault Daniel Auteuil for playing François as rather likeable (his subtly snarky facial expressions in the opening scene alone won me over), but it's one of the many ways Leconte and his actors undermine the logic of the silly premise while remaining yoked to its plot. By the time we get to the end, when Bruno appears on Who Wants to Be a Millionaire and, yes, puts the phone-a-friend lifeline to the test, the two men seem to have learned a lesson, but I can't put my finger on exactly what it is. Robert Davis