Here is This Year's Shortlist for the Best Visual Effects Academy Award
Images via Disney/Marvel Studios
Movies
News
Oscars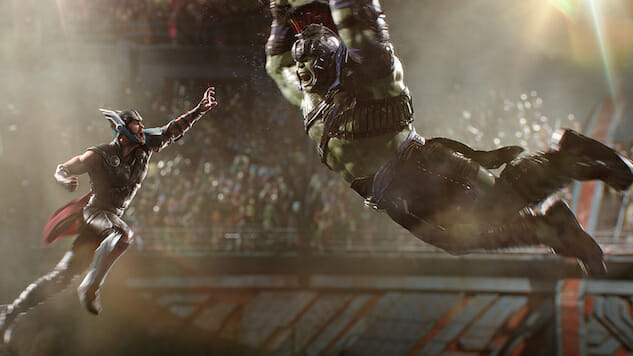 Genre pictures generally aren't recognized by the Oscars, so the technical categories such as Best Visual Effects are where those films often shine. The Academy's Visual Effects Branch Executive Committee has released the shortlist of 20 films in consideration for Best Visual Effects in the forthcoming 90th Academy Awards.
Here's the list in alphabetical order, with Paste's reviews linked where applicable:
Alien: Covenant
Beauty and the Beast
Blade Runner 2049
Dunkirk
Ghost in the Shell
Guardians of the Galaxy Vol. 2
Jumanji: Welcome to the Jungle
Justice League
Kong: Skull Island
Life
Logan
Okja
Pirates of the Caribbean: Dead Men Tell No Tales
The Shape of Water
Spider-Man: Homecoming
Star Wars: The Last Jedi
Thor: Ragnarok
Valerian and the City of a Thousand Planets
War for the Planet of the Apes
Wonder Woman
Essentially every major superhero film that came out in 2017 made the shortlist, with Marvel Studios' Guardians of the Galaxy Vol. 2, Spider-Man: Homecoming and Thor: Ragnarok, DC Films' Wonder Woman and Justice League (despite the hilariously botched attempt to remove Henry Cavill's mustache in post-production), and Fox's Logan.
Jumanji: Welcome to the Jungle has made it this far despite not being released yet, as has Star Wars: The Last Jedi, but a Star Wars picture being nominated for such a category is to be expected. Some box-office bombs including Alien: Covenant, Ghost in the Shell and Valerian and the City of a Thousand Planets are present, as well. Expect prestige dramas like Dunkirk and Blade Runner 2049 to make it to the end. The nomination for War for the Planet of the Apes follows a campaign for the Andy Serkis-starring film to get some major Oscar recognition.
Guillermo del Toro's relatively smaller-budget The Shape of Water has made the cut so far, as well as Netflix film Okja. Seeing how an underdog such as Ex Machina defeated a behemoth like Star Wars: The Force Awakens in this category in the recent past, films such as these two should not be counted out.
Last year, Disney's live-action The Jungle Book won the award over films such as Doctor Strange and Rogue One. Final nominations for the next Oscars ceremony will be announced on Jan. 23, with the ceremony airing live on March 4.
Check out the potentially Oscar-nominated visual effects work from Justice League below.
JUSTICE LEAGUE EXEC: We can just CGI Henry Cavill's mustache out it will be fine and not look weird at all
HENRY CAVILL: pic.twitter.com/Ag41j6LbPn

— Dana Schwartz (@DanaSchwartzzz) November 17, 2017