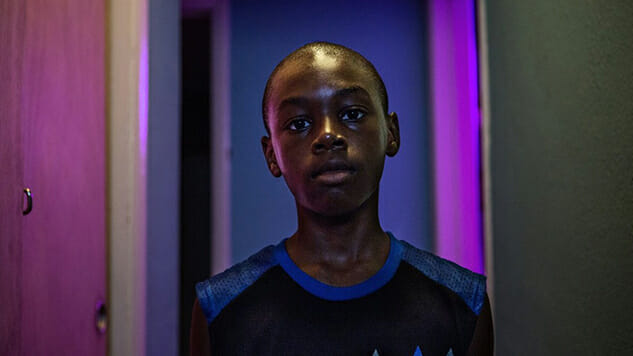 No matter what happens this year—despite not having a hashtag to append to every Oscar complaint to voice our collective calls for the Academy of Motion Picture Art and Sciences to stop sucking so historically—Sunday will still present its share of upsets, disappointments and outright cause for rage. The more things change, the more they seemingly never actually will, which is why we're supposed to be okay with Mel Gibson now.
Regardless, Paste brings you, as always, our picks for who we know will win, who we think (among the nominees) should win and nominees for whom individual writers are willing to make a strong case, pulling from every film that wasn't nominated. We've also prepared a handy streaming guide to help you catch up with as many nominees as possible.
Meanwhile, take some time to read our recent Oscars-related articles:
I Ain't Sorry: After 88 Years of Oscar Whiteness, Black People Need Not Thank the Academy by Shannon M. Houston
The Shunning of Silence by Chet Betz
Loving Your Enemy: Isabelle Huppert on Elle and Never Playing Characters by Elle Schneider
Emma Stone Deserves an Oscar—but Not for La La Land by Kyle Turner
Keep an eye on the site on Sunday to follow along with live updates, as well as on our Twitter profile to find out what the film community's yammering on about.
Enjoy our picks (which we've also ordered according to last year's presented awards, hoping we can make this easy on you) and good luck in your Oscar pools.
---
Original Screenplay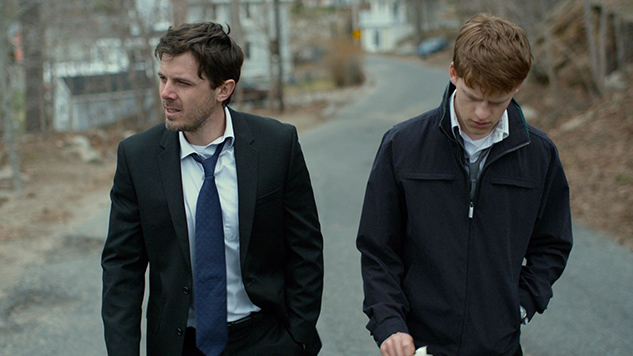 Nominated:
Hell or High Water by Taylor Sheridan
La La Land by Damien Chazelle
The Lobster by Yorgos Lanthimos, Efthimis Filippou
Manchester by the Sea by Kenneth Lonergan
20th Century Women by Mike Mills
Who Will Win: Kenneth Lonergan for Manchester by the Sea
As a piece of writing, one of Manchester by the Sea's greatest assets is that it feels so thoroughly effortless, especially since it demonstrates an extraordinary tonal balance. For every bout of soul-crushing drama, Lonergan layers in elements of humor that are both laugh-out-loud funny and surprisingly organic extensions of the story and its characters, both extremes conveyed via beautifully naturalistic dialogue. Given Lonergan's reputation as a great modern day playwright, a legitimate filmmaking auteur (You Can Count on Me, Margaret) and a genre-spanning screenwriter (Analyze This, Gangs of New York), it's hard to envision a ceremony where Hollywood does not reward one of its preeminent scribes with an Oscar. —Mark Rozeman
Who Should Win: Yorgos Lanthimos and Efthimis Filippou for The Lobster
As formally exceptional as Manchester may be, Yorgos Lanthimos and Efthymis Filippou's The Lobster drops the audience into a dystopian realm wherein the world's singles are sequestered in hotels and pressured to pair off, lest they reach an arbitrary deadline and are turned into animals. Not only do Lanthimos and Filippou ace the difficult task of building up their world in a way that's engaging and clever as opposed to overly expositional and awkward, but they succeed in crafting a central romance so achingly human one can almost forget the insanity of its premise. While it certainly takes skill to construct a deeply quirky, unorthodox film, it takes a specific kind of fervent imagination to see such a bonkers story through. Although Manchester's win should be cause for celebration, scripts like The Lobster's basically define the idea of "original." —M.R.
---
Adapted Screenplay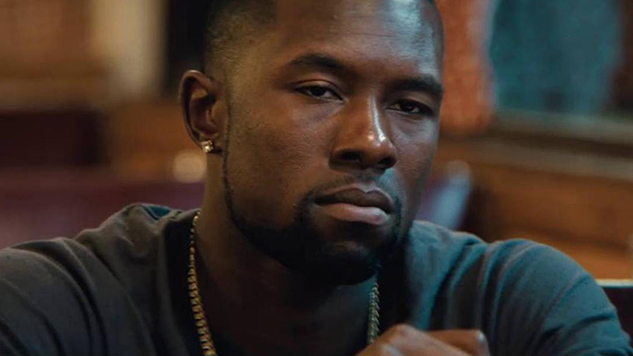 Nominated:
Arrival by Eric Heisserer
Fences by August Wilson
Hidden Figures by Allison Schroeder and Theodore Melfi
Lion by Luke Davies
Moonlight by Barry Jenkins (screenplay) and Tarell Alvin McCraney (story)
Who Will Win: Barry Jenkins and Tarell Alvin McCraney for Moonlight
First, let's all take a moment to acknowledge the bizarre rules that stuck Moonlight in this category: Based on a quasi-autobiographical play by Tarell Alvin McCraney, the actual project—by all accounts—was never officially produced on stage, which means the resulting film has no definite "preexisting material" as its basis. But no matter—writer/director Barry Jenkins and McCraney craft a story that, while heavy on silences and imagistic abstraction, packs a handful of 2016's best exchanges into a sparse 111 minute-or-so running time. From its densely metaphorical opening, featuring Juan (Mahershala Ali) and his runner, to the emotional punch that is the elder Chiron's (Trevante Rhodes) final line, Moonlight delivers the kind of intimate dive into small, mundane human experience that would do Wong Kar-wai or Yasujiro Ozu proud. —M.R.
Who Should Win: Eric Heisserer for Arrival
Arrival is the sort of production that relies so thoroughly on its screenplay's careful construction that anything less precise would be disastrous. It's difficult to discuss specifics without wading into spoiler territory, but, in short, Arrival is a film that not only distills the complexities of linguistics into digestible sound bites but toys with the very fabric of filmic language itself, exploring the visual concept of memory and its relation to perceived reality. Though the assured direction of Denis Villeneuve helps the film realize its potential as something epic, and the phenomenal (and un-nominated) performance of Amy Adams underlines the film's emotional core, make no mistake: Eric Heisserer's adaptation of Ted Chiang's celebrated short story is a huge achievement of meticulous storytelling. —M.R.
---
Actress in a Supporting Role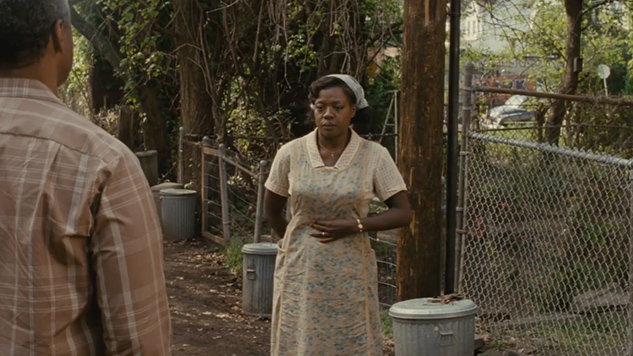 Nominated:
Viola Davis, Fences
Naomi Harris, Moonlight
Nicole Kidman, Lion
Octavia Spencer, Hidden Figures
Michelle Williams, Manchester by the Sea
Who Will Win: Viola Davis for Fences
If Viola Davis was good enough to win the Tony Award for Best Performance by a Leading Actress in a Play for her work in the 2010 Broadway revival of August Wilson's Fences, then she's certainly good enough to win the Academy Award for Best Actress for her work in Denzel Washington's adaptation of Wilson's play in 2017. Paramount still didn't want to take the chance, and she agreed, together campaigning to secure a Best Supporting Actress nod. The thinking here appears to be that she's more likely to win in the Best Supporting category (awarded to more women of color in the past decade and change than Best Actress has), but let's face it: Davis is nearly every bit the focus of Fences as Washington is, in a movie wherein everyone is his subordinate by design. She is his equal, the only person in the troupe who can match him beat for beat, and as the narrative unfolds it slowly becomes hers. (Frankly, it may well be her narrative the entire time, hijacked not so much by Washington but by the necessarily larger-than-life character he portrays.)
There's no substantive reason not to include Davis alongside Isabelle Huppert, Natalie Portman, Ruth Negga and Meryl Streep (whose nomination for Florence Foster Jenkins would be baffling were she anyone other than Meryl Streep), and especially not to include her at the expense of Emma Stone. Would winning an award be nice for Davis? Sure. But winning the right award that best honors her superb acting in Fences would be better. —Andy Crump
Who Should Win: Naomi Harris for Moonlight
Making the Case for: Imogen Poots for Green Room
Some performances are lauded for imbuing parts with physical and/or emotional authenticity. Others, though, are celebrated for going beyond the dictates of a script, bringing to light qualities that may transcend what even the screenwriter had in mind. Michael Shannon's juicy role in Nocturnal Animals is one memorable example of the latter. So is Imogen Poots's performance in Green Room. To Amber, Poots dredges up a drugged-out quality that adds an unexpected poignancy to the character of a white supremacist who finds her loyalties tested when her best friend is killed by her own people. Through Poots's laconic performance, however, one gets a sense of a person who had perhaps already been rethinking her loyalties before this incident pushed her over the edge; that ambivalence is inscribed into her every line reading and gesture, much of them deliberately drained of affectation beyond pure survival instinct and barely repressed anger. Green Room may not be much more than a technically accomplished genre exercise, but Poots, by sheer imaginative empathy, gives the film whatever bits of wounded soul it has. —Kenji Fujishima
---
Costume Design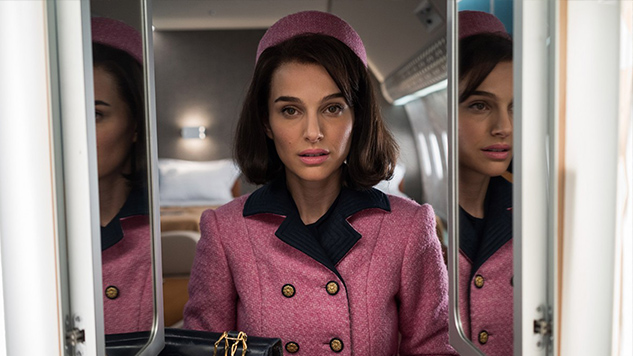 Nominated:
Allied, Joanna Johnston
Fantastic Beasts and Where to Find Them, Colleen Atwood
Florence Foster Jenkins, Consolata Boyle
Jackie, Madeleine Fontaine
La La Land, Mary Zophres
Who Will Win: Madeleine Fontaine for Jackie
La La Land will undoubtedly soft step to death every other nominee in its path, but its odds have been slipping recently, probably due to a conflation of so many simple reasons, not least being La La Land burn-out even before the film wins anything. Mary Zophres has also been nominated before, and has worked with Hollywood's highest profile directors, while, comparatively, Madeleine Fontaine is a newcomer to the industry outside of Europe, a distinction made even more admirable by how acutely she nailed—and how much of the film's success weighed on her recreation of—the garb of Kennedy's American Camelot. Plus, Portman won't win Best Actress, and Levi won't win best Score, so the Academy will want to give Jackie something to champion the nostalgic pull of a kind of "American politics" that we can still pretend represents a time when there was some nobility left in the term. —Dom Sinacola
Who Should Win: Madeleine Fontaine for Jackie
---
Production Design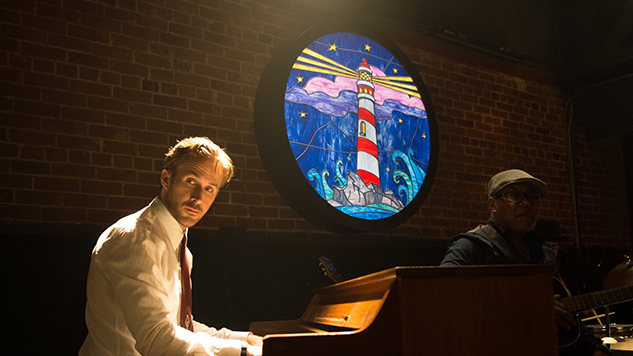 Nominated:
Arrival, Patrice Vermette (Production Design); Paul Hotte (Set Decoration)
Fantastic Beasts and Where to Find Them, Stuart Craig (Production Design); Anna Pinnock (Set Decoration)
Hail, Caesar!, Jess Gonchor (Production Design); Nancy Haigh (Set Decoration)
La La Land, David Wasco (Production Design); Sandy Reynolds-Wasco (Set Decoration)
Passengers, Guy Hendrix Dyas (Production Design); Gene Serdena (Set Decoration)
Who Will Win: David Wasco and Sandy Reynolds-Wasco for La La Land
All this La La Land love will begin to feel unnecessary probably an hour into the ceremony (if it hasn't started feeling that way already), but Wasco and wife Reynolds-Wasco deserve everything they'll get—Wasco especially for working with both Quentin Tarantino and Wes Anderson (the latter as the director was zeroing in on his iconic aesthetic), and still never seeing a single nomination before. —D.S.
Who Should Win: Patrice Vermette and Paul Hotte for Arrival
Vermette's been with Denis Villeneuve since Prisoners, typically affording the director a dour, dead-serious conglomeration of bare urban environs and sinisterly blank suburban shadows. In other words: Arrival is so obviously the work of man in his element, Vermette might never get the chance to win an Oscar again. (Plus, he's not working on Blade Runner 2049, and whether there's a fair reason or not, he's gotta be bummed about that.) Magnificent but logical, both breathlessly graceful and empirical, Vermette's design imagines interstellar ergonomics and edifices as places just as alien as any seemingly familiar domestic neighborhood. Rather than the re-imagining of 1920s New York in Fantastic Beasts or the arch indulgence of Hail, Caesar!'s spot-on 1950s Hollywood studio innards, Vermette's work is a precise and expansive work of pure imagination. —D.S.
---
Makeup and Hairstyling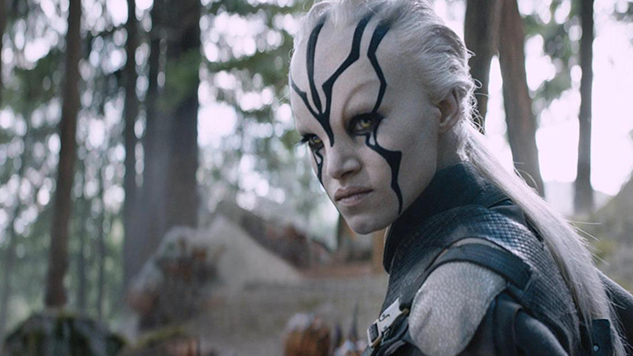 Nominated:
A Man Called Ove, Eva von Bahr and Love Larson
Star Trek Beyond, Joel Harlow and Richard Alonzo
Suicide Squad, Alessandro Bertolazzi, Giorgio Gregorini and Christopher Nelson
Who Will Win: Joel Harlow and Richard Alonzo for Star Trek Beyond
Though the most interesting (and articulate) win would be for A Man Called Ove, the odds are in favor of Star Trek, which has already won a makeup/hairstyling guild award. Plus, Harlow was snubbed last year for Black Mass, even though he did pretty much what Bahr and Larson did for Ove. —D.S.
Who Should Win: Anyone other than the people who worked on Suicide Squad
Nothing, no matter how seemingly insignificant in the grand scheme of things, should ever encourage David Ayer to keep doing anything but trading sweat pants recommendations with Zack Snyder, let alone make another fucking movie for DC. —D.S.
---
Cinematography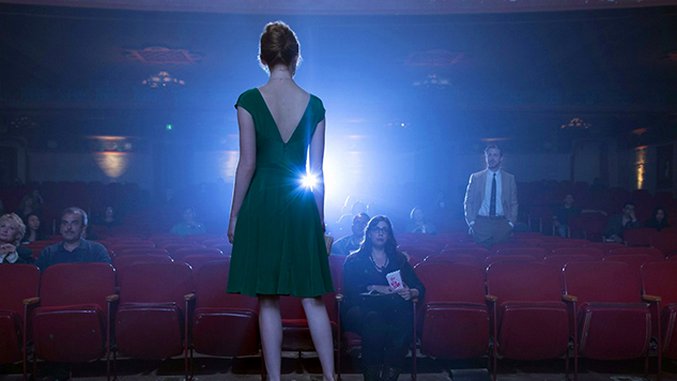 Nominated:
Arrival, Bradford Young
La La Land, Linus Sandgren
Lion, Greig Fraser
Moonlight, James Laxton
Silence, Rodrigo Prieto
Who Will Win: Linus Sandgren for La La Land
Though Greig Fraser upset the La La Land's guaranteed win of an American Society of Cinematographer Award, there's still a near-impossible chance it'll overcome La La Land's impressive odds, as well as second-ranked Arrival, for what is essentially half of a beautifully camera-forward movie. Besides, the Academy will celebrate its hometurf however it can—definitely when it looks this idealistic. —D.S.
Who Should Win: Rodrigo Prieto for Silence
With Scorsese's gorgeous Silence, Rodrigo Prieto delivers his finest work yet as a director of photography. Not only does he help Scorsese find a new level of restraint while still maintaining constant visual interest, he transcribes with the director a cohesive and powerful film grammar. The compositions are masterful (indelible two-shots, lingering close-ups on clasped hands, wide establishing shots that look like paintings, a devastating semi-profile medium-wide of an execution at sea), classicist in form but always just askew enough to demonstrate Scorsese and Prieto, inspired, working to push the impact of the image deeper.
Moreover, Prieto's rich use of light, shadow, texture and color calls to mind some of the best work of Vittorio Storaro. Early on in Silence the camera looks down from great heights, through mists and upon verdant landscapes (a shot that closely tracks a bird for a few seconds has to be seen to be believed), but as the film progresses its view becomes more and more mired and caged—all without losing any of its verve. A whip-pan perspective shot from behind wooden bars transforms a typical Scorsese trick into something far more. Eventually, night starts to become more prevalent and with it Prieto seamlessly transitions from lush 35mm to long stretches on digital. As the canvas changes out of necessity so, too, do the brush strokes of Prieto's lens; shots become more crunched or elongated, traces of the surreal beginning to seep in as our protagonist Rodrigues (Andrew Garfield) becomes more disconnected from reality. It's really quite something, the way Prieto's cinematography for Silence achieves in perfect balance two things that would seem almost exclusive: subtlety and ecstasy. —Chet Betz
Making the Case for: Natasha Braier for The Neon Demon
Nothing against the five worthy nominees in the category this year, but if you judge a film's cinematography by how much its look lingers in the memory, then few choices could possibly measure up to The Neon Demon. Granted, Nicolas Winding Refn's latest isn't noticeably visually different from his recent work, and, like Drive and Only God Forgives, The Neon Demon is awash in hot reds, deep blues and blinding whites. Maybe it's the broader context that makes Natasha Braier's work stand out: There's a fairy-tale quality to much of the film's imagery, turning Refn's characters into larger-than-life icons, bringing a genuinely mythic quality to the director's Hollywood fashion-world morality tale. If nothing else, Braier's lights and mirrors set-piece during a fashion show sequence midway through the film remains the most indelibly enchanting (yet unsettling) series of images seen in a movie in 2016, with the spectacle of not-quite-innocent ingénue Jesse (Elle Fanning) making love to her own reflection rendered as the stuff of nightmares. —K.F.
---
Film Editing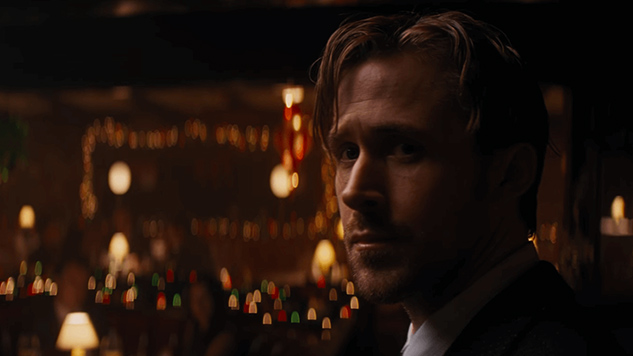 Nominated:
Arrival, Joe Walker
Hacksaw Ridge, John Gilbert
Hell or High Water, Jake Roberts
La La Land, Tom Cross
Moonlight, Nat Sanders and Joi McMillon
Who Will Win: Tom Cross for La La Land
Here's the vantage point from where you can see the rest of the Oscar landscape: Best Editing typically foretells Best Picture, as any filmmaker will tell you (though last year, with Margaret Sixel winning for Mad Max, still no one had any hope that film would win at the end of the night), so this is La La Land's to lose considering that film's chances for encouraging its young, hip, attractive entourage to all gather on stage to close out the ceremony. Arrival has some modicum of a chance, recently winning an American Cinema Editor award alongside the frontrunner, though odds still have Hacksaw Ridge ahead of it, because I don't know why. —D.S.
Who Should Win: Nat Sanders and Joi McMillon for Moonlight
---
Sound Editing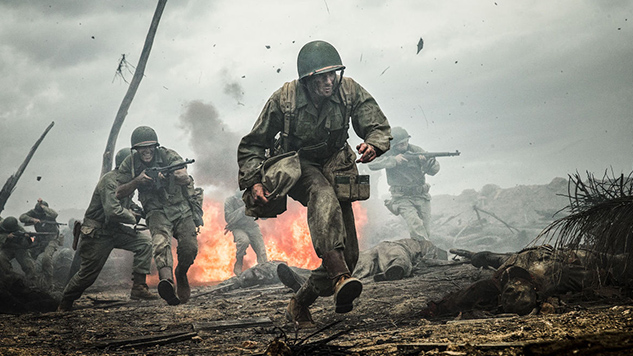 Nominated:
Arrival, Sylvain Bellemare
Deepwater Horizon, Wylie Stateman and Renée Tondelli
Hacksaw Ridge, Robert Mackenzie and Andy Wright
La La Land, Ai-Ling Lee and Mildred Iatrou Morgan
Sully, Alan Robert Murray and Bub Asman
Who Will Win: Robert Mackenzie and Andy Wright for Hacksaw Ridge
This category (for the crafting of sound effects, mind you) loves its battle-obliterated, war-filled films—previous winners include American Sniper, The Hurt Locker, Pearl Harbor and, of course, Saving Private Ryan—and Hacksaw Ridge is yet another Mel Gibson joint bent on complete immersion in unrelenting graphic violence. —D.S.
Who Should Win: Sylvain Bellemare for Arrival
War is hell, but in that case we know what hell could sound like. Bellemare not only had to create the sounds of a completely unknown world, but he had to create a deep, abiding logic to it—he had to realize both what's heard, and why. —D.S.
Making the Case for: Chris Sharp and Adam Stein for The Witch
If you want a perfect encapsulation of the way that genre movies (and especially horror) are almost unilaterally shut out of Academy consideration, look no further than the fact that The Witch couldn't even score a nomination in one of the technical categories. No one is specifically demanding that the most universally praised horror film of 2016 receive a Best Picture nomination, but is it asking too much for that film to be recognized in the category where it excels the most? The creation of sound is everything to The Witch, providing a great deal of tension through the film's earliest scenes, as its Puritanical family begins its descent into the woods that will destroy them. Taking clear cues from The Shining in particular, The Witch weaves a web of discordant noises to cloak almost every scene in a palpable feeling of unease and dread. Regardless of what's actually on screen in any given moment, the sound design of The Witch never allows the audience to breathe or relax its guard. It's a massively important element in what makes the film such an amazingly assured, genuinely unsettling debut…but no, I'm sure it's just a coincidence that Deepwater Horizon and Sully received the nominations instead. —Jim Vorel
---
Sound Mixing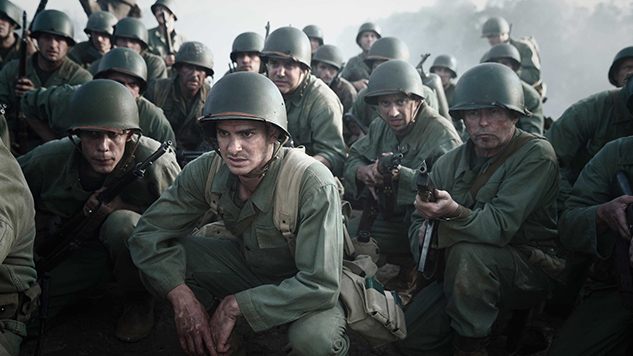 Nominated:
Arrival, Bernard Gariépy Strobl and Claude La Haye
Hacksaw Ridge, Kevin O'Connell, Andy Wright, Robert Mackenzie and Peter Grace
La La Land, Andy Nelson, Ai-Ling Lee and Steve A. Morrow
Rogue One: A Star Wars Story, David Parker, Christopher Scarabosio and Stuart Wilson
13 Hours: The Secret Soldiers of Benghazi, Greg P. Russell, Gary Summers, Jeffrey J. Haboush and Mac Ruth
Who Will Win: Kevin O'Connell, Andy Wright, Robert Mackenzie and Peter Grace for Hacksaw Ridge
Though odds point to La La Land as the safe bet here, we're going to go with Gibson's Grand Guignol, which beat out Chazelle's film for a recent Golden Reel award. Plus, Kevin O'Connell is like the Susan Lucci of sound mixing Oscars; check out his many, many nominations. —D.S.
---
Visual Effects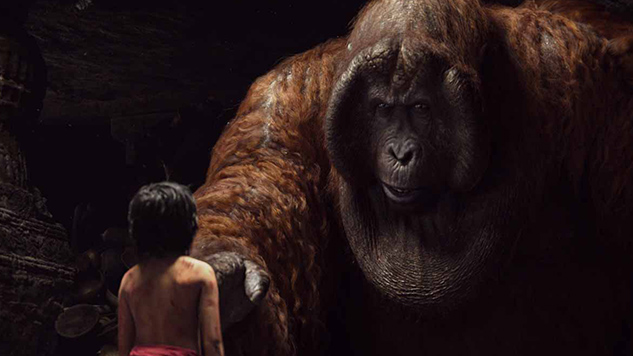 Nominated:
Deepwater Horizon, Craig Hammack, Jason Snell, Jason Billington and Burt Dalton
Doctor Strange, Stephane Ceretti, Richard Bluff, Vincent Cirelli and Paul Corbould
The Jungle Book, Robert Legato, Adam Valdez, Andrew R. Jones and Dan Lemmon
Kubo and the Two Strings, Steve Emerson, Oliver Jones, Brian McLean and Brad Schiff
Rogue One: A Star Wars Story, John Knoll, Mohen Leo, Hal Hickel and Neil Corbould
Who Will Win: Robert Legato, Adam Valdez, Andrew R. Jones and Dan Lemmon for The Jungle Book
Easy pick: Favreau and his effects team might as well have built a space station to make this film, and anything less than an Oscar would be considered a personal affront to Walt Disney's cryogenically frozen corpse. —D.S.
Who Should Win: Steve Emerson, Oliver Jones, Brian McLean and Brad Schiff for Kubo and the Two Strings
Laika's historic Visual Effects nomination puts it in the company of A Nightmare Before Christmas and A Nightmare Before Christmas alone. —Jacob Oller
---
Short Film (Animated)
Nominated:
Blind Vashya, Theodore Ushev
Borrowed Time, Andrew Coats and Lou Hamou-Lhadj
Pear Cider and Cigarettes, Robert Valley and Cara Speller
Pearl, Patrick Osborne
Piper, Alan Barillaro and Marc Sondheimer
Who Will Win: Piper
---
Animated Feature Film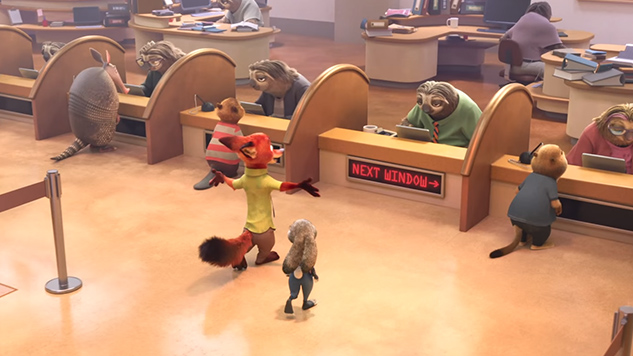 Kubo and the Two Strings, Travis Knight and Arianne Sutner
Moana, John Musker, Ron Clements and Osnat Shurer
My Life as a Zucchini, Claude Barras and Max Karli
The Red Turtle, Michael Dudok de Wit and Toshio Suzuki
Zootopia, Byron Howard, Rich Moore and Clark Spencer
Who Will Win: Zootopia
Americans love their bureaucracy rendered as adorably as possible. —D.S.
Who Should Win: Kubo and the Two Strings
Laika is due. The animation company more consistent than Pixar and more heart-wrenching than Disney has had its every feature film nominated for the Best Animated Feature Oscar only to go home empty-handed. Coraline lost to Up (OK, fair enough) while ParaNorman's progressive, loving horror ode somehow lost to Brave, and then Big Hero 6 (really, Big Hero 6?) beat The Boxtrolls and its madcap energy. This year something's gotta give. Sure, Zootopia was well-executed and made more money than it'd take to actually genetically engineer the city of animals the film uses as a complex (and not always successful) race allegory. But Kubo and the Two Strings is majestic. It's Laika's most ambitious visual film yet, its most narratively adventurous and its most moving—while Charlize Theron leads a voice cast whose deftness almost matches that of director Travis Knight's awe-inspiring, samurai-influenced fight scenes. And it all culminates with difficult ideas of forgiveness, hope and love. There's not a more satisfying animated film this year, no better film to show your kids and if Moana wins I'm going to personally blame Lin-Manuel Miranda for my ulcers. —J.O.
---
Actor in a Supporting Role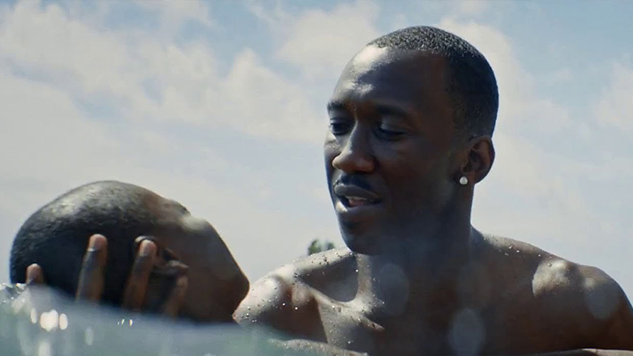 Nominated:
Mahershala Ali, Moonlight
Jeff Bridges, Hell or High Water
Lucas Hedges, Manchester by the Sea
Dev Patel, Lion
Michael Shannon, Nocturnal Animals
Who WIll Win: Mahershala Ali for Moonlight
Though much-adored, Moonlight will struggle with wrestling much away from the incessant tides of La La Land, and if anyone from Moonlight could become the awardable face of the film's sumptuous empathy, it's Ali. Somehow Dev Patel has some steam behind him, but anyone who's seen Lion knows that once Patel's on screen, the film rolls over and wheezes to a complete stop. —D.S.
Who Should Win: Mahershala Ali for Moonlight
In Moonlight's opening minutes, during which Mahershala Ali as Miami drug-dealer Juan checks in on a street-level crony by doing nothing more than amicably shooting the shit, Barry Jenkins' film announces itself as open-hearted as it is inscrutably generous. In those opening minutes, Ali simultaneously sets up a call-back for later in the film—beginning already to bind its three chapters together—and offers up so much about his character: his warmth, his friendliness, his fatherliness, his seriousness. Most difficultly, in a perfectly toned performance, he places Juan within that liminal space between legit businessman and career criminal, portraying him as a bad man who seemingly has not one bad bone in him, cracking open the world of the film by avoiding all preconceived notions about what you expect or think you have paid to see. And Moonlight has only begun. —D.S.
---
Documentary (Short Subject)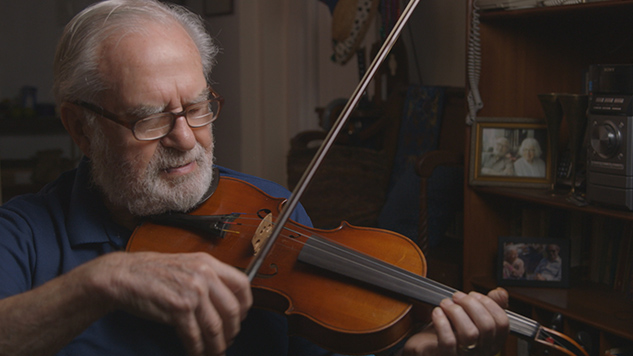 Nominated:
Extremis, Dan Krauss
4.1 Miles, Daphne Matziaraki
Joe's Violin, Kahane Cooperman and Raphaela Neihausen
Watani: My Homeland, Marcel Mettelsiefen and Stephen Ellis
The White Helmets, Orlando von Einsiedel and Joanna Natasegara
Who Will Win: Joe's Violin
Welcome to a notoriously, miserably gut-crushing category: sadness exacerbated by realizing the inherent frivolity in predicting the Oscars at all. Though The White Helmets might have enough Clooney power to push it over the top, we're counting on the Academy's Netflix aversion to keep it from breaking the streaming glass ceiling. —D.S.
---
Documentary (Feature)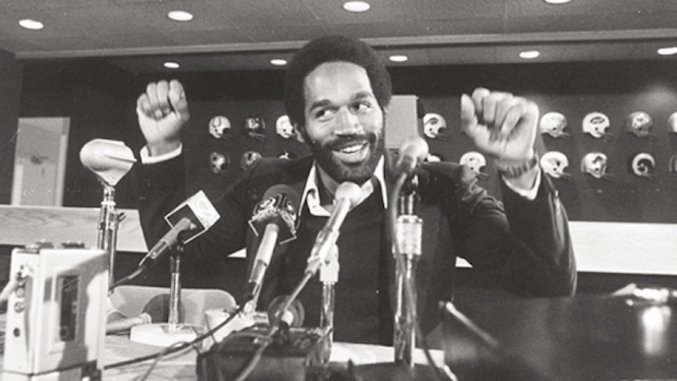 Nominated:
Fire at Sea, Gianfranco Rosi and Donatella Palermo
I Am Not Your Negro, Raoul Peck, Rémi Grellety and Hébert Peck
Life, Animated, Roger Ross Williams and Julie Goldman
O.J.: Made in America, Ezra Edelman and Caroline Waterlow
13th, Ava DuVernay, Spencer Averick and Howard Barish
Who Will Win: O.J.: Made in America
Who Should Win: I Am Not Your Negro
There's nothing flashy or sensational about Raoul Peck's James Baldwin project—an ostensible adaptation of Baldwin's unfinished manuscript Remember This House but also an attempt at finishing it—but it's brazen and gutsy all the same. Making a visual essay out of Baldwin's words when Baldwin's words are technically incomplete takes something resembling chutzpah, after all. At the very least it requires an understanding of who Baldwin was as a person and what his writing meant while he was alive, as well as an understanding of how that writing resonates today, 30 years after his passing. I Am Not Your Negro is a refusal to place the burden of solving our country's race problem on the shoulders of black Americans—for that reason alone the film is likely to lose, as its central thrust to place that onus upon white America will make white voters, as well as many viewers, innately uncomfortable. But this is the point of I Am Not Your Negro: To discomfit us into doing anything but simply watch. —A.C.
Making the Case for: The Other Side
A bit too directed to be a documentary (and so never in our wildest dreams would it ever get nominated), but too unflinching to be fiction, Roberto Minervini's The Other Side skirts the fringes of both cinematic forms as oneirically as it floats on the sidelines of civilization. Which isn't meant to be a pejorative description of the Louisiana people Minervini portrays—from meth addicts to libertarian militia members, the people of this film purposely plant themselves (via addiction, political leaning or some strange brew of both) on the outskirts of what most viewers understand as a functional way of life. From there, many of them simply subsist, Minervini following one ex-con named Mark as he falls in love, tries to hold down a job, helps a pregnant stripper shoot up, cooks meth in his coffee maker, rants about Obama with casual epithets and visits his mother: It is all, violently and shamelessly, a mess of enraging and deeply touching, humane moments, splayed out before the camera without question or judgment.
By the time The Other Side leaves Mark behind, lost literally in the bayou of his own remorse, the film has ballooned to orgiastic proportions, joining a group of armed "freedom" fighters preparing for what they see as the country's inevitable collapse. They're angry, but so are those of us watching as a cadre of drunks use Obama masks and cut-outs to obscene ends, and not because they don't have a right to protest our government, but because there is so much terror in the ways in which they do. As the film ends on a scene of metaphorical effigy, as the idea of Barack Obama is filled with bullets and a car bearing the words "OBAMA SUCKS ASS" is pulled apart at the seams, it's difficult not to be absolutely disgusted by what we're witnessing. My partner turned to me, her face blank with shock, "Imagine if Obama's daughters saw this." No, I don't want to imagine that—I'd rather imagine the disgust the people of this film would have for me, an outsider thinking I have any right to look in.
It's been an urgent year for documentaries, and seemingly this year more than in any other, the shortest line between the Oscar elite and the concerns of the everyday hoi polloi fall to the expression and dismantling of inherent, systemic "truth." Life, Animated is nice enough, but it shouldn't have made it this far. We need so much more to shock us into action this year—and if a (gorgeous and devastating) Dark Horse like Fire at Sea, which shares much of its tone and aesthetic with The Other Side, can cobble together a nomination, then nothing is ever utterly impossible. —D.S.
---
Short Film (Live Action)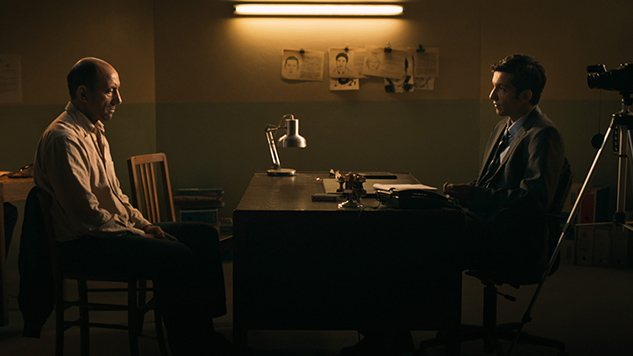 Nominated:
Ennemis Intérieurs, Sélim Azzazi
La Femme et la TGV, Timo von Gunten and Giacun Caduff
Silent Nights, Aske Bang and Kim Magnusson
Sing, Kristof Deák and Anna Udvardy
Timecode, Juanjo Giménez
Who Will Win: Ennemis Intérieurs
---
Foreign Language Film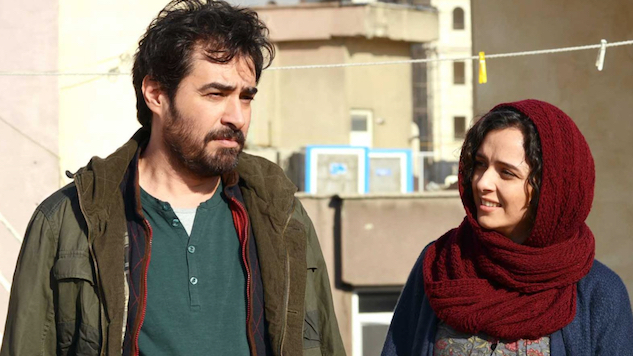 Nominated:
Land of Mine (Denmark)
A Man Called Ove (Sweden)
The Salesman (Iran)
Tanna (Australia)
Toni Erdmann (Germany)
Who Will Win: The Salesman
Farhadi has stated unequivically he will not be attending the ceremony, even if he received a special federal travel exemption, in ptrotest of Iran being included in the seven nations demarcated as whatever they're demarcated as care of Trump's Muslim ban. The Academy will surely give this to Farhadi even if it's only to support his obvious "fuck you" to the current American administration. It also helps that it was announced today that Farhadi has chosen two prominent Iranian Americans to represent him should his film win.
Who Should Win: Toni Erdmann
Maybe it's a little gauche to root for anything other than Asghar Farhadi's The Salesman, but as satisfying as it'd be to see that movie take the win, a victory for Toni Erdmann would make its own political statement as both a film directed by a woman and a film with nothing nice to say about soul-crushing corporate globalization. Maren Ade would be only the third woman to win in this category since 2000, following Caroline Link in 2001 and Susanne Bier in 2011. If that's not enough reason to stump for her film, then its message about capitalism as a divisive and toxic influence upon families and individuals should be. Toni Erdmann is a film the world needs at the time the world needs it, where hollow and rampant industrialist pursuits are valued above common decency or the sanctity of our personal lives. —A.C.
---
Music (Original Song)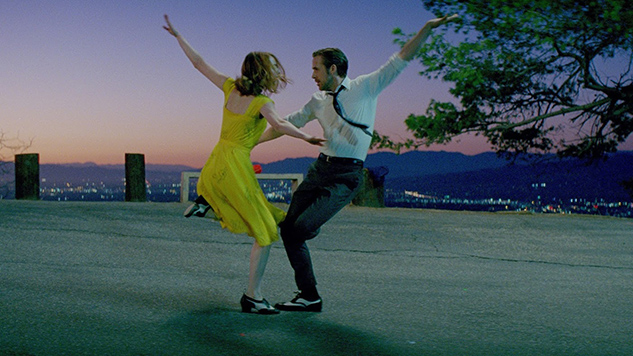 Nominated:
"Audition (The Fools Who Dream)" from La La Land, Justin Hurwitz (Music); Benj Pasek and Justin Paul (Lyrics)
"Can't Stop the Feeling" from Trolls; Justin Timberlake, Max Martin and Karl Johan Schuster (Music and Lyrics)
"City of Stars" from La La Land, Justin Hurwitz (Music); Benj Pasek and Justin Paul (Lyrics)
"The Empty Chair" from Jim: The James Foley Story; J. Ralph and Sting (Music and Lyrics)
"How Far I'll Go" from Moana; Lin-Manuel Miranda (Music and Lyrics)
Who Will Win: "City of Stars" from La La Land
It's tempting to want to lean into an upset care of Lin-Manuel Miranda, especially because that would mean the Academy can feel justified taking credit for the guy's inevitable EGOT, but for La La Land not to win would probably be considered an even greater upset. —D.S.
---
Music (Original Score)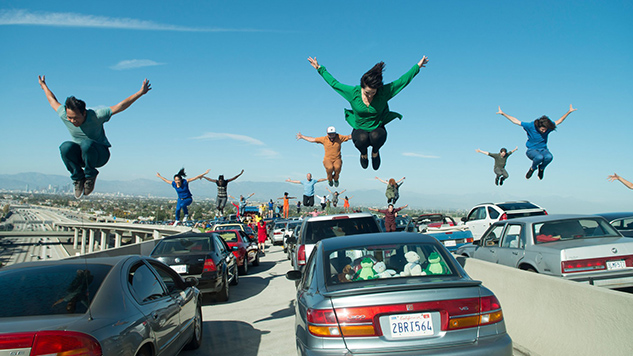 Jackie, Mica Levi
La La Land, Justin Hurwitz
Lion, Dustin O'Halloran and Hauschka
Moonlight, Nicholas Britell
Passengers, Thomas Newman
Who Will Win: Justin Hurwitz for La La Land
Seriously? Even Nate Silver wouldn't get this wrong. —D.S.
Who Should Win: Mica Levi for Jackie
After making a name for herself in the experimental pop music scene as the founder of Micachu & the Shapes, Mica Levi jumped into feature-film scoring with her astonishing, inventive score for Under the Skin. Her contributions to Pablo Larraín's unconventional Jackie Kennedy docudrama are no less offbeat, but in so much subtler ways compared to the alien musical transmissions for Jonathan Glazer's sci-fi head-trip. The sliding strings which open Jackie could be heard as Levi's aesthetic mission statement in miniature: If many other composers for "great (wo)man" biopics go right for strings and trumpets to evoke nobility, Levi, with one simple gesture, announces a desire to wipe away any sense of hagiography. Just as Larraín's film is as much an evocative portrait of a woman's grief as it is a deconstruction of the persona Jackie tried to put in place in the wake of her husband's assassination, Levi also creates music that is beautiful in its mourning. —K.F.
Making the Case for: Andy Hull and Robert McDowell for Swiss Army Man
I love the soundtrack to Swiss Army Man because the soundtrack to Swiss Army Man loves me back. It knows that I spent hours as a nine-year-old dreaming of the many ways, all transcendent, I could use John Williams' Jurassic Park theme to make my life more epic. It knows that many young children did that. It knows that "Cotton Eye Joe" should be a cherished cultural touchstone because it is both insanely catchy and it is so much more mysterious than anyone would ever give it credit for. The soundtrack to Swiss Army Man loves all the things I love—farts, Animal Collective, wordless choruses, the song "Wordless Chorus" by My Morning Jacket—because it loves me too, as much as it loves familiar pop movie tropes, which I also love, like montages and nostalgia and grand demonstrations of melodrama and high concepts that are somehow carried through against all logical odds. It haunts my subconscious, but in a good way. Just as Swiss Army Man is cobbled together from rom-coms and Spielbergian hope and Cronenbergian body horror and whatever else the heart desires, so is Andy Hull and Robert McDowell's score a sutured freak-folk monster, assembled from the many multilayered voices of so many different people with so many different loves. It is the perfect movie score in that it is every movie score. —D.S.
Jóhann Jóhannsson for Arrival
There have obviously been greater snubs in the pantheon of obliviousness that is Oscar season, but this time an exclusion like Johannsson's score to Arrival feels especially bitter. It's all because of Max Richter's "On the Nature of Daylight," a composition playing throughout the film's opening and closing vignettes, which the Academy deems a reason for disqualification given a rule in their Oscar's eligibility guidelines stating the score either "has been diluted by the use of pre-existing music, or it has been diminished in impact by the predominant use of songs or any music not composed specifically for the film by the submitting composer." In other words: a technicality—especially since just last year Ennio Morricone's winning score for The Hateful Eight used pre-existing music as well as songs not composed specifically for the film to the emotional detriment arguably on par with Denis Villeneuve's use of Richter's piece over Jóhannsson's originals. It could then be argued that the "For Your Consideration" version of Morricone's score, excised of all disqualifiable tracks and distributed to Academy voters, won him the Oscar—but so it goes with Jóhannsson's Arrival as well, sold by Deutsche Grammophon as an OST album leaving off Richter's track. None of it really adds up.
But none of it really matters either, save for the reminder that the Oscars are often pointless: Johannsson's made a powerful statement to accompany Villeneuve's monolithic film. Blaring and martial, it still rewards close listens, demanding both intimacy and hyperbole out of every image Villeneuve attempts. It's an accomplishment no matter what—even if all it got is a measly Golden Globe nod. —D.S.
---
Directing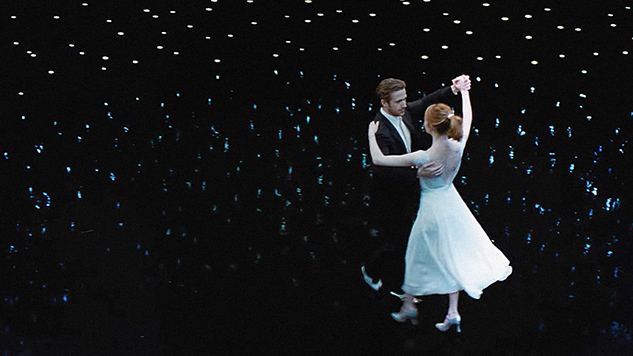 Nominated
Arrival, Denis Villeneuve
Hacksaw Ridge, Mel Gibson
La La Land, Damien Chazelle
Manchester by the Sea, Kenneth Lonergan
Moonlight, Barry Jenkins
Who Will Win: Damien Chazelle for La La Land
Though the past couple years have watched directors win for films that didn't take home the year's biggest prize, there's just little chance Jenkins (next in line) will pull this away from Chazelle, however unfair or unjustified you think that reality is. —D.S.
Who Should Win: Barry Jenkins for Moonlight
Here I am, proclaiming loudly and boldly that Barry Jenkins must win the Best Director statue at this year's AMPAS ceremony—not "ought to" or "should," but "must," both because Jenkins' work in Moonlight is that profound and also because movies like Moonlight simply do not get made, at least not without a great deal of toil and struggle. Jenkins winning Best Director could potentially be monumental; that's the kind of achievement that can open all kinds of doors and grease all kinds of wheels for future black filmmakers, and in that future, Moonlight, or movies like it, probably wouldn't be such a rarity. Grant that this is a best case, wave-a-magic-wand scenario, and grant that at the end of the day the best director should win the race. Also grant that among his fellow nominees, Jenkins' efforts are by far the most refined, the most singular. There isn't another movie among all nominees in all categories that's quite like Moonlight, in part because there just aren't many movies like Moonlight to begin with, but also because there aren't many directors like Jenkins. —A.C.
---
Actress in a Leading Role
Nominated:
Isabelle Huppert, Elle
Ruth Negga, Loving
Natalie Portman, Jackie
Emma Stone, La La Land
Meryl Streep, Florence Foster Jenkins
Who Will Win: Emma Stone for La La Land
No comment—but also: Plenty of comment.
Who Should Win: Isabelle Huppert for Elle
Could anyone other than Isabelle Huppert make a character like Michele Leblanc work in a film like Elle? Could any other actress balance the myriad elements of Michele's persona so perfectly, and so deftly pull of the high wire act the movie's architect, infamous cinema satirist Paul Verhoeven, demands of her? Michele is at once savage, sexual, sensual and shellshocked, a woman possessed of enormous self-agency matched only by her self-doubt. She's a leader and a victim in equal measure, the rare person who reacts to her own rape by cleaning up the mess and casually ordering sushi over the phone. (She also scolds her cat for passively watching her assault.) Huppert is so casual and cool, gelid to a fault, that if you missed Elle's first five minutes you might never guess that they actually happened. Hers is the kind of acting that many would describe as "brave," and in this one particular case, the description fits. Elle is a gutsy film that demands a gutsy leading lady, which isn't to say that the leading ladies the Academy has chosen to celebrate in 2017 aren't gutsy; it's just that they're gutsy in decidedly safer projects. By contrast, nothing about Elle feels safe, and thus you need someone of Huppert's particularly commanding and fearless caliber to engage with its back and forth between victim and assailant, and to provide the necessary humanity to avoid toeing the line of insensitivity. If the AMPAS needs anything in 2017, it sure isn't safety, and for this reason it'd be nothing short of a delight to see Huppert, a longtime luminary of international cinema, take home a shiny golden statute to place on her mantel alongside her two Cannes awards and that Golden Globe. —A.C.
Making the Case for: Amy Adams for Arrival
For any of you who've seen Arrival, y'all know what this is. Verging on nonsensical, the Academy quite rightly nominated Arrival for eight awards and yet somehow failed to nominate the performance that holds the movie together and gives it all of its substantial dramatic heft.
Simply put, Amy Adams is incredible as Dr. Louise Banks. The Academy overlooking what might be the best performance, period, of the entire year falls pretty soundly in "You had one job…" territory. Adams isn't just convincing as a linguistic expert tasked with bridging the communication gap between humans and aliens—she's transporting. When first entering the alien ship, it is Adams' face and her body language that intimate the equal mixture of fear and awe. Yet these scenes pale to what Adams does with the film's more personal story. Actors often perform scenes out of narrative order for the convenience of accommodating a shooting schedule, but Adams is in a whole other dimension of disorder with Arrival. She inhabits a character that is both knowing and searching; she balances hope and regret on a razor's edge. There is not one misstep. She lifts our hearts and breaks them in utter simultaneity, throughout the entire course of the film, adopting the recursive nature of the story and the diegetic nature of cinema itself as her actor's process.
Full disclosure: if you're not a parent, Adams' work in Arrival will impress you. If you are a parent, it will wreck you. What she and Villeneuve accomplish is nothing less than this: the greatest depiction ever of the unfathomable responsibility and total vulnerability that comes with being a parent. Then ask if this is culpability. Then answer: Life is tragic; life is beautiful. You believe this sentiment because Adams' performance makes it something real and deeply resonant. She is the translator between the film's language and the language of your experience-—a translation in which nothing is lost. Indeed, it is fully received before it is even finished. Arrival starts with a voice-over from Louise… five seconds in, I began to weep. —C.B.
---
Actor in a Leading Role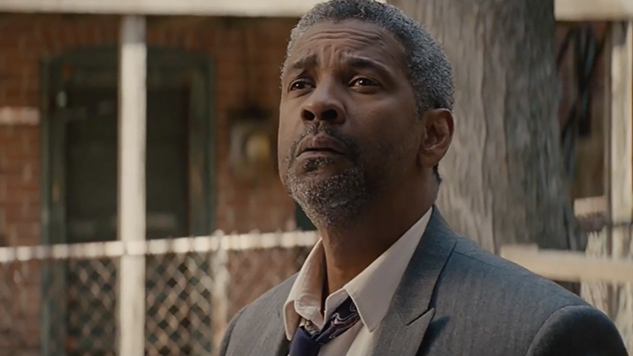 Nominated:
Casey Affleck, Manchester by the Sea
Andrew Garfield, Hacksaw Ridge
Ryan Gosling, La La Land
Viggo Mortenson, Captain Fantastic
Denzel Washington, Fences
Who Will Win: Denzel Washington for Fences
This one was Affleck's to lose, and it seems as if Affleck's shady moral character plus Denzel's ever-exponentially-growing historical presence will overtake the Manchester by the Sea performance. Three Oscar wins are basically unthinkable, but if there's anyone to break that rule-of-thumb, it's Denzel Washington, and the Academy will most likely take that chance to represent itself with the legendary actor. —D.S.
Who Should Win: Casey Affleck for Manchester by the Sea
Talking about Casey Affleck's leading performance in Kenneth Lonergan's Manchester by the Sea without talking about the particulars of the film poses a unique challenge. It isn't enough to applaud Affleck for capturing grief—masculine grief, New Englander grief, Irish grief—with such unspoken clarity, though in this film grief isn't felt as much as it's kept at bay. It isn't enough to say that his work shows restraint and grace that should be justifiably described as "masterful," either. Lee Chandler, a handyman who works and lives in Quincy, doesn't grieve so much as he drowns, and Affleck peers through the anguish Lee endures in his every waking moment, not simply to understand it but to make it his own. Manchester by the Sea evokes a regional specificity that many other contemporary films try and fail to, and Affleck gives the film authenticity through both his local status and his understanding of what Lonergan means to say about the process by which Lee mourns the passing of both his brother and his past. Lee isn't the type to say much, but in the hands of an actor like Affleck, he doesn't have to. His guilt speaks volumes. —A.C.
Making the Case for: Ryan Gosling, The Nice Guys
I couldn't help but groan the first time I heard Ryan Gosling sing in La La Land, so obviously deficient he sounded as a vocalist—but then, Gosling has always been kind of groan-worthy even in dramatic performances: His much-lauded work in Blue Valentine, for instance, struck me as all showy technique gesturing toward anguish and precious little actual feeling. That's what makes his performance as ne'er-do-well gumshoe Holland March in The Nice Guys so refreshing. What occasionally comes off as a smugly solipsistic quality in dramas is turned into satirical comedy in co-writer/director Shane Black's hands, and a looser and fresher Gosling fully throws himself into the action sequences and slapstick, even going so far as to pay homage to Lou Costello when he discovers a corpse in a forest. Gosling's performance in The Nice Guys was by far the better of the two he gave last year—because, if nothing else, he at least doesn't have to sing in Black's film. —K.F.
---
Best Picture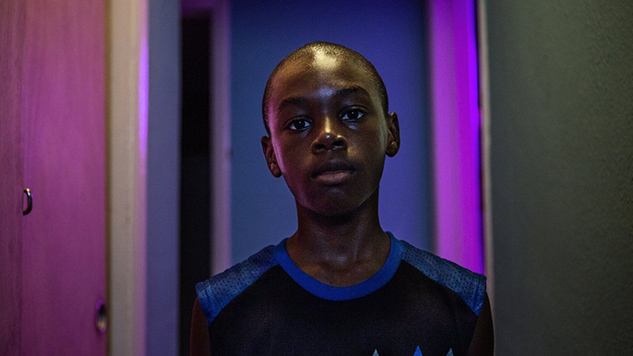 Nominated:
Arrival
Fences
Hacksaw Ridge
Hell of High Water
Hidden Figures
La La Land
Lion
Manchester by the Sea
Moonlight
Who Will Win: La La Land
Who Should Win: Moonlight
What's remarkable about Barry Jenkins' Moonlight is that it's hardly remarkable at all. It's actually mundane, though its mundanity can be mitigated—or, really, delineated—via qualifiers: buoyant, bitter, graceful, beautiful, harsh, coltish, doleful, vibrant. More to the point: Moonlight is familiar. If you strip away its exterior particulars, you'll be left with the bones of a coming-of-age story. (And if you're into fancy European labels, you might call that story a "bildungsroman," wherein the principal character's emotional growth is traced over the course of formative years, even decades.) Every film has a skeleton to support its musculature. Moonlight's just happens to look like Boyhood's and The 400 Blows'.
Moonlight is painted with brushstrokes of silence: of Jenkins' unobtrusive direction, of Chiron's mute trepidation, of his friends and caregivers, who speak to him in the knowledge that he'll say little and less to them in return (if he says anything at all). But rather than make Moonlight inaccessible, silence opens it up. In film, silence is neither mortal nor venial sin—it's actually a virtue. Jenkins is fluent in silence and possesses an innate understanding of how silent moments can communicate more than heaps of dialogue. It's in glances that pass between Little and his surrogate custodians, Juan (Mahershala Ali, damn near ubiquitous in 2016 and at his best here) and Teresa (Janelle Monáe), the stillness Chiron responds with when in conversation with his chum-then-crush, Kevin.
Moonlight is nothing if not empathetic. But describing the film solely in terms of empathy is a misguided oversimplification: All movies seek out empathy to degrees, after all, and so Moonlight does what any human story on celluloid has to do. Jenkins opts for sensation in favor of the sensational, eschewing flash and bluster while making old hat feel new again. Most of all, he invites our empathy at the cost of our vanity. He leads us away from navel-gazing to see the stunningly constructed drama he and his troupe have laid before us on screen. The film encourages self-reflection, but not at the expense of either its narrative or the viewing experience. That's the surest sign of a deft cinematic hand. In turn, this isn't simply Jenkins' sophomore effort—it's the defining pivot of his career and the best movie of the year. —A.C.