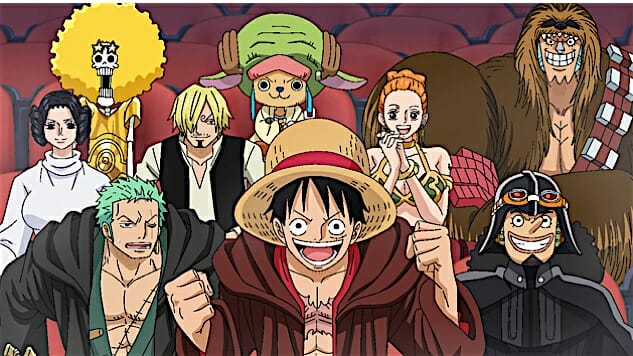 Eiichiro Oda's One Piece series stands as one of the great juggernauts of modern anime. Since first premiering in 1997, the madcap adventures of Monkey D. Luffy and his band of pirates have gone on to become one of the best-selling series of all time with over 380 million volumes of the manga sold as of last year. Starting One Piece can be an intimidating challenge for newcomers, what with manga currently ongoing at 83 volumes and its television adaptation numbering at over 700 episodes to date, not to mention a dozen tie-in films thrown into the mix. Fortunately for moviegoers, One Piece Film: Gold is a pretty solid entry point for those looking to enjoy the series without having to devote hours to wading through reams of filler episodes and expository fluff.
One Piece Film: Gold follows the Straw Hat crew as they encounter Gran Tesoro, a gigantic casino-themed ship made entirely of gold that serves as a luxury bastion for foolhardy criminals and billionaire aristocrats alike. Initially greeted as guests for their storied careers as successful pirates, Luffy and his compatriots are quickly ensnared in the machinations of Gild Tesoro, the ship's flamboyant captain and chief entertainer. Conscripted into servitude to pay off an impossible debt or see one of their own executed, the Straw Hats instead devise a scheme to escape Gran Tesoro, free everyone imprisoned on the ship, and make off with a tidy sum of gold while doing it.
For being the thirteenth installment in a series of theatrical offshoots, One Piece Film: Gold surprisingly has a lot going for it, with tight action scenes and appropriately ostentatious scenery right out of the gate that only ratchets up in ridiculousness as it goes on. One Piece Film: Gold at times pays lip service to the main series, with incidental dialogue and character appearances which place the film sometime just after the events of the Dressrosa story arc. Thankfully, these nods are few and far between enough so as to acknowledge long-time fans of the series without entirely alienating new audiences. Yuuki Hayashi's score, in particular, is a strength of the film, with big band jazz trombones, horn sections, and a subtle dash of surf rock guitar riffs thrown in for added effect. The CGI in One Piece Film: Gold is also commendable, given that its use is to exaggerate Gran Tesoro's already robust ostentation.
But the real heart of One Piece Film: Gold's appeal is its characters. For audiences who have been following the series for the past two decades, the chemistry between Luffy and his band of colorful reprobates is an easy thing to grasp. But Gold's strength lies in how it manages to neatly sum up and convey the core cast's personalities and dynamic with one another within a dramatic opening showdown pitting them against a rival gang of pirates, albeit without exhaustive explanation concerning the who, what and why behind each character. All one really needs know about the Straw Hat crew in their predicament on Gran Tesoro is bookended in the film itself, though naturally the nitty gritty story behind the character's powers and origins is left to those willing to explore the series beyond Gold. Running just over two hours, One Piece Film: Gold manages to make effective use of the space it's given. From an adventure of discovery, to an elaborate heist plot worthy of Danny Ocean or Lupin the Third, to a climatic city-wide showdown of titanic proportions, One Piece Film: Gold is meaty enough to earn your attention from the start and keep it. The film knows better than to overstay its welcome with a overlong coda, ending as abruptly as it began to sail off to the next adventure beyond the horizon. If you're looking for a solid popcorn movie with comedy, action and relatively low bar of entry, One Piece Film: Gold is well worth the price of admission.
Director: Hiroaki Miyamoto
Writer: Tsutomu Kuroiwa
Starring: Colleen Clinkenbeard, Christopher R. Sabat, Brina Palencia, Eric Vale, Ian Sinclair, Luci Christian, Patrick Seltz, Sonny Strait, Stephanie Young
Release Date: January 10, 2016
---
Toussaint Egan is a culturally omnivorous writer who has written for several publications such as Kill Screen, Playboy, Mental Floss, and Paste. Give him a shout on Twitter.