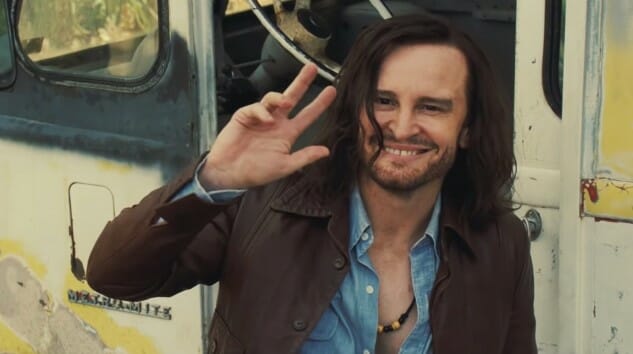 As "the 9th film from Quentin Tarantino" prepares to make its Cannes debut this evening, we've been gifted with a new, full-length trailer for Once Upon a Time in Hollywood. The director's homage to Hollywood at the close of the 1960s looks fully realized in the footage we see below, with the sort of stunning attention to period detail you'd expect.
As we've known for a while, Once Upon a Time in Hollywood is ostensibly the story of actor Rick Dalton (Leonardo DiCaprio), a semi washed-up TV actor trying to revive his career in film, along with stuntman friend Cliff Booth (Brad Pitt). Of course, this being Tarantino, it can't really be that simple, as Dalton's story will apparently get twisted up in the lives of a range of characters both real (such as Margot Robbie's Sharon Tate) and invented, such as Al Pacino's greasy looking Hollywood agent.
Sure to turn a lot of heads in this particular trailer, though, is the greater emphasis on the infamous Manson Family cult, which was responsible for a series of nine murders in the summer of 1969. Pitt's character is seemingly shown meeting Charles Manson himself, and one has to wonder how exactly Tarantino is going to handle the historical murder of Tate. Will he go through with depicting a real-world killing with the kind of brutality he's captured in the past? Or will Tarantino choose to revise history, the way he did with the death of prominent Nazis in Inglorious Basterds? Neither would be terribly surprising.
Early reviews for Once Upon a Time in Hollywood will begin arriving from Cannes any time now, which will surely bring anticipation for the film to a fever pitch in short order. Tarantino's ninth feature hits U.S. theaters in wide release on July 26, 2019. Let's hope that Cannes audiences respect the director's request to withhold from spreading spoilers. Check out the full trailer below.