Sandra Bullock and Cate Blanchett Are Putting Together a Team in First Ocean's 8 Trailer
Image via Warner Bros./YouTube
Movies
Video
Ocean's 8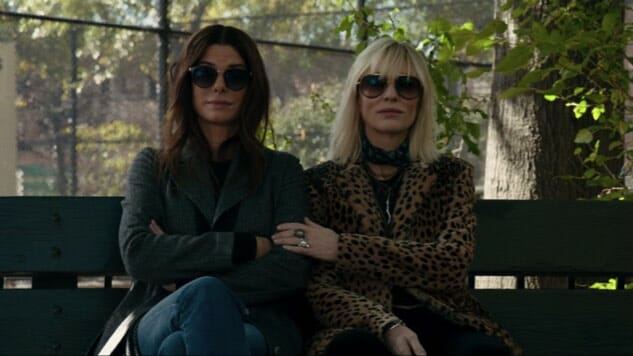 The arrival of today's Ocean's 8 trailer is no surprise—Warner Bros. released a brief trailer tease yesterday, as studios are wont to do—and neither is its content. The women-led crime caper looks just right, a fun, stylish and kinetic assemblage of A-listers that promises to be one of summer 2018's most appealing popcorn flicks.
Sandra Bullock leads the way as Debbie Ocean, the estranged sister of Danny Ocean (played by George Clooney in the previous three Ocean's films), who may or may not be dead. Accompanied by a team of thieves played by Cate Blanchett, Helena Bonham Carter, Rihanna, Sarah Paulson, Mindy Kaling and Awkwafina (aka Nora Lum), Debbie plans a $150 million jewel heist at New York City's glamorous Met Gala. Interestingly enough, Anne Hathaway's character appears to be not a member of the eponymous eight, but rather their mark—it's a necklace belonging to her character, Daphne Kluger, that Ocean's 8 have their eyes on. However, Hathaway certainly looked like one of the gang in that first-look photo of the Ocean's 8 crew, so we'd imagine she gets in on the act.
Indeed, per Variety, it's not Hathaway's character who's being targeted, but Damian Lewis'—the Homeland actor "will play Debbie's ex and the target of the gang's robbery." Richard Armitage and James Corden also appear in the film, with the latter popping up in the trailer. And that's just the beginning: Ocean's 8 sounds jam-packed with cameos, with Variety listing Dakota Fanning, Anna Wintour, Kim Kardashian West, Kendall and Kylie Jenner, Olivia Munn, Katie Holmes, Zayn Malik, Zac Posen, Adriana Lima and Serena Williams as making appearances. There's also one member of the Ocean's 11-13 crew on that list, but we won't tell you which.
Ocean's 8 was directed by Gary Ross, written by Ross and Olivia Milch, and produced by Clooney and Steven Soderbergh—it opens on June 8, 2018. Watch the first trailer above.