Ocean's 8 Sets New Record for the Franchise, Secures Top Box Office Spot with $41.5 Million
Images via Warner Bros. Pictures
Movies
News
Ocean's 8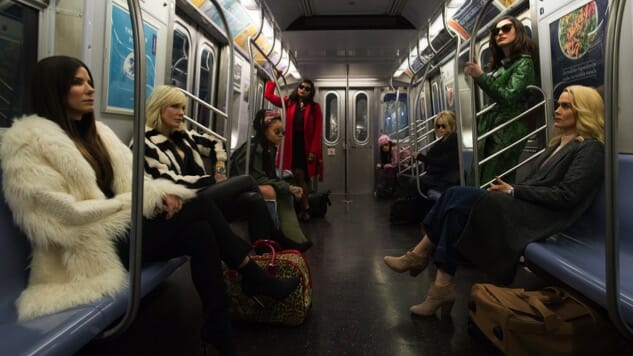 Where Rihanna goes, a most fruitful success shall follow.
Ocean's 8, the all-women take on the previous Ocean's heist movies (including Ocean's 11, 12 and 13), starring not only Rihanna but also Sandra Bullock, Cate Blanchett, Anne Hathaway, Mindy Kaling, Sarah Paulson, Awkwafina and Helena Bonham Carter, hit theaters this weekend to the tune of $41.5 million, according to Box Office Mojo. It easily unseated previous top-spot holder Solo: A Star Wars Story, which brought in around $15.7 million, and defeated fellow new releases Hereditary and Hotel Artemis. The $41.5 million domestic weekend debut is a new record for the Ocean's franchise, beating out 2004's Ocean's 12, which opened with $39.2 million. Looks like these ladies are getting the job done.
The first three movies in the series, which starred George Clooney and Brad Pitt, grossed a combined $1 billion at the worldwide box office. We'll have to wait and see how Ocean's 8 stacks up to its predecessors.
Solo has struggled at the box office, so its steep decline this weekend isn't really a surprise. It has currently grossed around $178 million domestically, according to Box Office Mojo. Deadpool 2 is doing quite well in the summer blockbuster race with $278.7 million, though Avengers: Infinity War is the clear winner with $655 million. This weekend, however, The Incredibles 2, the anxiously awaited sequel from Disney and Pixar, may very well give them all a run for their money.
Ocean's 8 opened to mostly positive reviews. Find Paste's take on the film here.