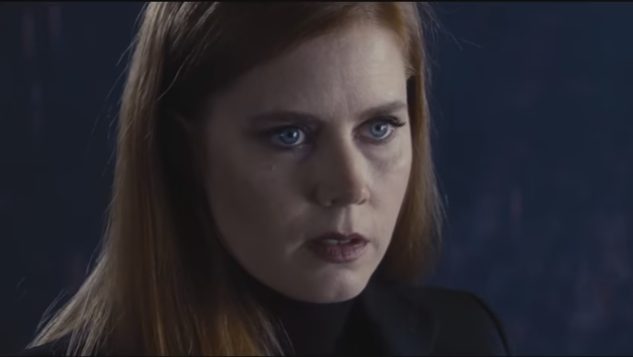 Back in 2015, I wrote about how the trailers for the film Chappie had suddenly and drastically changed in tone. The studio, seemingly in panic mode, altered the initially cerebral and thought-provoking trailers and TV spots for the film into techno-pounding, explosion-packed action set pieces, apparently targeting a completely different audience than they'd initially intended. Overnight, Columbia went from presenting Chappie as an A.I.-esque film for intellectuals to a running and gunning sci-fi shoot-em-up. It was fascinating to watch such a committed marketing shift in progress.
Since then, I've seen similar scenarios play out with a few other films, but I've never seen as drastic a change until right now, via the TV spots for Nocturnal Animals. Suffice to say, these new TV spots look to be completely misrepresenting the finished product. I haven't actually seen the film, but the sheer degree of change from the earlier trailers to the current TV spots (running in high volume) is shocking. The current TV spots bear little resemblance to the film that Paste already lauded with a positive review in mid-November.
But don't take it from me. Here's the original theatrical trailer.
Alright, so it's a dark, sort of sexy, mind-bending psychological thriller/drama, right? Amy Adams is a woman with a dangerous history and an ex-husband who she's wronged in some way, and he's written a new book that draws heavily on her past sins, which is causing her great distress. She admits that she "did something horrible to him," and this book is more or less Jake Gyllenhaal's revenge.
Clearly, this is a prestige film! It's from "the acclaimed director of (Academy Award nominated) A Single Man." It's artsy looking; it's got liberal doses of Michael Shannon; it's got Amy Adams' dirty laundry rising to the surface. It looks calculated to hit the same audience as say, Gone Girl, and contend for Oscar nominations.
But wait! Now let's look at the TV spots that are currently running nationwide.
Oh. Man. What the hell just happened?
Remember that prestige psychological thriller/drama? That's gone. This TV spot completely recasts the image of the film, twisting scenes we've already seen in the earlier trailer to willfully misrepresent their context. If the first trailer was meant to convey the aesthetic of a film that would be nominated for awards (and it already won the Grand Jury Prize at the Venice International Film Fest), the TV spot is completely calculated toward Joe and Jill Sixpack. Interestingly, although it was uploaded to YouTube by the studio, it's unlisted—perhaps they knew viewers would see the deception at work? It does still have more than a million views, regardless.
The ex-husband and shattered marriage? That's now "they had the perfect life …" according to the TV spot. But then "the unthinkable happened," and the happy couple were accosted by muscle car-driving vagabonds on the road. This gang of psychos led by Aaron Taylor-Johnson are then clearly implied to have abducted Amy Adams, although those who have seen the film will realize that this is actually one of the sequences from inside the book she's reading, and that "Amy Adams" in that sequence is actually played by lookalike Isla Fisher. But who cares, because "Now he'll risk everything to get his revenge"! It's a film about a man fighting criminals to reclaim his wife! Shouldn't he be played by Mel Gibson? And shouldn't it be 1993?
The deception runs so deep in these 30 seconds of teaser, right down to the basic DNA of continuity editing. We see Amy Adams/Isla Fischer loaded, screaming, into the back of the vehicle. The next shot? Jake Gyllenhaal running behind a vehicle and also screaming, at the same time as the narrator says, "Now he'll risk everything." Who cares if it goes from night to day, and the vehicle changes from a car to a truck? What percentage of viewers is astute enough to notice? Later in the trailer, Gyllenhaal appears to be interrogating Aaron Taylor-Johnson, saying, "Nobody gets away with what you did." Of course, in the original trailer, the same line was overlaid on a shot of Amy Adams crying. The TV spot transfers 100% of the film's antagonism onto Aaron Taylor-Johnson, recasting Amy Adams' character as just a damsel who has been stolen, awaiting rescue from Gyllenhaal. I can't help but wonder: What would the actors think of this TV spot, which so clearly misrepresents their performances? What does Amy Adams—who probably deserves an Academy Award nomination for Arrival—think of this crap?
Consider this: The TV spots aren't even the full extent of the apparent attempt to change this film's image in time to make some holiday revenue at the box office. Just this afternoon, by complete chance, I also heard a Nocturnal Animals plug on Atlanta's local NPR affiliate. It wasn't an actual radio ad; rather, it was one of the show hosts reading a description as an ad spot. To the best of my memory, she said the following: "Nocturnal Animals, the story of a couple torn apart by dangerous criminals."
Clearly, this is a very concrete decision to alter how Nocturnal Animals is being presented to the public, in an attempt to better cater to the holiday multiplex crowd. While I understand the studio's desire to recoup some of the film's budget during its limited theatrical run, if you're going to see Nocturnal Animals, let it be on account of the fact that the movie has reviewed well and has already won awards…not because it tricked you into thinking it was something it wasn't.
---
Jim Vorel is a Paste staff writer. He clearly pays closer attention to trailers than most people. You can follow him on Twitter.