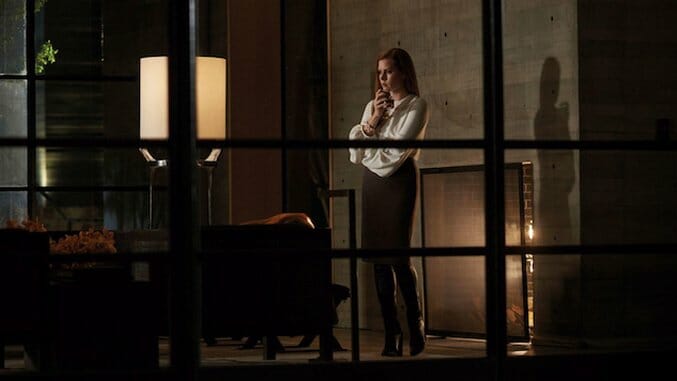 After his first film was (unjustly) criticized in some quarters for its preoccupation with surface beauty, fashion designer-cum-filmmaker Tom Ford has returned with something ugly. Aesthetically, Nocturnal Animals is still deliberately gorgeous, with its model-handsome actors, designer costumes and career-high lensing by cinematographer Seamus McGarvey. It's also a film that presents two worlds—one real, one fictitious—in which people are compulsively, perhaps inevitably driven to do horrible things to one another. A revenge movie that features only imagined violence, Nocturnal Animals is all the more uneasy for having a male "hero" that seeks to mentally brutalize the heroine.
Susan (Amy Adams), a disaffected L.A. artist unhappily married to the adulterous Hutton (Armie Hammer), out of the blue receives a manuscript from ex-husband Edward (Jake Gyllenhaal) of his soon-to-be-published revenge thriller, the film's namesake. Reading over two sleepless nights, Susan soon realizes the book might in fact be Edward's own coded revenge fantasy, designed to exact emotional retribution on Susan for her leaving him two decades prior.
Ford's depiction of the novel, a grubby potboiler set in an apocalyptically desolate West Texas, makes up the other half of the film. Edward's story concerns Tony (Gyllenhaal again), a meek family man who along with his wife and teenage daughter gets on the wrong side of three hoodlums (including an appallingly charismatic Aaron Taylor-Johnson, playing a redneck sociopath in lime-green cowboy boots), and Bobby Andes (Michael Shannon, droll and laconic), the chain-smoking detective who helps Tony seek justice.
These sequences, which offer a glimpse into the author's distraught and self-loathing psyche, are the sizzlingly pulpy antithesis of the film's "real world" scenes. Susan's gated mansion, cocktail party world is comparatively stale and sedate, a kingdom of privilege, bullshit and boredom—and Nocturnal Animals is Edward's Trojan horse, designed to upend Susan's life and force her to confront past misdeeds. The dramatic potential in Susan's story is lesser than Tony's—hers is mostly Susan silently reacting to the novel and dishing out exposition—but it works in large part because of Amy Adams' superb turn. Heavy with loneliness, Adams plays Susan as a woman cursed to eternal dissatisfaction, and swelling with the same bitterness exhibited by her own hated Republican mother, played in flashbacks by Laura Linney, caustically, like a swipe at all of conservative America.
With A Single Man, Ford drew comparisons to Douglas Sirk and Hitchcock. Critics will make those comparisons again here, but we can add another to the list. In crafting something that's stylized, willfully adult, darkly humorous and not a little meta, Ford has made his own great Brian De Palma movie. He gets greedy, attempting to cram too many characters into the two-hour running time (the estimable Michael Sheen and Andrea Riseborough are wasted in minute-long roles as two of Susan's upper-crust friends), but even if Nocturnal Animals does occasionally feel over-egged, the atmosphere is constantly intoxicating, particularly in the film's jaunts to a sun-blasted West Texas.
DP Seamus McGarvey gives each location distinct flavour—red sunsets and hot yellow desert for the Lone Star State; cool gun-metal grays for Los Angeles; a warm, hazy hue for flashbacks set in New York, the backdrop for Tony and Susan's young marriage and its eventual breakdown—while composer Abel Korzeniowski shuns Hollywood's increasing tendency to turn movie music anonymous with a lurid, attention-grabbing string score.
Such attractive packaging will no doubt once again prompt accusations that Ford is too much flash, but his latest is no less substantial (or haunting) for it. Nocturnal Animals feels personal for the filmmaker, a bundle of ways to explore multiple anxieties: creative stagnation and infidelity in Susan's story; familial responsibilities and loss of control in the book scenes; fear of failure and rejection in those flashbacks. Each story thread brings a different kind of dread. All threads, however, are unified in their investigation of toxic masculinity. Male anger and resentment drive this savage tale, a thriller as gripping as it is stomach-churningly frank.
Director: Tom Ford
Writer: Tom Ford, based on Austin Wright's novel Tony and Susan
Starring: Amy Adams, Armie Hammer, Jake Gyllenhaal, Michael Shannon
Release Date: Nov. 18, 2016