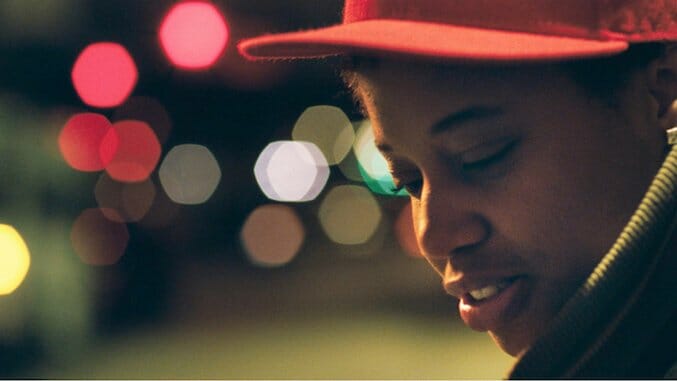 Among the many boons of a service like Netflix is the ability to expand our filmic horizons, whether we're newcomers to a (sub)genre or aficionados in search of our newest find. When it comes to the ever expanding realm of LGBTQ cinema, streaming libraries reflect shifting cultural attitudes, a tremendous wealth of insight and experimentation in storytelling, and—not least of all—an urgency to both educate and entertain. Modern romance, coming-of-age, parenting, loss, pop culture, aging—the tapestry of queer film is a rich and universal human experience that will appeal to viewers regardless of sexual or gender identity. From historical documentaries to international sleepers to mainstream hits, Paste has combed through Netflix's library to spotlight the top offerings currently streaming on the service.
---
25. Chasing Amy
Director: Kevin Smith
Year: 1997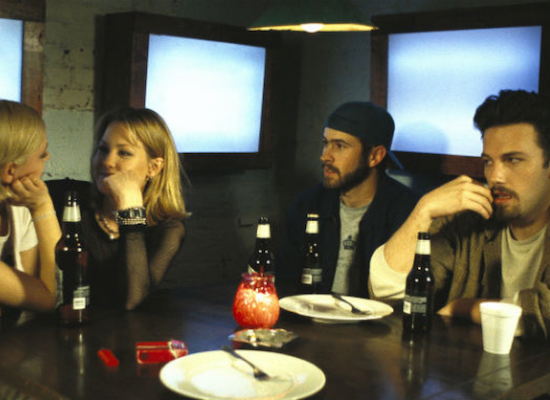 Treading the precipice of problematic is Chasing Amy, Kevin Smith's 1997 look at comic book dorks contending with the complexity of bisexuality. Let's get it right out of the way: The film is abysmally bad when it comes to representing lesbian culture, perhaps to the point of alienating some viewers entirely. With that said, this installment of the View Askewniverse series brings its requisite raunchy humor to a place rarely seen in Smith's other films, exploring sexual mores and the frightening vulnerability of love with a keen and sympathetic eye. —Nick Mattos
---
24. Yves Saint Laurent
Director: Jalil Lespert
Year: 2014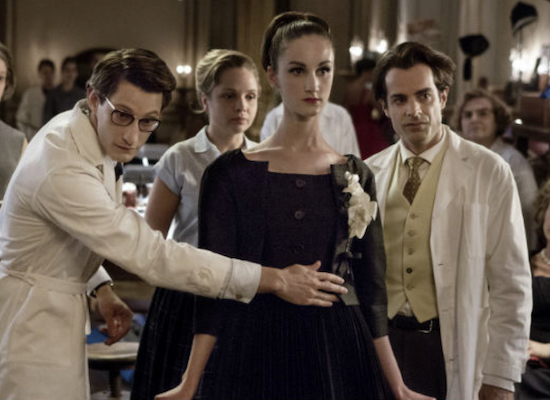 This French biographical drama chronicles the creative rise and personal failings of fashion maven Yves Saint Laurent. Growing up in 1940s French Algeria, eventual icon Yves Henri Donat Mathieu-Saint-Laurent (Pierre Niney) faced bullying and harassment at the hands of his classmates. An outcast as a result of his sexual identity, Laurent retreated into the land of his mother's magazines, recreating the beauty he saw there. He went on to win an international design competition at the age of 18 and was handpicked by Christian Dior to join his fashion house, where he was forced to take the creative reins of one of the industry's biggest dynasties upon Dior's untimely death. Yves Saint Laurent begins here, as the young designer suffers from his first major bipolar episode following his drafting into the French army. The hospital stay results in Laurent's removal from the Dior regime, an act that changed the course of fashion history forever. With the blessing and help of Saint Laurent's lifetime partner in both business and the affairs of the heart, Pierre Bergé, director Jalil Lespert takes viewers through the life, love and pain of one of fashion's biggest names. As viewers watch the YSL house slowly climb to the top of the fashion world through the '60s, '70s and '80s, Lespert offers a truly human portrait of its namesake's struggles with bipolar disorder and artistic perfection. Yves Saint Laurent is a raw, passionate look at one of the world's most influential men, and his battle to love himself and life as much as his beautiful creations. —Abbey White
---
23. Happy End?!
Director: Petra Clever
Year: 2014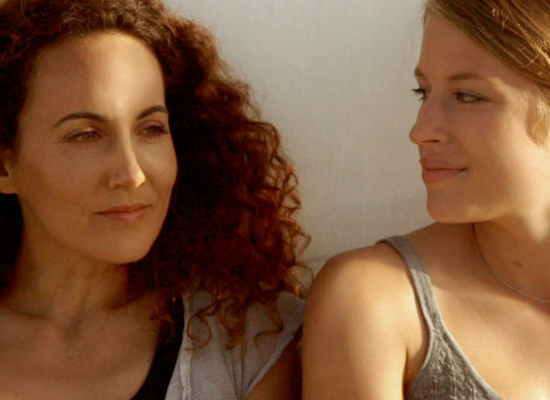 The reality of losing those we love and the fight to honor their wishes, even in death, is at the heart of the German film Happy End?! When recently accepted law student Lucca (Sinha Melina Gierke) can't bring herself out of her existential funk, she turns to a surprising source to address her loneliness and lack of direction: a hospice. At the care center, the new volunteer meets Valerie (Verena Wüstkamp), a wonderfully eccentric bad girl who has become deeply attached to one of the hospice residents, Herma. But when Herma dies and her son comes to collect her ashes, Valerie can't bring herself to put her friend in the hands of someone who won't respect her wishes. Valerie calls on Lucca to help her escape and lay her friend to rest the way she wanted. As the women dodge the cops and Herma's family, they slowly open up to one another, their quest to honor Herma ultimately a search for a happy ending for everyone who deserves it—including themselves. Happy End is a zany and endearing road trip adventure, at its core a story of love and the lengths we go for the people who change us for the better. —A.W.
---
22. Tab Hunter Confidential
Director: Jeffrey Schwarz
Year: 2015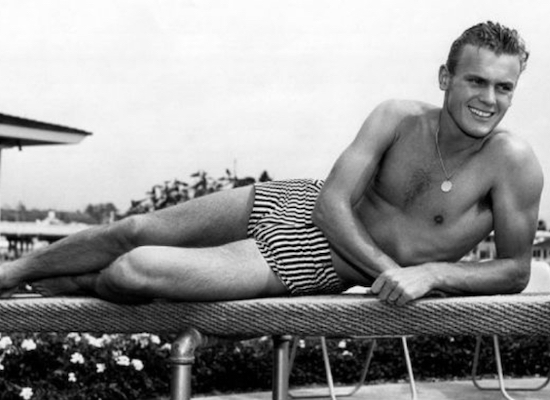 The name Tab Hunter may be lost on the majority of today's generation, but the 1950s matinee idol was among the most well-known American film icons of his era, and an all-American teen heartthrob at a time when being openly gay just wasn't an option. Tab Hunter Confidential is a candid look at its namesake, and his struggle in both the spotlight and in the closet. Interviews, commentary and archival footage reveal the story behind how the celeb and sex symbol kept his true identity a secret for so long—and the resulting backlash after he was outed during an unexpected police raid. Film from some of Hunter's earliest projects showcase the good looks that shot the actor to national fame, and in turn how drastically that bright spotlight amplified the pressure and fear. Through the documentary's illuminating conversations with Hunter, industry members, other gay stars and those who knew him well, viewers get a clear understanding of his pop cultural impact and his role in paving the way for other actors like him. But even more so, the film is a strong illustration of how one man challenged a society's assumptions about masculinity and desirability. —A.W.
---
21. Beginners
Director: Mike Mills
Year: 2011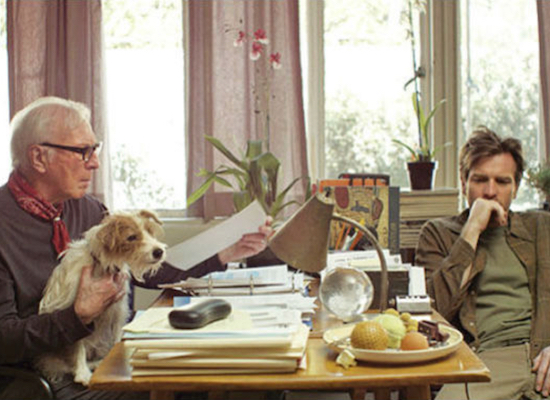 Christopher Plummer is absolutely smashing as Hal, a man coming out late in life after the death of his wife Georgia (Mary Page Keller). With intentions of being not a "theoretical" gay but a "practical" one, he dives headfirst into the queer world available to him by immersing himself in both gay politics and in the affections of a much younger lover. In a later timeline, his son Oliver (Ewan McGregor) grieves his mother's death while also conducting a playful love affair with a complicated young French actress, Anna (Melanie Laurent). Told in flashbacks from the 1930s up to 2003, Beginners demands total concentration from the viewer. Director Mike Mills' smart, stylized take on Los Angeles modern style is a treat to behold, and each frame is visually captivating.
The film is particularly strong as a narrative of coming to grips with one's true identity. For Hal, this means coming out as both a gay man and as a bit of a partier; for Oliver, this means finally growing out of an extended adolescence and understanding how to love someone else even when loving is painful. For queer people, many of whom end up experiencing both of these realities, the film will particularly hit home. Beginners deserves to be recognized as a classic of queer cinema. —N.M.
---
20. All About E
Director: Louise Wadley
Year: 2015
When the beautiful and alluring deejay, E (Mandahla Rose), wakes up after a night of debauchery with a duffle bag full of a drug lord's money, she is forced to go on the run with her gay BF, Matt (Brett Rogers). But E's bad relationship habits leave her with no place to go, so she treks to the outback to stay with the last person she—or they—would choose: ex-girlfriend Trish (Julia Billington). As E hides away under Trish's roof in an attempt to evade those trying to find her, both women must come to terms with why they broke up, and E must learn how to be brave in more ways than one. All About E is very simply a chase movie with a solid romantic subplot. But more interestingly it's an attempt by Australian filmmaker Louise Wadley to explore without judgment the complexity of staying in the closet, and the struggle to trust ourselves with another, all under the guise of a road trip drama. —A.W.
---
19. White Frog
Director: Quentin Lee
Year: 2012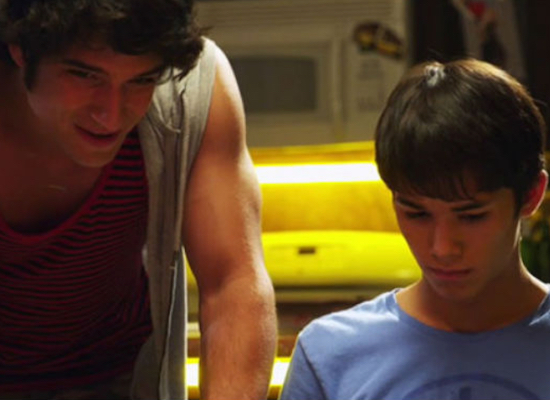 After losing his brother, Nick (BooBoo Stewart), an autistic teen, must learn how to navigate the world by himself. But when one of his brother's friends decides to bring him into the older boys' mysterious social fold, Nick discovers the brother he thought he knew was only half of the story. As the young teen spends more time with his brother's inner circle, he learns more about himself, his brother's hidden life, and how love—even in death—can change us. Despite its predictability and campiness, White Frog's approach to the coming-out narrative offers a rarely explored angle on the subject. The choice to have the audience experience the journey through a loved-one's eyes helps the film's strongest theme—of understanding—take on a deeper and at times more universally personal meaning. White Frog is not just about being allowed to love who you love, it's about truly loving and knowing those we already say we do. —A.W.
---
18. Out in the Line-Up
Director: Ian W. Thomson
Year: 2014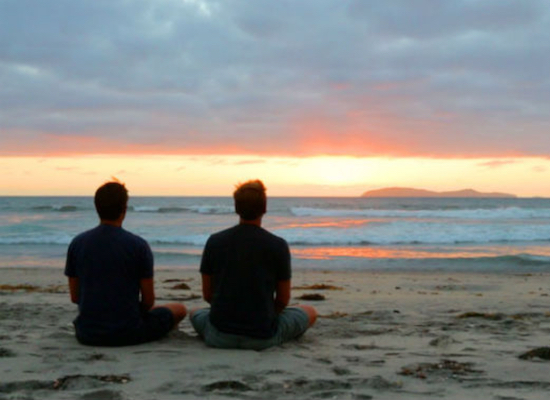 This unique sports documentary from writer-director Ian W. Thomson follows two gay surfers on their global trek through the hyper-masculine world of competitive surfing. As viewers are taken across the world's beaches, they're offered a glimpse at the ways surfing culture clashes or conforms to our larger cultural conceptions of gayness and, ultimately, shapes the way queer surfers make space for themselves in the professional sporting universe. By picking apart the "laid-back" surfer stereotype, Thomson considers how the very "open" nature of the sport—half-naked men spending entire, intensely focused days in close proximity with one another—has helped make it one of the most hostile places for both male and female athletes. Out in the Line-Up is a worthwhile exploration of the evolving relationship between sports and LGTBQ culture, and a solid look at how transcending stereotypes helps us all become more comfortable with our identities. —A.W.
---
17. Blackbird
Director: Patrik-Ian Polk
Year: 2014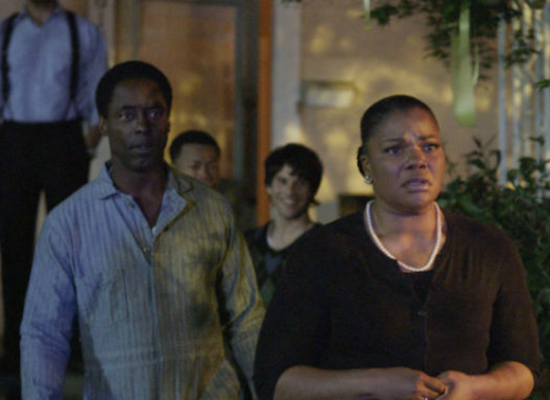 Co-produced by Mo'Nique and Isaiah Washington, directed by Patrik-Ian Polk and based on the novel by Larry Duplechan, Blackbird is a campy and ambitious story about one boy's challenges with his faith and identity. Randy (Julian Walker) is a smart, dependable, social and devoutly religious 17-year-old from a small town in Mississippi. After his father (Washington) leaves him, his mother (Mo'Nique) and his missing sister, Randy has to step up and be the man of the house. That means dealing with his mother's religious mania while maintaining a strong presence at church, staying ahead in school, and repressing his homosexual feelings. But when Randy is given the chance to pursue his acting dreams and try out for a local short film project, denying his attraction to men becomes an even more difficult test. As he and his friends try to make it through the school year unscathed, Randy will mature from teenager to adult, and in the process learn that the real difference between being a boy and a man has nothing to do with who you love. The film's aforementioned campiness notwithstanding, it's fully committed to addressing being young and gay from an array of angles. Its fearlessness in tackling some of the uglier sides of coming out and being gay in particular American communities is laudable. That faithfulness to its moral and themes make Blackbird an ideal starting point for the much larger and necessary conversations we must have as a religious and sexually diverse society. —A.W.
---
16. That's Not Us
Director: William C. Sullivan
Year: 2015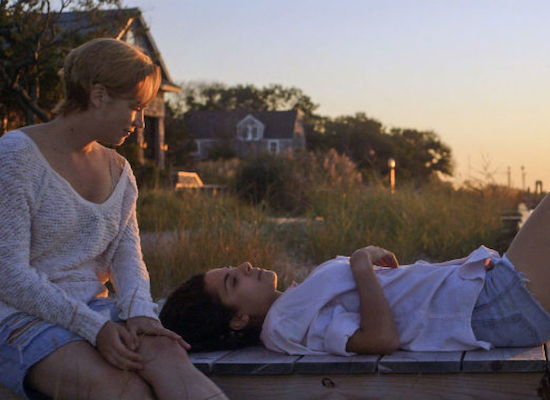 When six friends reunite for a weekend at the beach, a relaxing getaway turns into an uninvited opportunity to deal with their emotional baggage. That's Not Us follows three couples—one lesbian, one gay and one straight—during a presumably carefree weekend full of memories, intimate moments and exploration. Two have come to rekindle their sex life, while another couple grapples with how a prestigious grad program will force them hundreds of miles apart. For the third, the revelation that one of them doesn't know how to ride a bike spurs a begrudging effort to grow together. But while the serene backdrop seems like the perfect place to soften the blows of their difficult issues, the tension that boils may be enough to end each relationship altogether. That's Not Us is a fleeting and bare look into the lives of six twentysomethings as they fight growing older and growing apart to be the people—and couples—they fell in love with. —A.W.
---
15. 52 Tuesdays
Director: Sophie Hyde
Year: 2013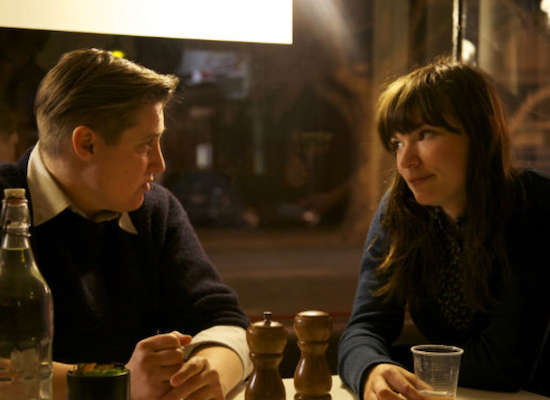 Billie's (Tilda Cobham-Hervey) family makes every decision together. That is, until the day the 16-year-old comes home to her mother, Jane (Del Herbert-Jane), chest in a binder and hair partly shaved off. Jane is undergoing gender reassignment and Billie is the last one in the family to know. To make matters worse, the teen has to move out for a year until her mother goes through hormone therapy and, eventually, surgery. Billie isn't ready to let go of her mother, and so the two agree to see each other once a week for 52 weeks. Same time, same place. Except that with every new Tuesday, the changes in both Jane and Billie become more evident. As the two strive to maintain their bond in the face of monumental transformation, a relationship based on trust and communication morphs into a back-and-forth of boundary testing and evolving identities. Not so suddenly, Billie and now James find themselves out of their comfort zones as both attempt to discover their most authentic selves. Sophie Hyde's 52 Tuesdays is a mash-up of dramatic vignettes and documentary-style storytelling that follows one trans man through his later-in-life transition alongside his daughter as she, too, documents her own—from child to adult. —A.W.
---
14. Eat With Me
Director: David Au
Year: 2014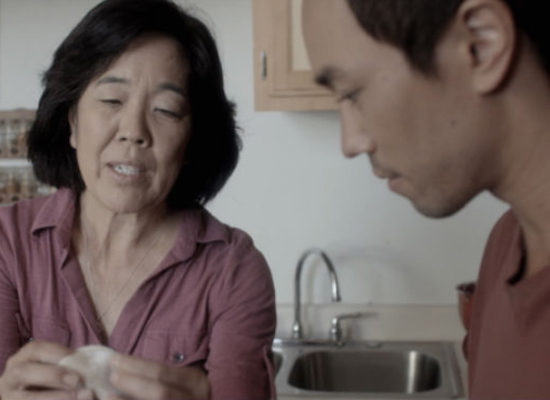 When Elliot's (Teddy Chen Culver) mother, Emma (Sharon Omi), appears in the dining room of his floundering Chinese restaurant, he knows something is wrong—especially considering that he and his mother haven't had a real interaction since his disastrous coming out. After a quick call to his father, the budding chef learns that like his business, his parents' relationship is on the rocks. Despite their recent history, Elliot offers his mother a place to stay until she figures things out. The suddenness of her arrival, however, makes it hard to clean up the evidence of his "lifestyle." As Elliot attempts to save his business, navigate his first serious romantic relationship with a cute guitarist, and deal with an unaccepting mother living under his roof, Emma slowly but surely steps out of her conservative bubble. That is, with the help of Elliot's freewheeling neighbor, an accidental drug trip and an enlightening conversation with George Takei. In the end, both mother and son learn that their enduring love for one another—and the art of making the perfect wonton—is the key to their happiness. Eat With Me is a gentle, though not always deep, handling of a familiar tale given a tasteful twist. —A.W.
---
13. Cloudburst
Director: Thom Fitzgerald
Year: 2011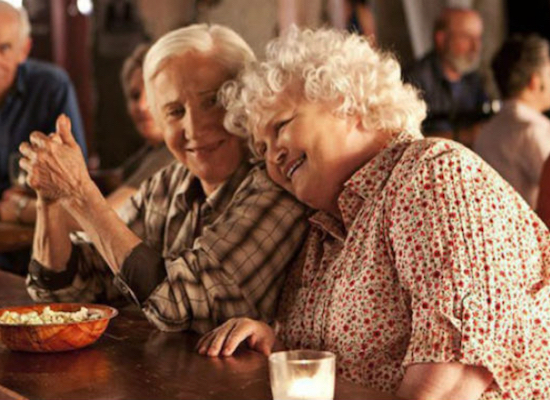 In the oddly raunchy and thoroughly satisfying septuagenarian lesbian road film Cloudburst, Oscar winners Olympia Dukakis and Brenda Fricker star as Stella and Dot, a lesbian couple who have spent the last 30 years living the classically Sapphic good life on the rugged coast of Maine. After Dot gets put into a nursing home by her uptight granddaughter, her lover breaks her out and instead takes her on a road trip, promising, "We'll drive to Canada and then we can get legally married and no one can separate us."
The film suffers moments of significant clumsiness, including distractingly sitcomy one-liners. But the open road serves as a brilliant palette for writer-director Thom Fitzgerald to take scenic advantage of rolling hills and ocean. Nature itself becomes a key character in the film. The titular cloudburst, which drenches Stella and Dot in a moment of deep love and devotion to one another, serves as a sort of simultaneous protagonist and antagonist, celebrating and troubling the lovers at the same time.
Of the films on this list, Cloudburst may be one of the most polarizing. The idea of cowboy hat-clad lesbian retirees on the open road, pontificating about the power of a certain C word and cracking off-color jokes to a handsome hitchhiker (Ryan Doucette), is likely either immediately intriguing to a given viewer or laughably off-putting. Yet at its best, the film provides a venue for two revered talents to thoroughly buck the stereotypical roles available for older actresses and showcase the nuance and verve of their craft. —N.M.
---
12. Reaching for the Moon
Director: Bruno Barreto
Year: 2014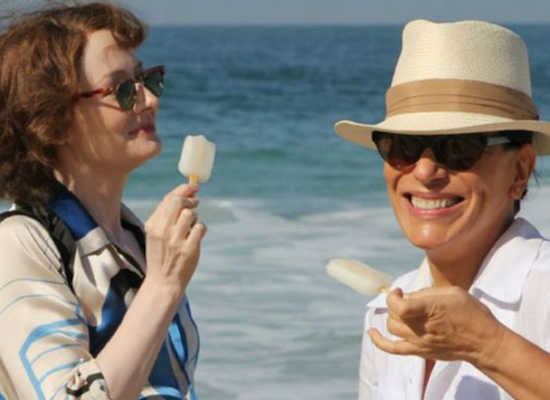 The biographical drama Reaching for the Moon depicts the life and love of Pulitzer Prize-winning poet Elizabeth Bishop (Miranda Otto) and her partner, Lota de Macedo Soares (Glória Pires). From their first meeting to their last, Bruno Barreto captures the tumultuous and sensuous love affair between the American poet and Brazilian architect, as well the addictions that addled both artists—especially their addictions to each another. The film captures the perpetual unsteadiness of a complicated romance, but outside of its ability to dramatize one of queer history's most remembered and unconventional relationships, it perfectly encapsulates the all-consuming power of love. Both women, a dichotomous pair from the beginning, are driven by their artistic visions. It's that creativity that serves as the major force behind their mutual enchantment. Unfortunately, their equally controlling and codependent natures get the best of them. The outlets they turn to are only temporary releases for issues neither is willing to address. As Lota and Elizabeth lean on their respective crutches to stay afloat in a whirlwind romance, jealousy, a third partner and their unpleasant pasts create hurdles that are ultimately too much for them to bear—whether together or apart. —A.W.
---
11. Do I Sound Gay?
Director: David Thorpe
Year: 2014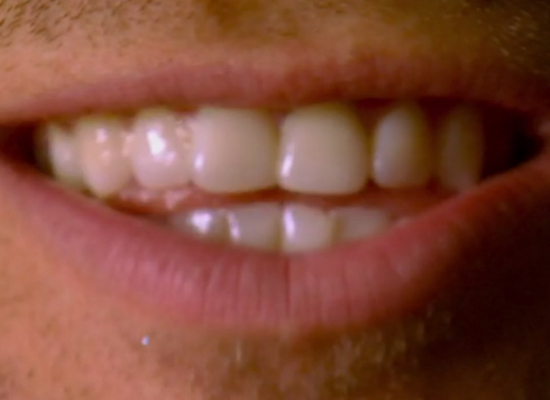 "That's so gay" has become a rather colloquial—albeit still offensive—phrase in American culture. But outside of its discriminatory undertones lies the crux of an interesting debate: Are there actual, distinguishable gay traits? That question drives David Thorpe's 2014 documentary, Do I Sound Gay? Starting with the premise of the "gay voice," or a specific tonal inflection commonly associated with people in the gay community, Thorpe explores the ways nature versus nurture versus stereotype helps form the gay identity. The writer-director tackles how things like misogyny, masculinity and bullying result in internalized homophobia and code-switching, which then impact how gay men present themselves. The biographical-meets-analytical series of conversations allows its subjects and viewers the chance to explore both the more organic and culturally constructed perceptions of what it means to be gay. Thorpe approaches a rather heady conversation with intent, but also cleverness and ease, making Do I Sound Gay? an engaging look at where the literal and metaphorical gay voice comes from. —A.W.
---
10. The Kids Are All Right
Director: Lisa Cholodenko
Year: 2010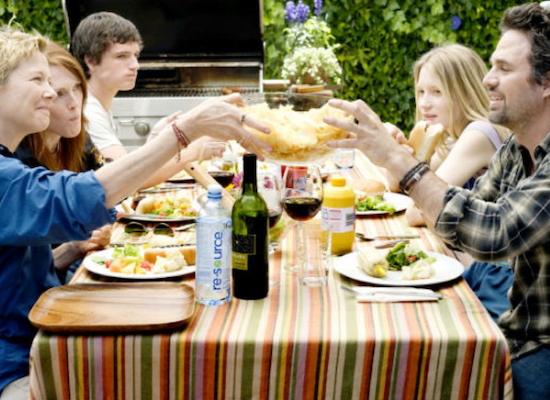 Everything is seemingly perfect in the lives of Jules (Julianne Moore) and Nic (Annette Bening). They both have successful careers, a 20-year-long marriage and two happy—but totally typical—teens, Joni and Laser. But when the kids, conceived through artificial insemination, decide to seek out their biological father and sperm donor, Paul (Mark Ruffalo), unbeknownst to their parents, that pristine family life gets complicated… fast.
Somehow this film, from director Lisa Cholodenko, manages to address nearly every modern family trope in its hour and 45 minutes of run time. Such a grand tackling of the larger "family" narrative could have easily led to overgeneralizations and a superficial development of the film's universally resonant themes, particularly with its lesbian leads. Luckily, the endearing, arresting performances from Moore, Bening and Ruffalo turn this drama into a candid look at how deeply we embed biology and blood into our notions of family and identity, and ultimately how little either matters as long as you're loved. By pulling apart the concept of "family values" from nearly every angle, the film considers how we find and define our families. Lauded as a realistic and touching take on the changing face of the nuclear unit, The Kids Are All Right is a timeless deconstruction of family discourse. —A.W.
---
9. The Out List
Director: Timothy Greenfield-Sanders
Year: 2013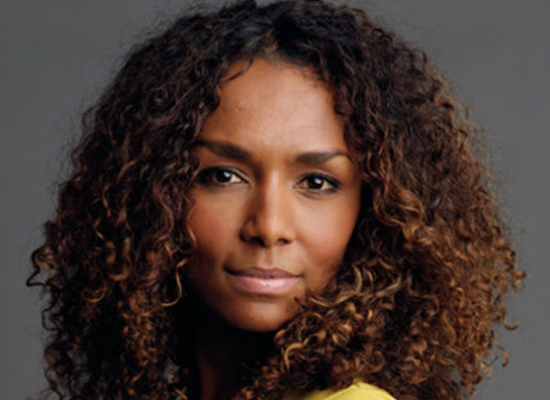 We live in a different time. A more progressive time. A time when, presumably, household names like Ellen DeGeneres, Wade Davis and Janet Mock don't have to hide who they are. When, in many circles, coming out doesn't necessarily equate to professional or social suicide—or worse, expose you to visceral, targeted violence. That growing shift didn't happen naturally, though. It was the concentrated efforts of those who came before us and even some who came out with us, the people who faced insurmountable discrimination, ostracization and alienation in order to simply—but publicly—be who they are. While most of the other films on this list examine the queer experience through a dramatic lens, this collection of stories from some of the LGBTQ community's most influential members offers a vital look at some of queer history's most pressing and transformative issues, events and people.
Tackling everything from religion, politics and sports to suicide, marriage and coming out, Timothy Greenfield-Sanders' film is more than an easily watched hour of anecdotal interviews. The Out List is a personal, pop culture chronicle of how far the community has come and how far our society still has to go. —A.W.
---
8. XXY
Director: Lucía Puenzo
Year: 2007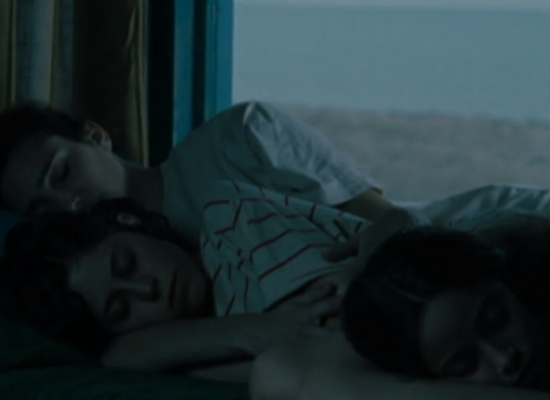 Sex, gender and orientation collide in writer-director Lucía Puenzo's XXY. The 2007 Argentine-Spanish-French drama follows Alex, a 15-year-old intersex teen who is living as a girl. When Alex decides to stop taking her strict hormone regimen, her parents worry that her more masculine traits will resurface, revealing Alex's true sex. In an attempt to save his child from society's prying eyes, Alex's father moves his family to a small seaside village in Uruguay. But her mother, Suli, takes things a step further. Without Alex or her father's knowledge, Suli invites an Argentinian surgeon and his family to discuss the possibility of gender reassignment surgery. Upon their arrival, Alex meets the surgeon's son, Álvaro, and embarks on a painful and liberating journey of sexual and personal identity.
At the core of Puenzo's film is a story about the emotional and physical intricacies of young love. Underneath that lies both teens' desperate need to understand what attracts them to the other. Alex and Álvaro must grapple with what they feel for one another amid a larger conversation about sex, gender presentation and cultural conformity. As a result, viewers get a messy, fraught portrait of our convoluted ideas of sexual identity. While Álvaro's father fears he is gay and Alex is ostracized for having male and female biological parts, it's not their differences but rather their community's fear of the unknown that makes them targets of hostility. Alex's gender and experience defies conventions, much in the same way her unraveling sexuality does. The teen's journey reminds us our sexual identity is just as much about the way someone makes our heart feel as it is our physical response to them. XXY is not just a coming-of-age or self-acceptance story, but a deeply thoughtful expression of the lengths we go to in understanding our own emotions and bodies. —A.W.
---
7. Lilting
Director: Hong Khao
Year: 2014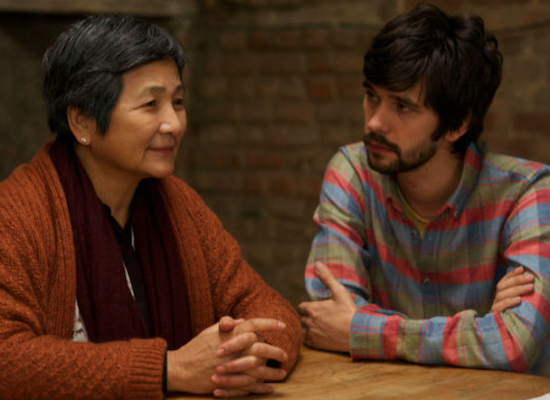 In tender, fresh fashion, Lilting examines the responsibilities of caring for our aging parents. Kai's mother June speaks little English, and has relied on her son to take care of her and her affairs most of their lives. But when the question of whether to bring June home or put her in a nursing home arises, Kai chooses the nursing home—a decision that goes against June's own wishes and their family's Chinese Cambodian traditions. After an untimely accident kills Kai, that choice falls on Richard. As he repeatedly visits the nursing home with an interpreter by his side, Richard and June begin a complicated relationship based on their mutual love for Kai. Via intimate conversations and with heated emotions, June learns more about the man known to her only as "Kai's best friend." Meanwhile, Richard discovers the difficulties of wanting to care for someone you love amid your fear of them knowing who you really are.
Lilting's choice to include literal language barriers between its main characters works as a strong metaphor for the challenges of communicating our true selves, and eventually, coming out. The way Kai calls on Richard, and then Richard on an interpreter, offers a wholly creative and moving version of that experience. Furthermore, Lilting sensitively portrays the real emotional difficulties surrounding end-of-life care decisions. There are a hundred reasons why many opt to place their loved ones in facilities versus bringing them home, but it's never a simple choice. Writer-director Hong Khaou frames that broader topic through a provocative lens: a man who desires to bring his mother home, but who would have to come out to do so. Showing how Kai, and then Richard, wrestle with the secret and what to do with June, all while June tries to reconcile what she believes is abandonment, makes Lilting a brilliant and shrewd spin on a common narrative. —A.W.
---
6. The Blue Hour
Director: Anucha Boonyawatana
Year: 2015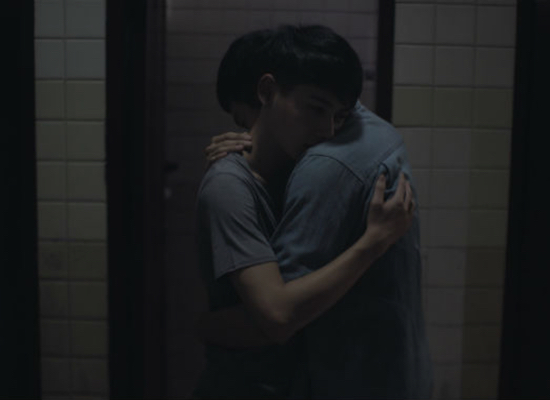 Taiwanese director Anucha Boonyawatana's first feature is a hauntingly romantic tale of forbidden love and the dark secrets we keep in its name. After Tam (Atthaphan Poonsawas), tormented by his classmates and abused by his family, meets the attractive boy Phum (Oabnithi Wiwattanawarang) in the quiet corridors of a supposedly haunted swimming pool, his life takes a somewhat poetic turn. The open expression of their love is confined to the decaying walls of the abandoned building, but the isolation of the space helps build a strong sense of trust and courage between them. Yet what begins as an exciting new romance quickly turns bleak when Phum reveals aggressive plans to get his family's now trash-covered land back from those who stole it. As Tam becomes more intertwined with Phum's plot, the lines between what's real and what's not become blurred, forcing the young man to choose between equally harrowing realities.
If you're looking for a movie that gives you answers for all your burning questions, The Blue Hour isn't for you. But in spite of its somewhat disappointing opacity, Boonyawatana's film features a strong use of horror as a metaphor for our worst idealizations. Narratively and visually, The Blue Hour is true to its name. The film is dark—from themes and dialogue to settings and lighting—but it's all delivered, rather intriguingly, on a canvas of burgeoning and desperate love. This careful storytelling approach proves that Boonyawatana's goal isn't to simply explore the naiveté of youth and the heartbreak of romance. Instead, The Blue Hour demonstrates the unworldly nature of our firsts and lasts, and the rot of time that often accompanies our greatest desires. —A.W.
---
5. A Girl Walks Home Alone at Night
Director: Ana Lily Amirpour
Year: 2014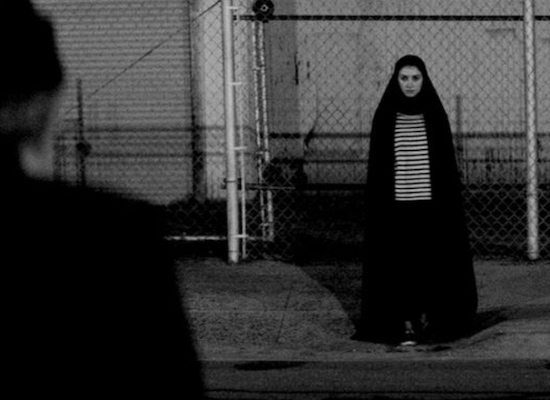 Described as "the first Iranian vampire Spaghetti Western," A Girl Walks Home Alone at Night follows an ensemble cast of underclass people living in the fictional outpost of Bad City who are alternately menaced and blessed by the presence of a skateboarding bloodsucker (played by a positively luminous Sheila Vand). The film is bizarre, a sort of cinematic edgeplay. First-time feature director Ana Lily Amirpour crafts a shockingly punk vision of a community being forcefully corrected.
Unlike many of the films on this list, A Girl Walks Home Alone at Night doesn't wear its queerness on its sleeve. That said, in its monochromatic presentation of a city contending with a vigilante vampire, the film is marked by both a decidedly Sapphic show of sensuality and a keen delight in the power of womanhood. The end result is an equally contextual heir to both the films of David Lynch and the music of Bikini Kill—a rather queer thing, indeed. —N.M.
---
4. How to Win at Checkers (Every Time)
Director: Josh Kim
Year: 2015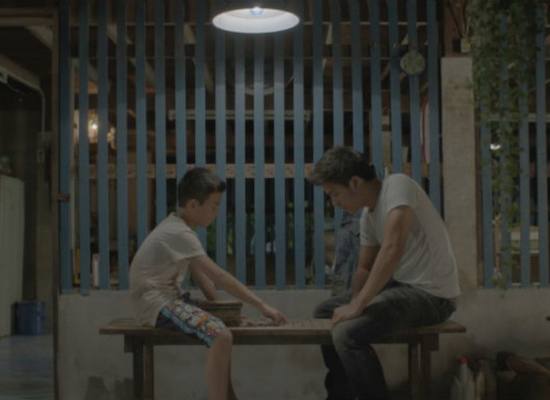 Based on the short stories Draft Day and At The Café Lovely by Rattawut Lapcharoensap, How to Win At Checkers (Every Time) is a heart-wrenching tale of love and survival when the odds are stacked against you. When Oat's (Ingkarat Damrongsakkul) father died, he and his older brother, Ek (Thira Chutikul), were taken in by their aunt. To help support the household, Ek dropped out of school and now spends his days hanging out with his boyfriend Jai and friend Kitty. Many nights Ek leaves for a place he will never take Oat—unless his younger brother can beat him at a game of checkers. But when Ek gets a notification for the annual draft—something all 21-year-olds must enter the lottery for—the time Oat has to spend with his brother and beat him at checkers dwindles. Hoping to save Ek from a potentially deadly fate, Oat learns the four rules of checkers and the way of the adult world to help them both survive.
It's easy to argue that writer-director Josh Kim never fully addresses sexuality here. That's not to say Ek's orientation isn't visible or even developed through his characterization, but Kim is unexacting in his approach, a rarity in a big screen story. Not only is Ek as a gay man seen as a viable and sufficient caretaker for Oat and the rest of his family, the film is practically devoid of the hateful family/hateful culture trope. Viewers discover Kitty's not-so-big secret and, eventually, where Ek goes at night to work. Both reveals are presented in such a way that neither feels shocking or judgmental. Instead, Kim mines drama out of other pressing issues: socioeconomics, privilege and colorism. Through Ek's experiences, Oat learns about the injustices and tensions associated with being of a certain minority and social stature. —A.W.
---
3. Pariah
Director: Dee Rees
Year: 2011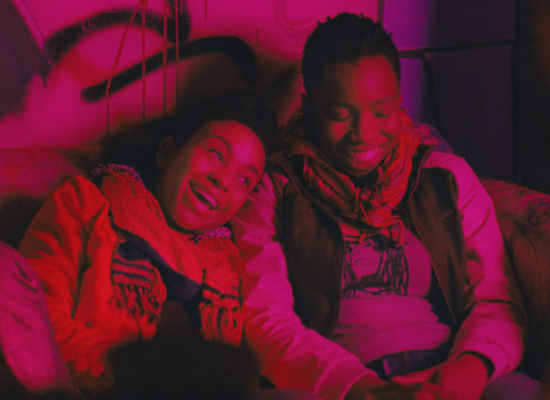 The first feature by Spike Lee protégé Dee Rees tells the story of teenager Alike (Adepero Oduye), a dutiful and accomplished daughter from a religious household in Brooklyn. As Alike struggles to find a proper expression of her sexuality, she follows her out friend Laura (Pernell Walker) into a scene of African-American lesbians whose brash liveliness proves a bit unsettling. When Alike's mother introduces her to Bina (Aasha Davis), Alike contends with both her own sexuality and the ways that her identity ties her to a community she doesn't quite fit in with.
Shot in Brooklyn in a vivid palette of deep primary colors, Pariah is evocative of Spike Lee at his best. However, in content, the film is distinctive in its engagement with characters who seek to belong. Eschewing both hipster navel-gazing and pat clichés, Pariah instead lets its characters exist in a beautiful human ambiguity, on the edge of society but also finding their own place at that edge. The result is a thought-provoking and thoroughly entertaining addition to the canon of modern queer film. —N.M.
---
2. Tangerine
Director: Sean S. Baker
Year: 2014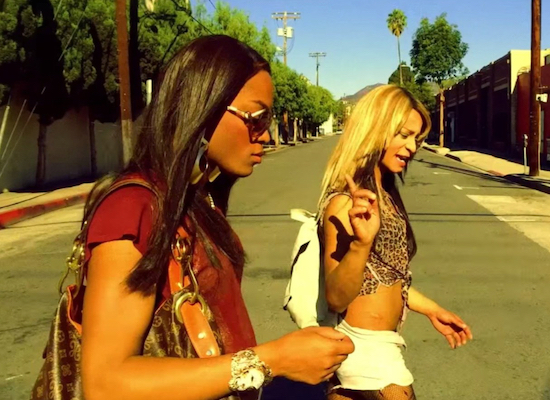 Shot entirely with an iPhone, Sean Baker's Tangerine is a near perfect execution of raw realism juxtaposed against fleeting yet profound moments of human vulnerability and tenderness. Writer-director Baker wastes no time flinging viewers into his story's cacophonous premise: a delirious misadventure focusing on the fractured but luminous lives of transgender prostitutes Sin-Dee Rella (Kitana Kiki Rodriguez) and Alexandra (Mya Taylor). Such immediacy helps set up the fast-paced, heartfelt journey that follows. When Sin-Dee Rella and Alexandra reunite following the former's release from her month-long prison sentence, we learn that Sin-Dee's boyfriend and pimp Chester has been seeing another woman. The news ignites a nearly two-hour chase around the streets of L.A. to locate and handle the "issue."
Within the story's backdrop of the wild and dingy Los Angeles cityscape, Tangerine's rule-defying characters thrive. Though it could easily devolve into an exploitative revenge porn drama, Tangerine shirks its expectations, becoming an aggressive examination of human complexity and a bold refusal to judge a book by its cover. That goes not only for its approach to characterization, but just about every narrative aspect of the work—from the way Baker develops his larger plot to how he sequences his shots. This tale carefully upholds its characters' sharply divisive existence. The deeper we go into the world of these two sex workers, the more we forget our assumptions of those who inhabit it. In the end, Tangerine is about discovering that our roughest edges can be both our most colorful and meaningful. —A.W.
---
1. A Single Man
Director: Tom Ford
Year: 2009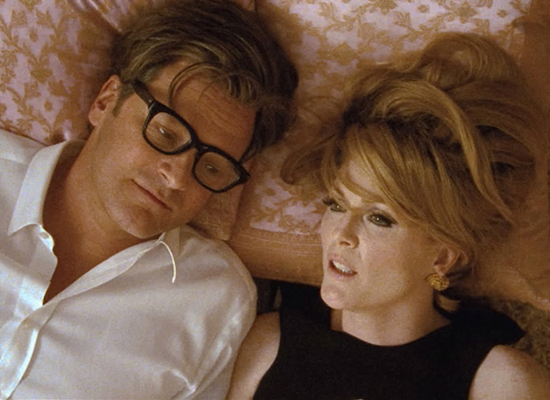 Up until the early 1980s, queer people were often viewed through a lens that rendered them as tragic, dangerous outsiders—and author Christopher Isherwood was a figurehead of this cultural effect. A gifted writer who was equally conversant in Vedantic philosophy and the isolating social mores of the 1960s queer underground, Isherwood perfectly captured the ecstasy, sadness and cognitive dissonance of his lifestyle in his 1964 novel A Single Man. Designer Tom Ford's 2009 filmic take on the novel would make Isherwood himself proud with its adroitness at walking these same aesthetic and philosophical lines.
In A Single Man, college professor George (played with striking gravitas by Colin Firth) contends with life in the aftermath of the death of his longtime lover Jim (Matthew Goode). In a disorienting and atmospheric stream of consciousness, George takes stock of his relationship, interfaces with friends (including a disturbing and at-times hilarious lush played with vigor and subtlety by Julianne Moore), and braces himself for his own death. It's surprisingly more life-affirming than it sounds—between Ford's stylish take on mid-century aesthetics and the philosophical core of Isherwood's original text, the film achieves a mystical transcendence even as it wrings tears from its audience. In terms of cinematic antecedents, the closest thing to A Single Man is likely Sofia Coppola's The Virgin Suicides—another hypnotic, reverent adaptation that succeeds mightily in translating literary depression into cinematic gold. —N.M.