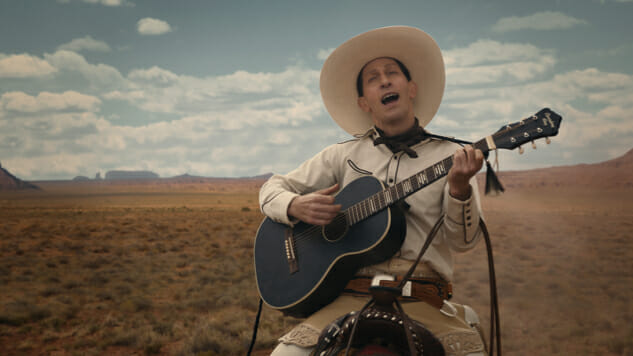 November is approaching rapidly, as is December, the holiday season and the end of 2018 as we know it. There are many important dates coming up in that impending year-end window, including the dates listed in this very post, on which many much-anticipated movies and shows make their way to the big 'Flix. But there's no more important date on the horizon than Nov. 6, so before you dive into any of the info below, spend five minutes on Vote.org and do your civic duty. It's a much bigger deal than any of the below.
The fate of the United States notwithstanding, Netflix's incoming feature film and television slates are typically eye-popping, and the service's arguable most exciting addition falls somewhere in between: The Coen Brothers' The Ballad of Buster Scruggs (Nov. 16), the four-time Oscar-winning directorial duo's Netflix debut, began its life as a miniseries before being snapped up by Netflix and repackaged into a feature film. The six-part, frontier-set Western anthology comprises a series of distinct tales of the American West, told as only the incomparable Coens can. Threatening to steal Buster's thunder, though, is a piece of film history in The Other Side of the Wind (Nov. 2), the long-lost final film from Hollywood legend Orson Welles. Starring John Huston, Peter Bogdanovich, Susan Strasberg and Welles's partner Oja Kodar, The Other Side of the Wind is a film-industry satire that follows famed filmmaker J.J. "Jake" Hannaford (Huston), who returns to Hollywood after years in self-exile in Europe with plans to complete work on his own innovative comeback movie.
Those are merely the crown jewels atop Netflix's long list of incoming films, which also includes Francis Ford Coppola's mixed bag of a vampire epic Bram Stoker's Dracula , Martin Scorsese's Oscar-nominated 1991 crime-thriller Cape Fear, Alfonso Cuarón's dystopian thriller Children of Men, Steven Spielberg's Oscar-winning sci-fi classic Close Encounters of the Third Kind, franchise-seeding found-footage disaster thriller Cloverfield, Matt Damon- and Ben Affleck-penned drama Good Will Hunting, iconic college comedy National Lampoon's Animal House, John Hughes' coming-of-age romantic-comedy Sixteen Candles and Oscar-dominating WWII epic The English Patient, among others. And those are just the movies debuting on the first of the month—following are Welles documentary They'll Love Me When I'm Dead (Nov. 2), 2007 Pirates franchise entry Disney's Pirates of the Caribbean: At World's End (Nov. 4), Netflix's David Mackenzie-directed (Hell or High Water) historical war epic Outlaw King (Nov. 9), Jeremy Saulnier's relentless thriller Green Room (Nov. 12), Emmy-nominated Pixar documentary The Pixar Story (Nov. 18), beloved sushi chef documentary Jiro Dreams of Sushi (Nov. 22) and A Christmas Prince: The Royal Wedding (Nov. 30), the sequel to last year's delightfully bad holiday romance du jour, A Christmas Prince.
On the TV side of things, Netflix isn't exactly slacking: There are numerous big-deal titles headed to the streamer in November, most notably the sixth and final season of one of Netflix's oldest and most successful original shows: House of Cards (Nov. 2). The dark political drama nearly came crashing down after the sexual misconduct allegations leveled against former star Kevin Spacey, but Netflix ultimately found a way forward for the show's conclusion, killing off Spacey's character and shifting focus to Robin Wright's Claire Underwood for what we can only hope is a satisfying final eight-episode run. Following House of Cards' early-November debut are a number of other noteworthy additions, including new episodes of weekly comedy series Patriot Act with Hasan Minhaj (Nov. 4), Narcos' new-look fourth season Narcos: Mexico (Nov. 16), Trevor Noah's latest stand-up special Trevor Noah: Son of Patricia (Nov. 20), new MST3K season Mystery Science Theater 3000: The Gauntlet (Nov. 22), roast-heavy comedy special Bumping Mics with Jeff Ross & Dave Attell (Nov. 27) and season three of Bill Burr's Emmy-nominated animated comedy series F Is for Family (Nov. 30).
Last and most upsetting is everything leaving Netflix next month. Amelie, Jurassic Park, The Reader and Up in the Air disappear from the streamer's library on Nov. 1, followed by Paddington on Nov. 16, so make sure to carve out some time for these titles while you can.
Check out Netflix's complete November slate below, beneath the streamer's sizzle reel.
Avail. 11/1/18
Angela's Christmas— NETFLIX ORIGINAL
Bram Stoker's Dracula
Bring It On: In It to Win It
Cape Fear
Children of Men
Close Encounters of the Third Kind
Cloverfield
Deuce Bigalow: European Gigolo
Doctor Strange
Fair Game – Director's Cut
Follow This: Part 3— NETFLIX ORIGINAL
From Dusk Till Dawn
Good Will Hunting
Jet Li's Fearless
Julie & Julia
Katt Williams: The Pimp Chronicles: Pt. 1
National Lampoon's Animal House
Next Avengers: Heroes of Tomorrow
Planet Hulk
Scary Movie 2
Scary Movie 3
Sex and the City: The Movie
Sixteen Candles
Stink!
The English Patient
The Judgement— NETFLIX ORIGINAL
The Untold Tales of Armistead Maupin
The Water Horse: Legend of the Deep
Transcendence
Vaya
Avail. 11/2/18
Brainchild— NETFLIX ORIGINAL
House of Cards: Season 6— NETFLIX ORIGINAL
ReMastered: Tricky Dick & The Man in Black— NETFLIX ORIGINAL
The Holiday Calendar— NETFLIX FILM
The Other Side of the Wind— NETFLIX FILM
They'll Love Me When I'm Dead— NETFLIX ORIGINAL
Trolls: The Beat Goes On!: Season 4— NETFLIX ORIGINAL
Avail. 11/3/18
Hoodwinked Too! Hood vs. Evil
Avail. 11/4/18
Disney's Pirates of the Caribbean: At World's End
Patriot Act with Hasan Minhaj (Streaming Every Sunday, begins October 28)— NETFLIX ORIGINAL
Avail. 11/5/18
Homecoming: Season 1
John Leguizamo's Latin History for Morons— NETFLIX ORIGINAL
Avail. 11/7/18
Into the Forest
Avail. 11/8/18
The Sea of Trees
Avail. 11/9/18
Beat Bugs: Season 3— NETFLIX ORIGINAL
La Reina del Flow— NETFLIX ORIGINAL
Medal of Honor— NETFLIX ORIGINAL
Outlaw King— NETFLIX FILM
Spirit Riding Free: Season 7— NETFLIX ORIGINAL
Super Drags— NETFLIX ORIGINAL
The Great British Baking Show: Collection 6— NETFLIX ORIGINAL
Treehouse Detectives: Season 2— NETFLIX ORIGINAL
Westside— NETFLIX ORIGINAL
Avail. 11/12/18
Green Room
Avail. 11/13/18
Loudon Wainwright III: Surviving Twin— NETFLIX ORIGINAL
Oh My Ghost— NETFLIX ORIGINAL
Warrior— NETFLIX ORIGINAL
Avail. 11/15/18
May The Devil Take You— NETFLIX FILM
The Crew— NETFLIX FILM
Avail. 11/16/18
Cam— NETFLIX FILM
Narcos: Mexico— NETFLIX ORIGINAL
Ponysitters Club: Season 2— NETFLIX ORIGINAL
Prince of Peoria— NETFLIX ORIGINAL
She-Ra and the Princesses of Power— NETFLIX ORIGINAL
The Ballad of Buster Scruggs— NETFLIX FILM
The Break-Up
The Kominsky Method— NETFLIX ORIGINAL
The Princess Switch— NETFLIX FILM
Avail. 11/18/18
The Pixar Story
Avail. 11/19/18
The Last Kingdom: Season 3— NETFLIX ORIGINAL
Avail. 11/20/18
Kulipari: Dream Walker— NETFLIX ORIGINAL
Motown Magic— NETFLIX ORIGINAL
Sabrina— NETFLIX FILM
The Final Table— NETFLIX ORIGINAL
Trevor Noah: Son of Patricia— NETFLIX ORIGINAL
Avail. 11/21/18
The Tribe— NETFLIX FILM
Avail. 11/22/18
Jiro Dreams of Sushi
Mystery Science Theater 3000: The Gauntlet— NETFLIX ORIGINAL
The Christmas Chronicles— NETFLIX FILM
Avail. 11/23/18
Frontier: Season 3— NETFLIX ORIGINAL
Fugitiva— NETFLIX ORIGINAL
Sick Note— NETFLIX ORIGINAL
Sick Note: Season 2— NETFLIX ORIGINAL
To Build or Not to Build: Season 2
Avail. 11/25/18
My Little Pony Friendship is Magic: Best Gift Ever
Avail. 11/27/18
Bumping Mics with Jeff Ross & Dave Attell— NETFLIX ORIGINAL
Avail. 11/29/18
Pocoyo: Season 4
Avail. 11/30/18
1983— NETFLIX ORIGINAL
A Christmas Prince: The Royal Wedding— NETFLIX FILM
Baby— NETFLIX ORIGINAL
Death by Magic— NETFLIX ORIGINAL
F is for Family: Season 3— NETFLIX ORIGINAL
Happy as Lazzaro— NETFLIX FILM
Rajma Chawal— NETFLIX FILM
Spy Kids: Mission Critical: Season 2— NETFLIX ORIGINAL
The World Is Yours— NETFLIX FILM
Tiempo compartido— NETFLIX FILM
LAST CALL
Leaving 11/1/18
Amelie
Crossfire
Cruel Intentions
Cruel Intentions 2
Cruel Intentions 3
Hellboy II: The Golden Army
Jurassic Park
Jurassic Park III
Oculus
Phenomenon
Run to me
Smokin' Aces 2: Assassins' Ball
Steel Magnolias
The Invasion
The Land Before Time
The Land Before Time II: The Great Valley Adventure
The Land Before Time III: The Time of the Great Giving
The Lazarus Effect
The Lost World: Jurassic Park
The Reader
Up in the Air
Leaving 11/12/18
Anna Karenina
Leaving 11/16/18
Paddington
Leaving 11/17/18
Undercover Boss: Seasons 1-5