New on Netflix: All the Movies and TV Coming in December
Images via Marvel Studios
Movies
Features
Netflix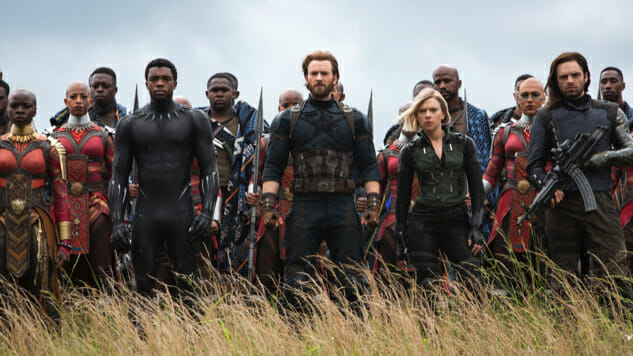 Hanukkah, Christmas, Kwanzaa, New Year's Eve … there's a lot happening in December, but if you'd rather ignore all of it and remain anchored to your couch, Netflix has you covered. The streaming service—big, red and generous, not unlike jolly old Saint Nicholas himself—is closing out the year with a heaping helping of presents for the people, from blockbuster movies to binge-worthy TV shows. We'll lay it all out below. Consider it our gift to you.
Speaking of gifts, you'll find Netflix's most prominent film addition under the tree on Christmas Day, Dec. 25: The biggest box-office hit on earth this year, Marvel Studios' massive Avengers: Infinity War. The game-changing Marvel Cinematic Universe entry pays off a decade of MCU movies, introducing the Avengers' most formidable foe yet in the Mad Titan, Thanos (Josh Brolin), and pitting a litany of our most beloved big-screen superheroes against him in a battle for the fate of half the universe. Infinity War is worth watching if only for its superhuman spectacle, but if you've enjoyed even a couple of MCU movies (and statistically speaking, you have), you owe it to yourself to stand alongside the Avengers during their most dangerous showdown yet. Just keep in mind that until Avengers 4 arrives, we are essentially only privy to the first half of the Infinity War, with a winner yet to be determined. That film is just the beginning—or rather, the end—as Netflix adds the following on Dec. 1: Oscar-winning Eminem drama 8 Mile, delightful animated comedy Cloudy with a Chance of Meatballs, John Carpenter's killer car thriller Christine, classic Ice Cube- and Chris Tucker-starring comedy Friday (plus its two sequels, Next Friday and Friday After Next), Guillermo del Toro's 2004 Hellboy adaptation, Edgar Wright's beloved zombie romp Shaun of the Dead and cult Coen Brothers comedy The Big Lebowski, among others. We'll have to wait a bit longer for Yorgos Lanthimos' darkly surreal, Oscar-nominated drama The Lobster (Dec. 2), Neill Blomkamp's modern sci-fi classic District 9 (Dec. 4), Jennifer Aniston-starring Netflix original Dumplin' (Dec. 7), Andy Serkis' star-studded Jungle Book adaptation Mowgli: Legend of the Jungle (Dec. 7), Michael Jackson concert documentary This Is It (Dec. 10), Alfonso Cuarón's triumphant return Roma (Dec. 14), Oscar-winning Stephen Hawking biopic The Theory of Everything (Dec. 16), Netflix's original, Sandra Bullock-starring apocalyptic thriller Bird Box (Dec. 21) and, last but by no means least, 2018 Bill Murray documentary The Bill Murray Stories: Life Lessons Learned From a Mythical Man (Dec. 31).
Netflix's small-screen stocking-stuffers also abound, with everything from new TV seasons and specials to comedy, music and more. We'll keep it chronological for simplicity's sake, beginning on Dec. 3, with the debut of stunning nature docuseries Blue Planet II, which Paste's own Amy Glynn describes in her review as "Haunting. Thrilling. Terrifying. Humbling. And, holy shit, gorgeous." Following on Dec. 7 are Neo Yokio: Pink Christmas, i.e. Vampire Weekend frontman Ezra Koenig's anime series in holiday special form, and The Ranch: Part 6, the Ashton Kutcher-starring sitcom that, apparently, people watch. Dec. 11 brings us Vir Das: Losing It, the first of two Netflix comedy specials on the way from the comedian and Bollywood star—his first, April 2017's Abroad Understanding, made Das the first Indian comic with a special on the streamer. Arriving on Dec. 14 are Chilling Adventures of Sabrina holiday special A Midwinter's Tale, starring Mad Men's Kiernan Shipka as the titular half-witch, half-human heroine, and the fourth season of Netflix's shockingly successful Full House revival, Fuller House. Dec. 16 is a particularly big day for Netflix subscribers who happen to be big fans of The Boss: It marks the debut of Springsteen on Broadway, a streaming iteration of Bruce Springsteen's award-winning one-man musical adaptation of his autobiography, Born to Run. Just two days later on Dec. 18, another iconic performer hits Netflix: Ellen DeGeneres: Relatable is Degeneres' first new stand-up special in 15 years. Come Christmas Day, Dec. 25, viewers can look back on a legendary late author, chef and TV personality via season 11 of Anthony Bourdain: Parts Unknown, which has long reigned as Paste's favorite food show on the platform. And of indeterminate arrival date is Watership Down, a Netflix original limited series adaptation of Richard Adams' classic 1972 novel, in which a warren of rabbits battle many threats on their daring journey to find a new home. The star-studded animated miniseries, coproduced by Netflix and the BBC, boasts the voice talents of James McAvoy, Nicholas Hoult, John Boyega and many more.
As we wrap up (it's a gift-giving joke!), we'd be remiss not to take note of Netflix's outgoing titles as well, some of which you have precious little time and quite a bit of reason to see. Consider this your last call for Groundhog Day (Dec. 1), Sons of Anarchy seasons 1-7 (Dec. 1), Spider-Man 3 (Dec. 1), Battle Royale (Dec. 10), Tinker, Tailor, Soldier, Spy (Dec. 16), Disney's Moana (Dec. 20), Spotlight (Dec. 22) and Disney's Pirates of the Caribbean: The Curse of the Black Pearl (Dec. 25), among others. Thanksgiving break is upon us—no excuses, stream like a champion!
See Netflix's complete December slate below, beneath their sizzle reel.
Avail. 12/1/18
8 Mile
Astro Boy
Battle— NETFLIX FILM
Bride of Chucky
Christine
Cloudy with a Chance of Meatballs
Crossroads: One Two Jaga— NETFLIX FILM
Friday
Friday After Next
Hellboy
Man vs Wild with Sunny Leone: Season 1
Meet Joe Black
Memories of the Alhambra (Streaming Every Saturday)— NETFLIX ORIGINAL
My Bloody Valentine
Next Friday
Reindeer Games
Seven Pounds
Shaun of the Dead
Terminator Salvation
The Big Lebowski
The Great British Baking Show: Masterclass: Season 5 Masterclasses
The Last Dragon
The Man Who Knew Too Little
Avail. 12/2/18
The Lobster
Avail. 12/3/18
Blue Planet II: Season 1
Hero Mask— NETFLIX ORIGINAL
The Sound of Your Heart: Reboot Season 2— NETFLIX ORIGINAL
Avail. 12/4/18
District 9
Avail. 12/6/18
Happy!: Season 1
Avail. 12/7/18
5 Star Christmas— NETFLIX FILM
Bad Blood— NETFLIX ORIGINAL
Dogs of Berlin— NETFLIX ORIGINAL
Dumplin'— NETFLIX FILM
Free Rein: The Twelve Neighs of Christmas— NETFLIX ORIGINAL
Mowgli: Legend of the Jungle— NETFLIX FILM
Nailed It! Holiday!— NETFLIX ORIGINAL
Neo Yokio: Pink Christmas— NETFLIX ORIGINAL
Pine Gap— NETFLIX ORIGINAL
ReMastered: Who Killed Jam Master Jay?— NETFLIX ORIGINAL
Super Monsters and the Wish Star— NETFLIX ORIGINAL
The American Meme— NETFLIX ORIGINAL
The Hook Up Plan (Plan Coeur)— NETFLIX ORIGINAL
The Ranch: Part 6— NETFLIX ORIGINAL
Avail. 12/9/18
Sin senos sí hay paraíso: Season 3
Avail. 12/10/18
Michael Jackson's This Is It
Avail. 12/11/18
Vir Das: Losing It— NETFLIX ORIGINAL
In a new stand-up special, comedian Vir Das touches on world travel, religion, his desire to be an Indian superhero and more.
Avail. 12/12/18
Back Street Girls: Gokudols— NETFLIX ORIGINAL
Out of Many, One— NETFLIX ORIGINAL
Avail. 12/13/18
Wanted: Season 3— NETFLIX ORIGINAL
Avail. 12/14/18
Chilling Adventures of Sabrina: A Midwinter's Tale— NETFLIX ORIGINAL
Cuckoo: Season 4— NETFLIX ORIGINAL
Dance & Sing with True: Songs— NETFLIX ORIGINAL
Fuller House: Season 4— NETFLIX ORIGINAL
Inside the Real Narcos— NETFLIX ORIGINAL
Inside the World's Toughest Prisons: Season 3— NETFLIX ORIGINAL
Prince of Peoria: A Christmas Moose Miracle— NETFLIX ORIGINAL
ROMA— NETFLIX FILM
Sunderland Til I Die— NETFLIX ORIGINAL
The Fix— NETFLIX ORIGINAL
The Innocent Man— NETFLIX ORIGINAL
The Protector— NETFLIX ORIGINAL
Tidelands— NETFLIX ORIGINAL
Travelers: Season 3— NETFLIX ORIGINAL
Voltron: Legendary Defender: Season 8— NETFLIX ORIGINAL
Avail. 12/16/18
Baby Mama
Kill the Messenger
One Day
Springsteen on Broadway— NETFLIX ORIGINAL
The Theory of Everything
Avail. 12/18/18
Baki— NETFLIX ORIGINAL
Ellen DeGeneres: Relatable— NETFLIX ORIGINAL
Terrace House: Opening New Doors: Part 5— NETFLIX ORIGINAL
Avail. 12/21/18
3Below: Tales of Arcadia— NETFLIX ORIGINAL
7 Days Out— NETFLIX ORIGINAL
Back With the Ex— NETFLIX ORIGINAL
Bad Seeds— NETFLIX FILM
Bird Box— NETFLIX FILM
Derry Girls— NETFLIX ORIGINAL
Diablero— NETFLIX ORIGINAL
Greenleaf: Season 3
LAST HOPE: Part 2— NETFLIX ORIGINAL
Perfume— NETFLIX ORIGINAL
Sirius the Jaeger— NETFLIX ORIGINAL
Struggle: The Life and Lost Art of Szukalski— NETFLIX FILM
Tales by Light: Season 3— NETFLIX ORIGINAL
The Casketeers— NETFLIX ORIGINAL
Wolf (BÖRÜ)— NETFLIX ORIGINAL
Avail. 12/24/18
Hi Score Girl— NETFLIX ORIGINAL
The Magicians: Season 3
Avail. 12/25/18
Anthony Bourdain: Parts Unknown: Season 11
Marvel Studios' Avengers: Infinity War
Avail. 12/26/18
Alexa & Katie: Season 2— NETFLIX ORIGINAL
YOU
Avail. 12/28/18
Instant Hotel— NETFLIX ORIGINAL
La noche de 12 años— NETFLIX FILM
Selection Day— NETFLIX ORIGINAL
When Angels Sleep— NETFLIX FILM
Yummy Mummies— NETFLIX ORIGINAL
Avail. 12/30/18
The Autopsy of Jane Doe
Avail. 12/31/18
The Bill Murray Stories: Life Lessons Learned From a Mythical Man
Coming in December
Watership Down: Limited Series— NETFLIX ORIGINAL
LAST CALL
Leaving 12/1/18
Cabin Fever
Cabin Fever 2: Spring Fever
Groundhog Day
Happily N'Ever After
Happily N'Ever After 2: Snow White
Hellbound: Hellraiser II
Hellraiser
Sons of Anarchy: Seasons 1-7
Spider-Man 3
Spy Hard
Stephen King's Children of the Corn
Swept Under
The Covenant
The Game
Leaving 12/4/18
Air Bud: Seventh Inning Fetch
Air Bud: Spikes Back
Air Bud: World Pup
Air Buddies
Cars Toon: Mater's Tall Tales
Spooky Buddies
Tarzan & Jane
The Brave Little Toaster Goes to Mars
The Brave Little Toaster to the Rescue
The Crimson Wing: Mystery of the Flamingos
The Search for Santa Paws
Tinker Bell
Tinker Bell and the Great Fairy Rescue
Tinker Bell and the Lost Treasure
Leaving 12/7/18
Trolls
Leaving 12/10/18
Battle Royale
Battle Royale 2
Teeth
Leaving 12/15/18
Step Up 2: The Streets
Leaving 12/16/18
Tinker, Tailor, Soldier, Spy
Leaving 12/17/18
Beverly Hills Chihuahua 2
Leaving 12/19/18
Ip Man: The Final Fight
Leaving 12/20/18
Disney's Moana
Food, Inc.
I Give It a Year
Leaving 12/22/18
Spotlight
Leaving 12/25/18
Disney's Pirates of the Caribbean: The Curse of the Black Pearl
Leaving 12/31/18
Troy