MoviePass Films, Still Around, Takes Equity Share in Two Award-Winning NEON Films
Photo by Daniel Boczarski/Getty
Movies
News
MoviePass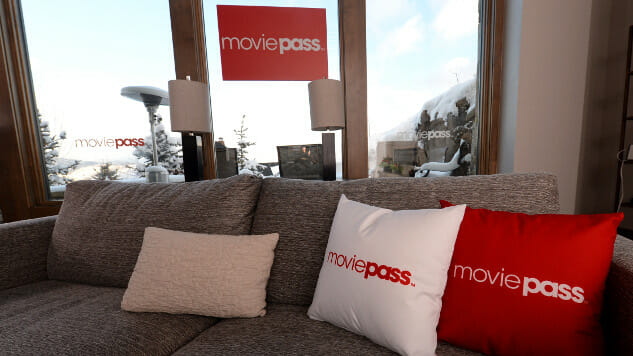 After a wild, combative, financiallyunsustainable year, MoviePass still isn't giving up. MoviePass Films, the once-$9.95 per month movie subscription service's film acquisition venture, has picked up equity shares in distributor NEON's next two films, Reinaldo Marcus Green's Sundance-winning Monsters and Men and Ali Abassi's Cannes-winning Border, per Deadline.
MoviePass Films, which put out the well-received American Animals alongside the notorious bomb Gotti last summer, was part of the service's ill-fated attempts to keep itself afloat at an unlimited, $9.95/month rate, since abandoned for a more sustainable three movies per month going at that rate.
The deal will give MoviePass subscribers the benefit of seeing the two films as part of the subscription's "Bonus Movies," which do not count toward their monthly allotment of (at least for now) three movies per month. Subscribers will also get the chance to attend red-carpet premieres for these releases, plus other perks.
MoviePass Films Chairman Ted Farnsworth and Co-CEO Randall Emmett praised upstart NEON, behind such indie hits as I, Tonya and Ingrid Goes West, and called the two films "high-caliber, prestige titles and great fits for the MoviePass Films banner."
While many subscribers have abandoned the service since its wild summer, MoviePass Films still intends to produce 10 to 12 films per year, and to acquire and co-produce eight to 10 per year, as well. Coming up, the company has the Bruce Willis-starring crime thriller 10 Minutes Gone, which recently wrapped production, and the production company for which MoviePass acquired in May.
MoviePass Films' output so far has varied wildly in quality, but they all share the distinction of being the type of movies that don't often get theatrical releases in a streaming age, which, in the case of their latest NEON partnership, might be a good thing.
"We are so happy to find a partner in MoviePass that shares our passion in supporting theatrical releases," said NEON, per Deadline.
It's still unclear whether the math adds up on MoviePass, which at one point was hailed as the savior of the flagging movie theater industry, but the dream lives on for at least another day.