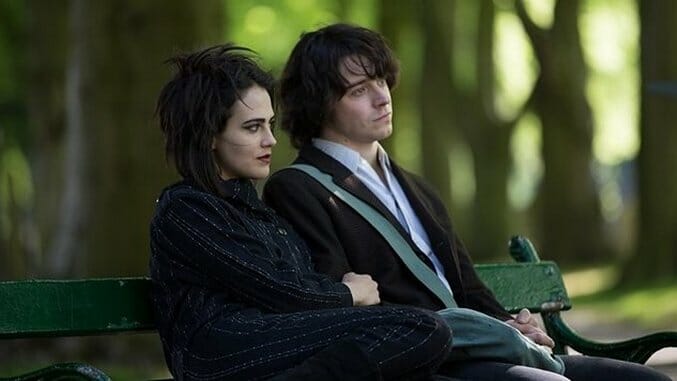 Mediocrity is stunted ambition. It's the lack of talent or chance or sheer force of will, delivering an end product that is neither laudatory nor execrable. It just is.
Which is where Mark Gill's unauthorized Morrissey biopic, England Is Mine, falls. The film isn't strictly terrible—it is, for lack of a better neutral word, "watchable"—but it also has no real reason to exist.
One of the producers of England is Mine is Orian Williams, who also produced Anton Corbijn's Ian Curtis/Joy Division biopic Control. Alas, the differences between the two stories are many. Control had the support and participation of Curtis's widow and former band mates, while England Is Mine is completely unauthorized. Secondly (and arguably more importantly) the life of Ian Curtis was tragically short, as Curtis hanged himself at the age of 23. As a result, the film had a cohesive narrative arc, and with access to Joy Division's music and to Curtis's friends, family and bandmates, a full story could be told. That is barely the case with England is Mine. As Gertrude Stein once remarked, "there is no there there."
England Is Mine covers the years in the young adult Steven Patrick Morrissey's life before the Smiths. While his life from 1979 to 1982 may be worthy of a feature film, England Is Mine produces little to no evidence supporting that idea. Still, Jack Lowden's portrayal as the nascent superstar can reach arresting heights. His gradual progression from shy, virtually mute misanthrope to…slightly more vocal misanthrope is deftly and subtly done, his coming out of his social shell providing for a few of the film's most memorable moments. The portrayal of his first live performance, especially, is a fleeting but true moment of joy.
When Lowdon takes the stage as the lead singer of the Nosebleeds, it is the first and only goose-bump-inducing moment in a film which should have many. Suddenly, England Is Mine comes into its own: We're given a peek at what Steven was to become and what was in store for the world. It's an all-too brief glimpse at the genius that would become Morrissey. In turn, the energy injected into the film by this scene dissipates as quickly as it arrived.
Still, England is Mine isn't completely without its charms. The scenes with Morrissey's muse/best friend/Platonic soul mate Linder Sterling (Jessica Brown Findlay) are bright and clever, offering teases of what's to come in Morrissey's artistic life (if not in the film). One scene in particular between the two, set in a cemet(e)ry as the they try to one-up each other quoting literature, is delightfully twee, but, like most of the film's best scenes, leaves one wanting more.
There's something wrong if you can watch a film that is about the early life of one of the great musical artists of the last 30-odd years and come away almost entirely un-moved and, frankly, bored. Whatever you may think about Morrissey, there's no denying that his art has moved millions. The same cannot be said for England Is Mine.
Director: Mark Gill
Writers: Mark Gill, William Thacker
Starring: Jack Lowden, Jessica Brown Findlay, Laurie Kynaston, Jodi Comer, Simone Kirby, Peter McDonald, Adam Lawrence
Release Date: August 25, 2017
---
Mark Rabinowitz is a Louisville-based freelance writer, film producer and regular contributor to Paste. He is the co-founder of IndieWire.com and dares you to make a better beef stew. You can follow him on Twitter.