Journalist Susan Braudy Details Sexual Harassment Claims Against Michael Douglas
Photos by Jesse Grant/Getty, Henry S. Dziekan III/Getty
Movies
News
Michael Douglas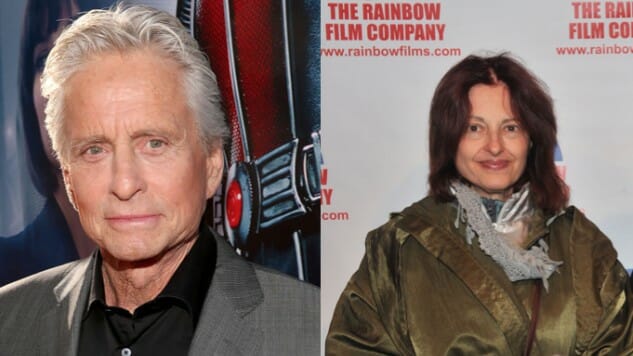 It's been over 30 years since Susan Braudy worked for Michael Douglas. In the late '80s, Braudy was hired to manage the New York office of Douglas' production company, Stonebridge Productions. During her time there, Douglas was one of the biggest movie stars in the world, an Oscar winner for his performance in Wall Street. Braudy's job was to read scripts, hire writers and, ironically, to watch over Douglas. Several of her days of work were not even at the office, but instead at Douglas' Manhattan home. Within the film industry, the most unconventional of work environments often blur the lines between work and personal life, thus making this not entirely unusual.
Braudy's claims against Douglas, according to a detailed account she provided to THR, describe "near-constant profane and sexually charged dialogue, demeaning comments about her appearance, graphic discussions regarding his mistresses and more." However, her most traumatic experience, according to her statement, "took place during a one-on-one script meeting in his apartment, during which Douglas masturbated in her presence, prompting her to run home crying."
Braudy's account is based on notes and files that she kept and a timeline of her employment that even includes pay stubs, as well as three people whom she reported the incidents to immediately after they occurred—best-selling Fire and Fury author Michael Wolff, Newsweek journalist Lynn Povich and film editor Michael Weintraub, who currently lives with Braudy—all of whom are willing to back her publicly if needed. On top of this, she even has a letter from the California Women's Law Center from 1993 proving she inquired about "remedies" for workplace sexual harassment, although she never formally filed a complaint, saying "she was too intimidated to follow through."
Braudy is a well-known journalist and author. She's written for The New York Times, The Huffington Post, Vanity Fair and Jezebel, and has penned several nonfiction books. She previously served as Vice President of East Coast Productions at Warner Bros. before working for Douglas, and has been hired to write screenplays for Martin Scorsese, Jerry Bruckheimer and Francis Ford Coppola.
According to Braudy, Douglas was not in New York that often but when he was, he always emitted sexual aggression, and would often discuss affairs he had with co-star Kathleen Turner of Romancing the Stone and an unnamed European heiress. During a one-on-one conversation on her very first day, Michael referred to the female genitalia as something very inappropriate. Another time, in front of a group of agents, he even referred to Braudy as "a screamer," saying that she definitely "screams in the sack." Braudy protested this remark that she says Douglas made in front of everyone, telling him, "Please, don't talk like that. It's inappropriate." Douglas only responded with a laugh.
The most excruciating incident involving Douglas masturbating in her presence came one morning as they were "brainstorming an E.T.-like character" in Douglas' apartment, Braudy says. She always sat across the room from him and recalled that he often wore an unbuttoned blue oxford shirt and chinos, and would be barefoot. On this particular day in 1989, Douglas began to unzip his chinos after sliding off his chair and onto the floor, where he began to masturbate. "I realized to my horror that he was rubbing his private parts," Braudy said. "Within seconds his voice cracked and it appeared to me he'd had an orgasm." She immediately got up and ran out of the apartment towards the elevator while Michael then chased after her, saying, "Hey, thank you, you're good. You helped me, thank you, thank you." Braudy recalls thinking that Douglas "thought he could do anything he wanted because he was so much more powerful than I was."
After the event, Douglas tried to get Braudy to sign a confidentiality agreement. She refused and was fired later that year.
One of the most noteworthy facts about this scandal is that Douglas preemptively denied the allegations in a phone interview with Deadline earlier this month, making sure not to name his accuser before Braudy publicly came forward. He spoke of a woman who might be "disgruntled her career didn't go the way she hoped and she is holding this grudge," and refuted her statements about the work environment, saying, "Coarse language or overheard private conversations with my friends that may have troubled her are a far cry from harassment. Suggesting so does a true disservice to those who have actually endured sexual harassment and intimidation."
Braudy responded to the actor's denial at the time, telling THR, "I believe this is part of the problem, as is his pretext of victimization. These are some reasons why so many women don't come forward with their stories—Lord knows it's taken 30 years and a movement for me to gather my courage."