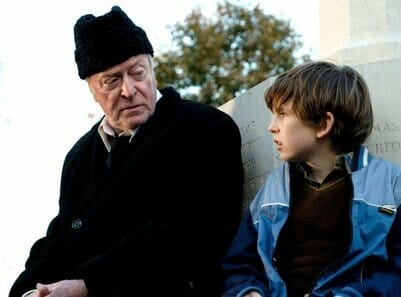 Release Date:
April 17 (limited)
Director:
John Crowley
Cinematographer:

Rob Hardy
Starring:
Bill Milner, Michael Caine, Anne-Marie Duff
Studio/Run Time:

Big Beach Films, 92 mins.
Michael Caine shows his age in touching British dramedy
From the moment a geriatric stair lift lowers a body bag, it's apparent that
Is There Anybody There?
will be saturated with the pitch-black British humor.
Writer Peter Harness fills his script with an unflinching portrait of elderly decline as he follows Edward (
Son of Rambow
's Bill Milner), a 10-year-old troublemaker who lives in a converted retirement home run by his parents. Edward obsesses about the afterlife by recording his roommates' last moments before meeting Clarence (Michael Caine), an "argyle old fart" who resents staying in a makeshift hospice as much as Edward does. The quirky relationship built between the two brings a touching sense of melancholy to the subject. The veteran Caine, now 76, still encapsulates the charm, poise and virility of a man who's made the silver screen more his home than any Victorian mansion. His character laments, "You accumulate regrets, and they stick like old bruises," but the only real regret would be taking this icon for granted.