Director McG Talks about His Netflix Horror-Comedy The Babysitter and a True Lies Reboot
Photos: John Primac / Netflix
Movies
Features
McG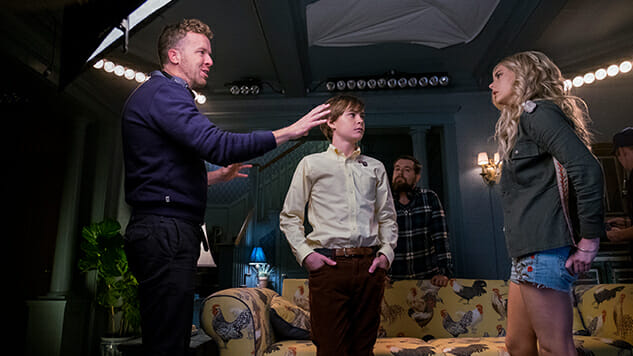 There's a moment in The Babysitter, the new horror-comedy film from Netflix, when the lighthearted coming-of-age story shifts into a sort of Home Alone meets The Texas Chainsaw Massacre combination. Director McG (born Joseph McGinty Nichol) even gives an overt little nod to the Macaulay Culkin character as our protagonist Cole (Judah Lewis), an awkward and innocent boy on the precipice of adolescence, realizes the trouble he's in.
"The John Hughes films are a huge influence on me," McG says. "So the whole picture is made to feel like a John Hughes picture, or a bit of a Home Alone remix in particular. …I was raised on those films and, you know, Fast Times at Ridgemont High and Risky Business."
Brian Duffield's script for The Babysitter had floated around Hollywood, landing on the Black List of best unproduced scripts until McG's studio, Wonderland Sound and Vision, purchased it in 2014.
"The guy [Duffield] is an incredibly original, new, fresh voice," McG says, "and I just responded to the way that he crafted these characters and told the story on the page. It just was planned like a movie in my head, which is always a good sign."
While McG might not have had a crush on his babysitter as a kid, he could certainly identify with Cole.
"Having some irrational fears and not being the most popular kid in town and having to find my way in the world with my own peculiar interests—that was the component of Cole that I connected with," he says. "I mean I really I like those kids in Stand by Me and Stranger Things. Cole feels like one of those characters to me."
McG took an unusual path to movie director, first producing the band Sugar Ray and directing music videos and commercials. In 2000, though, he got a shot at directing Charlie's Angels, which went on to earn more than $250 million worldwide. That led to opportunities in television to produce shows like The O.C., Supernatural (now on its 13th season) and Chuck.
He's also continued directing films, like We Are Marshall (2006), Terminator Salvation (2009) and 3 Days to Kill (2014). The Babysitter is his first project with Netflix.
"I just think it's a really good time to be a writer or a director or a producer or actor. I still love the movies, and I can't wait to go see Star Wars in a movie theater," he added. "But I love what's happening with The Crown. I love Game of Thrones. I love Black Mirror. It's a wonderful time to be watching television. When I was a kid, it felt like the gold standard was a two-hour movie. Now I feel like maybe the finest storytelling is being done in 10 hours. And I think that's to the benefit of the fans. It's just a super cool time to go to the movies or Netflix and chill."
Next up, McG just finished producing a film with Amy Schumer called I Feel Pretty, currently in post-production. He's also working with Marc Guggenheim (Arrow) on a television adaptation of True Lies for Fox.
"Just like the Charlie's Angels girls, those are big boots to fill," says McG, who also worked on the Lethal Weapon adaptation for Fox. "How do you replace Danny Glover and Mel Gibson? I think Damon [Wayans] and Clayne [Crawford] have done a great job doing that. And now you know hopefully we'll have the opportunity to try to figure out how to fill what [Arnold Schwarzenegger] and Jamie Lee Curtis did."
The Babysitter is streaming now on Netflix.