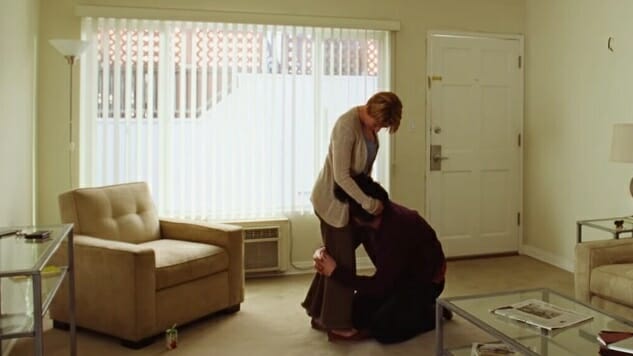 Noah Baumbach's Marriage Story begins with Charlie (Adam Driver) and Nicole (Scarlett Johansson), a soon-to-be-unwedded couple, rattling off the characteristics they like best about one another in plainly beautiful language. It ends with them individually performing musical numbers from Stephen Sondheim's Company to reflect the course of their journey through separation. There's no brighter spotlight to shine on the gap between Baumbach's skills and shortcomings as a storyteller than these bookending scenes, if only because there's no clearer example of the precious excess that defines his work.
"Write what you know," goes the dusty bromide. In Marriage Story, as in 2005's The Squid and the Whale, Baumbach does precisely that, drawing on his experiences as both a child of divorce and as a divorcé himself: His parents, Jonathan Baumbach and Georgia Brown, split during his adolescence, while Noah went through a separation with Jennifer Jason Leigh in 2010. (Leigh's the one who filed papers, but the effect remains the same.) Marriage Story dips into these inspirational wells and strikes often with meteoric emotional impact. How much the film factually reflects what Baumbach went through with Leigh isn't measured, but as a narrative about two artsy types arguing over who's the worse spouse as their son sits uncomfortably in the middle, Marriage Story reads honestly nonetheless.
That's part of the film's problem, too. Marriage Story may well be unimpeachably true to what Baumbach knows. Short of enjoying a direct line to his amygdala, nobody has the authority to argue otherwise. But what Baumbach knows is cloaked in privilege and colored by a life spent in a snowglobe. I suspect for many outside that bubble, the film may prove too self-consciously fastidious: Baumbach has drawn his slow-burning chronicle of husband and wife falling out of each other's graces in brushstrokes too meticulous to generate essential ancillary sensations like anxiety. Sadness, grief, melancholy … these are well-represented, but the movie desperately needs dismay and even fear to cement them in place.
While Baumbach's gifts as a filmmaker are obvious—even details as simple as blocking tell of an artist who knows what he wants, and how, and where, and why—it's his casting that serves as Marriage Story's mortar. Driver and Johansson are both the subject of awards buzz for their work here, and for good reason: Driver, apparently on a mission to be in as many films as possible in 2019, towers literally and figuratively, while Johansson casually demonstrates that she's a phenomenal actress when liberated from blockbusting demands. Baumbach generously accords them both juicy monologues, blow-ups, and breakdowns, the kind of material most actors wish they got but rarely do, because very few films are built out of the same deeply personal agony as Marriage Story.
His generosity extends beyond them to the supporting cast, particularly Merritt Wever, playing Nicole's sister with panicked comic dread, and Laura Dern and Ray Liotta, both playing hotshot asshole attorneys more interested in scoring a "W" than in serving their clients' best interests, and Alan Alda, one of the best actors in the world, as the gentler alternative to Liotta: He's the kindly lawyer whose jokes are too long to arrive at their punchline, and who, knowing that divorce is an innately inhumane process, consciously brings humanity into proceedings, even when he's subtly mocked for doing so. But good as Marriage Story's pieces are, they're too finely curated: Baumbach rarely lets the film be as messy as it needs to be, hemming himself in with the threads of his limited perspective.
A late-stage screaming match between Nicole and Charlie offers the best expression of what Marriage Story should be, perhaps wants to be: A fiery, unvarnished snapshot of what it looks like when entangled people attempt to disentangle, not on their own terms but on terms dictated in court. Resentments arise, long-repressed and left to mutate into mortal transgressions over the years, the battle ending when Charlie, a director robbed of control over the world around him, smashes his fist on a wall and collapses in tears. Baumbach doesn't consistently stay in this key, however. Fun as it is to hear Charlie sing "Being Alive," complete with interstitial dialogue; as cute as it is that he feels so unseen that he dresses as the Invisible Man for Halloween; and as amazing as Wever is in her big scene, torn between serving Charlie papers or a slice of pie, it's all too much.
Moments like Nicole's confrontation with Charlie validate how hideous a separation can be. Moments like the song and dance cues and classic movie references smear a sheen of artifice over the hideousness. Marriages can, do, and in certain cases ought to end, and bravo to Baumbach for his candor in examining his own. But just as some matrimonial ties should be severed, so too should Marriage Story have pared down its fussy indulgences.
Director: Noah Baumbach
Writer: Noah Baumbach
Starring: Scarlett Johansson, Adam Driver, Azhy Robertson, Laura Dern, Alan Alda, Ray Liotta Julie Hagerty, Merritt Wever
Release Date: November 6, 2019 (theatrical), December 6, 2019 (Netflix)
---
Bostonian culture journalist Andy Crump covers the movies, beer, music, and being a dad for way too many outlets, perhaps even yours. He has contributed to Paste since 2013. You can follow him on Twitter and find his collected work at his personal blog. He's composed of roughly 65% craft beer.